ARIN6902 – Internet Cultures and Governance Blog
Recent studies have brought to light a troubling trend in the gaming world: female gamers are frequently subjected to hate speech and online harassments while playing online games. This is a serious issue that doesn't seem to be going away. It is time to stop online harassment and make gaming environment safer for all players, not just for female gamers. The gaming industry needs to know the seriousness of this problem and act proactively to protect players from online harm and harassment.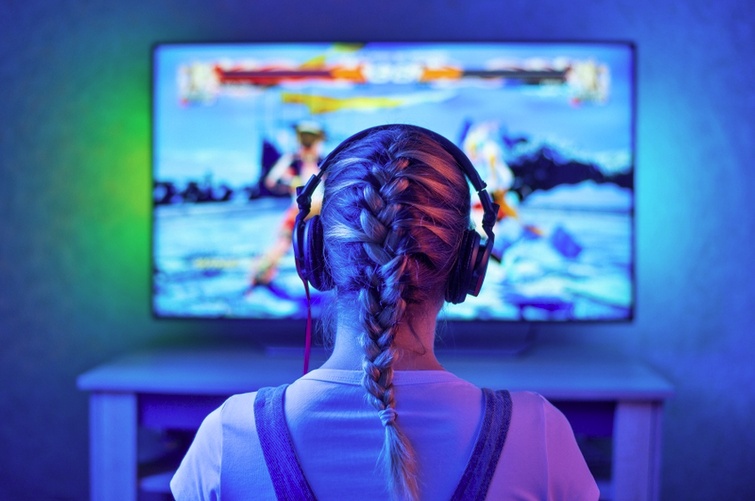 Unleashing The Dark Side of Online Gaming: Female Gamers Still Experience Verbal Abuse and Harassment
Video games have become a popular and mainstream form of entertainment with over 3 billion users worldwide in 2022 (Hertie School Centre for Digital Governance, n.d.). Players from all around the world can interact with one another in real time using in-game chat features or voice messaging. However, online hate speech and its dissemination via digital channels and gaming community have been recognized as serious and developing problems. Hate speech violates human rights norms, and its online dissemination has been increasing in recent years (Flew, 2021). There is no universally accepted legal definition of hate speech, and there are much debates over the definition of "hateful" speech. The legal definition of online hate speech changes depending on the country's culture, politics, and legislation (Costa et al., 2021). Hate speech refers to any expression that targeted individuals based on who they are, including their race, ethnicity, religion, and sexuality. (Parekh, 2012, p. 40; as cited in Flew, 2021). In other words, hate speech refers to any kind of expression—verbal or nonverbal—that targets individual based on who they are. Hate victimisation starts with opinions that are changed into stereotypes, which then lead to prejudice and thoughts of inferiority, exclusion, marginalisation and, finally, victimisation (Judge & Nel, 2018). This kind of utterance often leads to harassment, discrimination, contempt, and bias, making it hard for victims to live without fear and harassment. (Parekh, 2012, pp. 43, 45; as cited in Flew, 2021). As females and people of colour are underrepresented, these groups are particularly vulnerable to online hate speech while white men are overrepresented in video games (Costa et al., 2021). Most people think that women are a minority in online gaming spaces (McLean & Griffiths, 2019), and often encounter sex-based and general harassment from other gamers (Ballard and Welch 2017; Chess and Shaw 2015; Fox and Tang 2014; Gray 2012; Salter and Blodgett 2012; as cited in McLean & Griffiths, 2019). Toxic speech is pervasive in online communities, gameplay and offline gameplay contexts, and these situations are widespread. (Costa et al., 2021). People use hate speech as a way to show how powerful they are or to get out their frustration if they can do anonymously in front of friendly players and there are no consequences. These attitudes and actions hurt both the people who are doing harm online and the people who are hurt by them.
An Insight into Sexism-Based Online Harassment Experienced by Female Gamers
Hate-based harassment refers to any form of online abuse targeted against players on the basis of their age, gender, sexual orientation, race, or other identification characteristics (ADL, 2022a). Gender was the most frequently mentioned motive for abuse for the third consecutive year, according to ADL (2022c), and females were more than twice as likely as males to report ever experiencing sexism-based harassment online (14% vs. 5%), with 40% of women (vs. 14% of males) said that they believed the harassment was directed at them due to their gender identity.
Which, if any, of the following have you ever encountered online?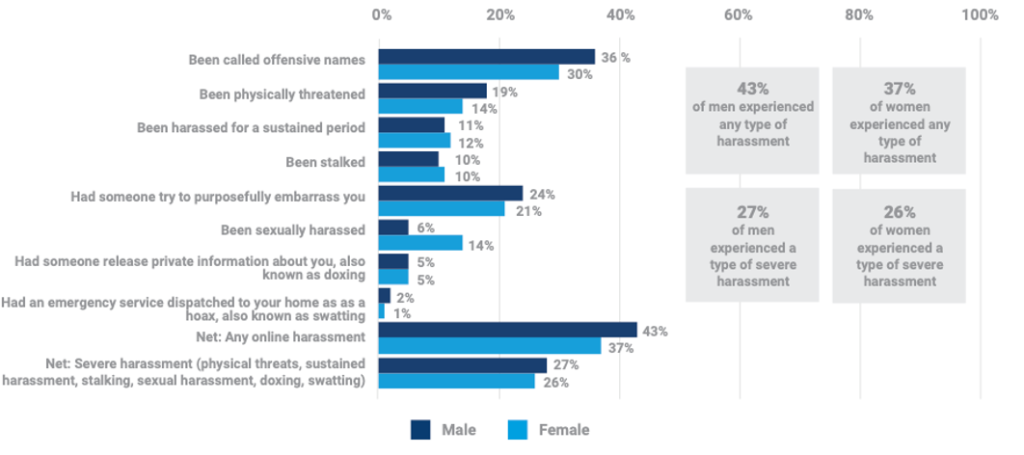 The study from ADL (2022c) shows the prevalence of various forms of online harms in gaming platforms. ADL (2022c) further indicates that women were more prone than males to blame their harassment was caused by their identity: 66% vs. 50%. Particularly, 40% of females (vs. 14% of males) blamed victimisation on their gender, 43% on their physical appearance (vs. 29% of males).Reach3 Insights and LenovoTM conduct research and found that female gamers still face discrimination in the gaming world, with 77% of female gamers reporting experiences of sexism-based discrimination (Research3, 2021). Such gender-based toxicity is a common phenomenon in the gaming world, especially for female gamers Toxic behaviour, as defined by Sharon Fisher in a 2021 interview with Gamer World Observer, is behaviour that disturbs social interactions to the extent where users are unwilling to continue the conversation or even leave the platform (Nesterenko, 2021). Female gamers encounter sexism-based (Khandaker, 2019; as cited in), which can take many forms and is most harmful when it involves sexual harassment, discrimination, or verbal abuse. (Ekiciler et al., 2022). With a percentage of almost 85% in one million reports, abusive language is the most prevalent type of toxic behaviour (Kwak et al., 2015; as cited in Ekiciler et al., 2022). Therefore, sexism-based victimisation of female gamers is more common than it is among male gamers.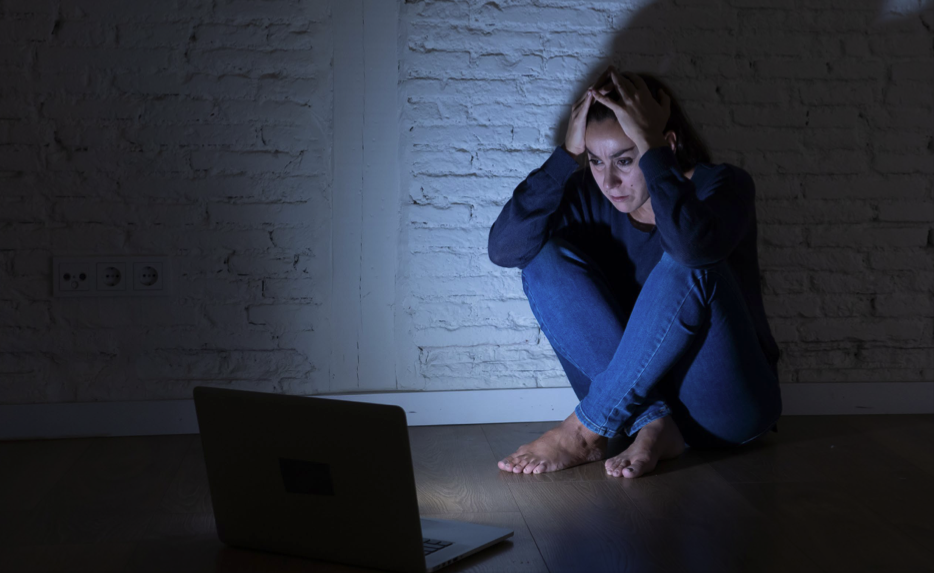 When Words Become Weapons: A Deep Dive into Online Harassment and its Consequences
The New York Times published an article title "Dozen of Women in Gaming Speak Out About Sexism and Harassment" in 2020 brought widespread attention to a number of allegations of sexual harassment in the gaming community. In this new report, journalists Lorenz and Browning (2020) claim that over 70 people, mostly female, have shared their experiences of sexism, harassment, and assault in the gaming industry through comments published on social media platforms such as Twitter, YouTube, Twitch, and TwitLonger. In 2019, women began making public complaints of sexism-based discrimination, and harassment on online, and this trend seems to keep going on even now.
The 2020 uproar started when a female gamer called out a "top player" of the video game Destiny as a "scum lord" on Twitter (Society of Women Engineers, n.d.). After reading this post, three female streamers named JewelsVerne, SheSnaps, and SchviftyFive decided to talk about their experiences with the gamer named Lono or SayNoToRage (Lorenz & Browning, 2020). In response, several gamers came forward with their own experiences of harassment from Lono or SayNoToRage. This accused gamer eventually apologised, but many more women revealed their stories of discrimination and harassment, prompting Jessica Richey to assemble a spreadsheet titled "Survivor stories of harassment/abuse/assault within the gaming live-streaming sector" (Greenspan, 2020). The New York Times referenced this spreadsheet, and it went viral on social media as well. But when women gamers spoke out using their real names, they faced further abuse, hacking, and doxing (Lorenz & Browning, 2020). Thus, female gamers have reported using strategies such as hiding their identity, avoiding interactions with other players, and seeking help or social support both within and outside of the gaming community (McLean & Griffiths, 2019).
"Women especially receive more violent threats than other groups, and I know I would too if they could tell I was female (I use gender-neutral names, and often use male avatars.)" – Female, LGBTQ+, 25-34.

(Utopia Analytics, 2021).
A high-profile British gamer named Sunpi faced a storm of sexist and racially-motivated abuse while playing popular video game such as Fortnite and Call of Duty on the streaming platform Twitch. According to a report by The Independent (2021), Sunpi has been repeatedly targeted with toxic language by male gamers who have made offensive comments about her physical appearance and ethnicity. The online harassment has been continuous, driven by toxic languages, which has prompted requests for stronger regulation of online gaming communities.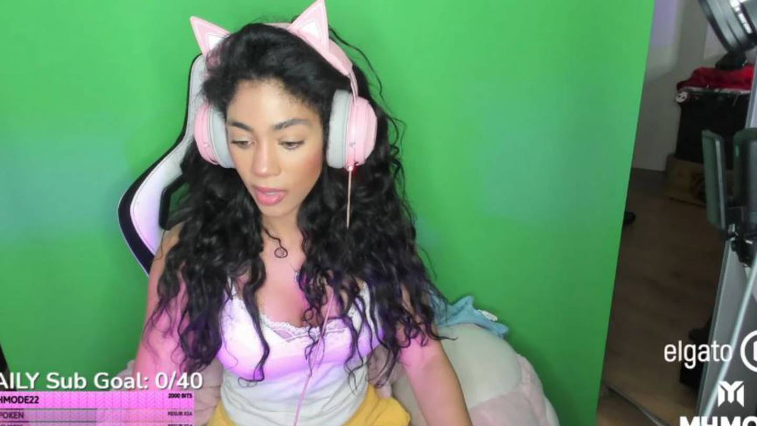 "They say: 'You should make an OnlyFans. They don't say it to the men. They say: 'Oh she is so exotic'. I've had people online harassing me saying they'll murder me and murder my family if I don't give them attention." -Sunpi

Independent (2021)
How Hate Speech Can Influence Actions in the Real World: The Tragic Death of Oliveira Bueno da Silva
Hate speech is a denial of the ideals of equality and diversity, as well as the basic o human rights, often leading to discrimination and physical violence (United Nations, n.d.). Hate speech fosters a culture of intolerance that can encourage prejudice and even physical assaults against the targeted individual. The negative impacts of online hate speech are well-documented. The Independent stated that online abuse can move to social media platforms or even even spill over into real world (Grande Vegas Casino, 2021). Similarly, Professor Matthew Williams, who is the director of HateLab, claims that being a victim of online hate is part of a larger cycle of abuse that can start on social media and then move to the real world (Cardiff University, 2019). Sunpi also stated that she is used to online abuse and she admits that online threat can be taken in to real world because she was stalked online and was searched for living place (Grande Vegas Casino, 2021). Another tragic example of the relationship between online abuse and real-world violence is the case of Oliveira Bueno da Silva. Silva is known as "Sol" on Call of Duty Mobile, who was murdered in her own house by a male rival gamer named Guilherme Alves Costa in February 2021 (Asarch,2021).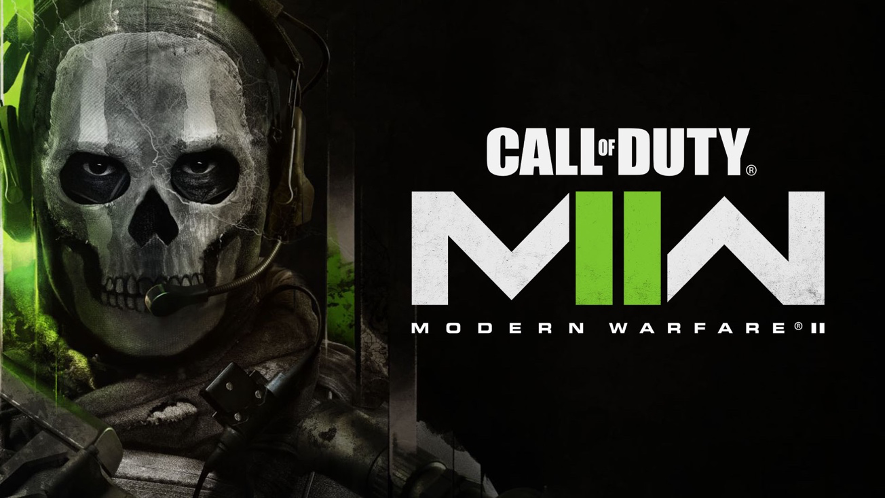 The accused murderer Guilherme Alves Costa shared a recording of his attack on Silva and anti-Christian messages to many people via the messaging app WhatsApp (Asarch, 2021). According to the police report obtained by ESPN Brazil, this killing seems to be a case of femicide, which is characterised by a planned attack on a female because of her sexual identity (The Brazilian Report, 2019). Although hate speech does not always result in physical violence, it can contribute to a culture of violence and worsen underlying factors that can lead to violent behaviour. Therefore, it is imperative to prevent and counter all forms of hate speech and hate crimes.
Exploring Call of Duty's Efforts to Address Online Harassment and Toxicity
Game industry faces a complicated challenge when it comes to addressing hate speech because of the need to strike a balance between free speech and a safe virtual space. Online harms don't just happen to gaming communities, but what makes them unique is that the hate speech happens so often and its lexicalized nature (Liukkonen, 2023). The Call of Duty game' publisher, Activision, has implemented a list of measures to limit the prevalence of hate speech and harassments.
Implementing in-game filters: The game's chat function is equipped with a profanity filter that automatically removes offensive terms and expressions and monitors user names, clan tags, and profiles across eleven languages for possible objectionable contents (Call of Duty, 2021).
Banning gamers who have "toxic" conduct: Almost 350,000 accounts have been banned owing to the "toxic" behaviour in compliance with the zero-tolerance policy towards hate speech, based on player reports and a comprehensive evaluation of the player-name database (Call of Duty, 2021).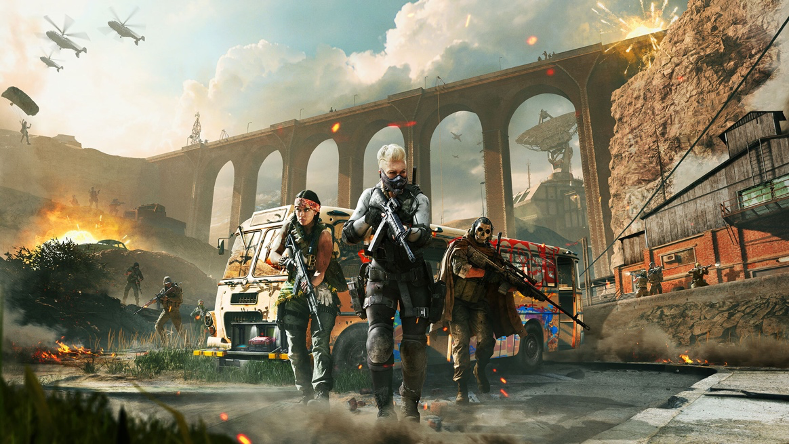 Call of Duty (2021) recognises that more action is needed to counter toxicity, and they intend to develop a more effective strategy that can address hate speech, racism and sexism, including the improvement of gamers reporting capabilities and further moderation. Activision has taken more than mentioned measures to prevent online harms in their games. Yet they stress that this is an ongoing effort, and that they are always exploring new ways to make their games better and a safer place.
Suggested Strategies for More Efficient Online Gaming Community Moderation
Flew (2021) insists that the pervasiveness of hate speech and other forms of online abuse reveals the urgent need to considerably modify the free speech absolutism in the current legal, legislative, and economic context. As human moderation teams have limited capacity and occasionally ignore offensive content, the combination of human moderators with AI would be the most efficient approach to moderating online gaming community.
Game industry has a duty to ensure the safety and accessibility of its platforms for all users. This includes dealing with blind hatred and harassment, which can have a big effect on the gaming experience, especially for people from underrepresented groups. The Anti-Defamation League (ADL) and the Fair Play Alliance established the Disruption and Harms in Online Gaming Framework in 2020 to standardise the language used to combat harassment and discrimination in virtual worlds. ADL (2022b) encourages gaming firms to embrace the promoted framework to evaluate their current efforts and prevent hatred contents and online harms, and also to increase the investment on employees and products, and conduct frequent third-party audits to determine effectiveness. To effectively combat racial supremacy, the entire gaming industry should adopt better policies while video game publishers should have strict guidelines prohibiting toxic contents (ADL, 2022b). No matter what AI moderation is applied, human moderators are still playing important part role in the moderation process. Because human is responsible for setting the moderation policy, serving as the final judge of appropriate/inappropriate contents in the AI moderation technologies (Liukkonen, 2023). It is essential that the gaming community's policies are clear, simple, and widely available in to avoid misconceptions and violations. No matter who breaches rules, the rules must be fairly enforced. The video game industry has to be more transparent by publishing regular reports on hatred and harassment on the platform (ADL, 2022b). These reports can help to determine trends and patterns of the online harms, and estimate the effectiveness of the gaming community's policies.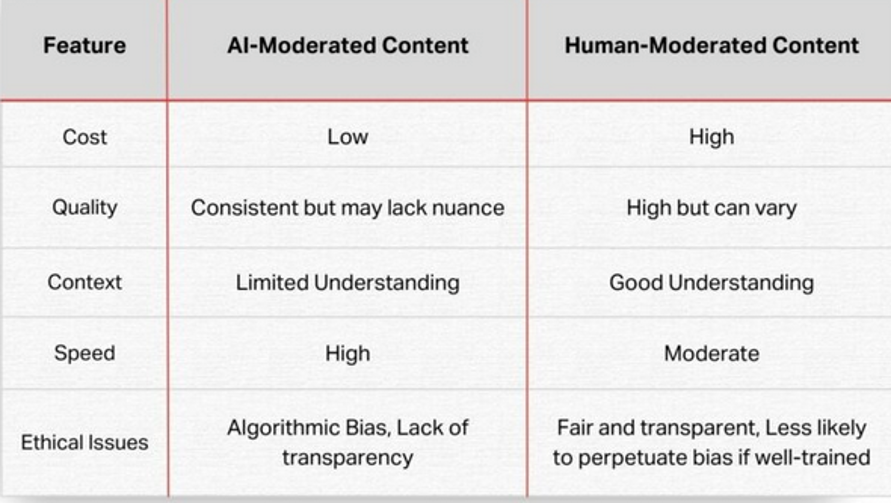 See the comparison of how AI moderation is distinct from human moderation above from iMerit (2023). Owing to human moderation is time-consuming that take longer to process information, advanced AI moderation should be applied. The AI technology filters out content that satisfies particular criteria and sends information that requires human judgement to human moderators, therefore reducing human workload (iMerit, 2023). When compared to utilising simply human moderators, this strategy, which combines the strengths of both humans and cutting-edge AI technology, is more efficient, less biased, and economical.
Reference
Anti-Defamation League. (2022a). Hate is No Game: Harassment and Positive Social Experiences in Online Games 2021. https://www.adl.org/resources/report/hate-no-game-harassment-and-positive-social-experiences-online-games-2021
Anti-Defamation League. (2022b). Hate Is No Game: Hate and Harassment in Online Games 2022. https://www.adl.org/resources/report/hate-no-game-hate-and-harassment-online-games-2022
Anti-Defamation League. (2022c). Online Hate and Harassment: The American Experience 2022. Retrieved from https://www.adl.org/resources/report/online-hate-and-harassment-american-experience-2022
Anti-Defamation League. (2022). Online Hate and Harassment: The American Experience 2022. [Image of a Woman]. Retrieved from https://www.adl.org/resources/report/online-hate-and-harassment-american-experience-2022
Asarch, S. (2021, February 25). A 19-Year-Old Brazilian Esports Player Was Murdered By Another Gamer, According To Police. Insider. https://www.insider.com/brazilian-esports-player-death-call-of-duty-2021-2
Call of Duty. (2021, May 26). An Update, Call of Duty Anti-Toxicity Progress Report. https://www.callofduty.com/blog/2021/05/ANTI-TOXICITY-PROGRESS-REPORT
Call of Duty. (n.d.) [Image of game Character]. Retrieved from https://www.callofduty.com/au/en/
Costa, S., & Tavares, M., & Silva, B., & Isca, B., & Cerol, F. (2021). Hate Speech in Video Games And in Online Gaming Communities -A State Of Art Discurso de ódio nos videojogos e nas comunidades de jogos online -Estado da arte. 10.35168/2176-896X.UTP..
Costa, S., Silva, B., Tavares, M. (2021). Videogames And Gamification against Online Hate Speech? In 10th International Conference on Digital and Interactive Arts (ARTECH 2021), October 13-15, 2021, Aveiro, Portugal, Portugal. ACM, New York, NY, USA, 10 Pages. https://doi.org/10.1145/3483529.3483679
Ekiciler, A., Ahioglu, I., Yildirim, N., Ajas, I. I., & Kaya, T. (2022). The Bullying Game: Sexism Based Toxic Language Analysis on Online Games Chat Logs by Text Mining. Journal of International Women's Studies, 24(3), 1–16.
Flew, T. (2021). Regulating platforms. Polity Press.
Grande Vegas Casino. (2021, June 26). Harassment of Women Gamers Shows No Signs of Abatement. https://www.grandevegascasino.com/articles/harassment-of-women-gamers-shows-no-signs-of-abatement
Greenspan, R. E. (2020, July 25). 200 allegations of sexual misconduct in gaming were revealed in a recent spreadsheet. Streamers say it reflects sexism they face every day. Insider. https://www.insider.com/twitch-sexual-assault-misconduct-allegations-video-gaming-community-streamers-harassment-2020-7
Homrigh, M. V. (2021). Rape threats and misogyny: Female gamers detail online abuse as industry tries to make amends. [Image of British Gamer Sunpi]. Nzherald. https://www.nzherald.co.nz/technology/rape-threats-and-misogyny-female-gamers-detail-online-abuse-as-industry-tries-to-make-amends/DA4OHDHGVFOJ5EJO347K7PP32I/7
iMerit. (2023 February 13). Gaming Behavior Moderation: AI-based vs. Human-Moderated. https://imerit.net/blog/gaming-behavior-moderation-ai-vs-human-moderated/
Keegan, M. (2023, Mar 6). Female gamers are harassed online. Are platforms doing enough? [Image of a Female Gamer]. https://www.campaignasia.com/article/female-gamers-are-harassed-online-are-platforms-doing-enough/483508
Liukkonen, I. (n.d.). Managing Hate Speech in Gaming Media. https://info.brandbastion.com/hate-speech-in-the-gaming-community-and-social-media
Lorenz, T. & Browning, K. (2020, June 23). Dozens of Women in Gaming Speak Out About Sexism and Harassment. The New York Times. https://www.nytimes.com/2020/06/23/style/women-gaming-streaming-harassment-sexism-twitch.html
McLean, L., & Griffiths, M. D. (2019). Female Gamers' Experience of Online Harassment and Social Support in Online Gaming: A Qualitative Study. International Journal of Mental Health and Addiction, 17(4), 970–994. https://doi.org/10.1007/s11469-018-9962-0
Nesterenko, O. (2021). Sharon Fisher on harassment and toxic behaviour in video games: "The old-fashioned approach to moderation needs to be re-thought". https://gameworldobserver.com/2021/10/06/sharon-fisher-on-harassment-and-toxic-behaviour-in-video-games-the-old-fashioned-approach-to-moderation-needs-to-be-re-thought
Oppenheim, M. (2021, June 06). The Dark Threats and Sexual Abuse Women Gamers Endure. Independent. https://www.independent.co.uk/news/uk/home-news/women-gamers-sexual-abuse-harassment-b1860003.html
Reach3 Insights (2021). Reach3 Insights' New Research Reveals 59% of Women Surveyed Use a Non-Gendered/Male Identity to Avoid Harassment While Gaming. https://www.reach3insights.com/women-gaming-study
Society of Women Engineers. (n.d.). Sexism in the Gaming Industry: Are Things Beginning to Change? https://magazine.swe.org/gaming-sidebar/
The Brazilian Report. (2019, October 1). Femicide Hits All-Time High in Brazil. Wilson Center. https://www.wilsoncenter.org/blog-post/femicide-hits-all-time-high-brazil
United Nations. (n.d.). Why Tackle Hate Speech? Retrieved from https://www.un.org/en/hate-speech/impact-and-prevention/why-tackle-hate-speech
Utopia Analytics. (2021). Playing Games Online in 2021: Toxicity, Misogyny and Missing Moderation. Retrieved from https://utopiaanalytics.com/wp-content/uploads/2021/11/PickFu_Utopia-Analytics-report-Playing-games-online-in-2021-Toxicity-misogyny-and-missing-moderation.pdf