LGBTQ equal rights on TIK TOK
Post by: Ruoxi Li
Warning: The following content may cause discomfort.
Notification: Since the case study is from Chinese TIK TOK, the images and videos may appear in Chinese, and this blog will translate them into English.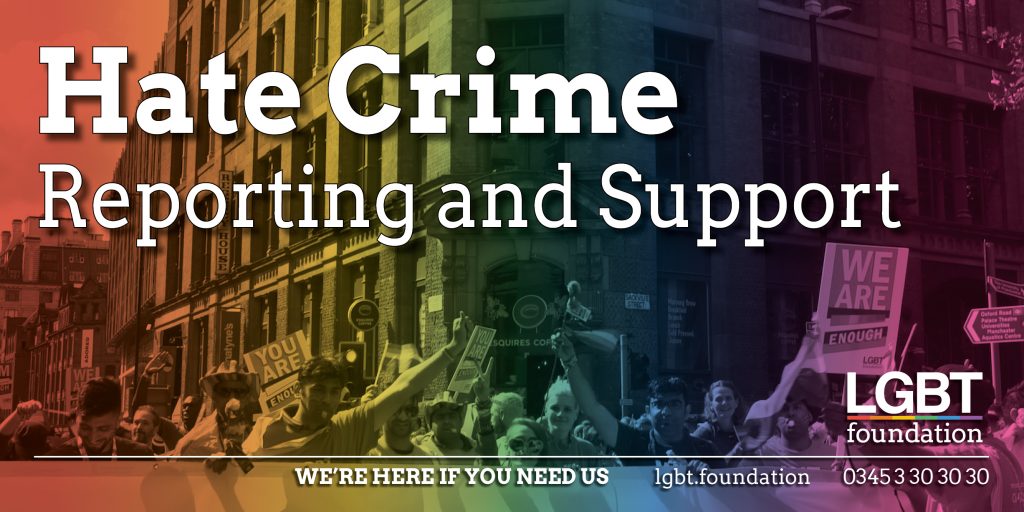 Picture from : LQBT Foundation (2017) If you want to learn more, please contact them.
#GayBlock #FreeSpeechRights #LGBTQ
In 2022, Chinese Digital Time reported an issue about hate speech directed toward the LGBTQ community on TIK TOK, which prompted a discussion about TIK TOK's regulation and oversight.
On December 31, 2021, TIK TOK user "Xiao En and Yu" (we will use "Xiao En" to refer to the user) posted a video containing images of same-sex couples holding hands.
Below this post, people have made discriminatory remarks against homosexuality. For example:
"Homosexuals are selfish because they cannot contribute to human reproduction!"
"Homosexuality makes people sick!"
"Homosexuality is psychologically abnormal!"
"Homosexuals should die!"
However, TIK TOK does not penalised these comments.
On January 10, 2022, TIK TOK was officially issued a Notice of Penalty for Violation, which stated that the "special sexual orientation" depicted in the video was banned, and that it would be taken down.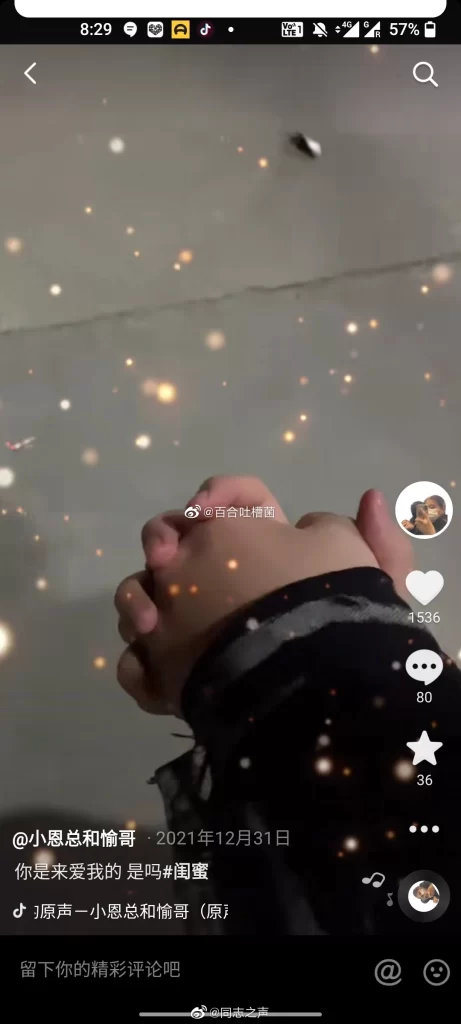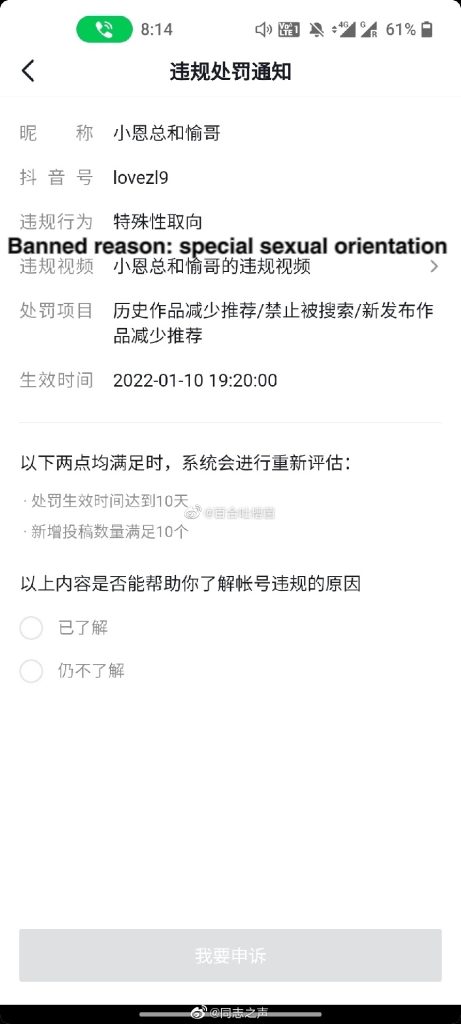 Picture from : China Digital Times (2022) TIK TOK Delete gay post
Before this matter sparked widespread discussion, the TIK TOK comment section had a large number of LGBTQ hate speech groups. For example: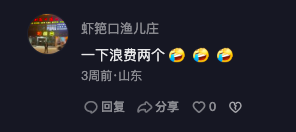 People commented below a video of the lesbians celebrating their time together: "A one-time waste" (of two beautiful women).
Instead of removing comments that discriminated against queer people, or imposing any punishment on the people who posted hateful speech, TIK TOK officials took down videos depicting "special sexual orientations" as the offending content.
The netizens who posted the hate speech claimed that they were just exercising their right to free speech.
Some netizens have complained that society is not giving them the respect they deserve:
The following comments are collected from the web by China Digital Times:



Why I write this blog?
After this incident, I was invited to discuss the nightly regulation of hate speech and online free speech and TIK TOK (Chinese version) for LGBTQ communities.
After I understood the circumstances of this incident, I was not only angry, but also felt that there was an urgent need to address the issue of hate speech for LGBTQ communities.
First, I will give you a step-by-step analysis of what hate speech is. Second, I will explain in detail the source of the proliferation of this type of hate speech – the lack of laws for LGBTQ people and the misconduct of media platforms. Finally, I will present different aspects of regulation and explain the reasons.
What is hate speech?
Parekh (2012) lists three main characteristics of hate speech:


'directed against a specified or easily identifiable individual or, more commonly, a group of individuals based on an arbitrary and normatively irrelevant feature'


'stigmatises the target group by implicitly or explicitly ascribing to it qualities widely regarded as highly undesirable'


'the target group is viewed as an undesirable presence and a legitimate object of hostility … [that] cannot be trusted to be a loyal member of society and presents a threat to its stability and well-being'
To summarize this in my own words, hate speech is the expression of hatred, discrimination or attack against a person or group of people through words or writing. Such speech is often based on targeted prejudice and can be manifested as racism, sexism, sexual orientation discrimination, or religious prejudice. These statements can cause psychological trauma to others, and can lead to violence and social conflict, including gender, religious, and racial antagonism (Sinpeng, 2021).
In cyberspace, "hate speech" is a major form of online harm, and preventing and combating hate speech is one of the main means of preventing and reducing online harm.
What is wrong with the law and with media platform governance?
People have tried to find a legal basis that could protect their right to respect and equal treatment, but they have been disappointed. The Chinese government used to have laws that protected marginalised groups against hate speech, and set out the limits of free speech.
Chinese law about free speech
In Article 35, the Chinese Constitution states that:
Citizens of the People's Republic of China enjoy freedom of speech, of the press, of assembly, of association, of procession and of demonstration.
Chinese law about hate speech
The law of the PRC on Penalties for Administration of Public Security, Article 47, states that:
A person who incites national hatred or national discrimination, or publishes contents about national discrimination or humiliation in publications or computer information networks shall be detained for not less than 10 days but not more than 15 days and may, in addition, be fined not more than 1,000 yuan.
Criminal Law, Article 250, states that:
Where a publication carries an article designated to discriminate or humiliate an ethnic group, if the circumstances are flagrant and the consequences are serious, the persons who are directly responsible for the offence shall be sentenced to fixed-term imprisonment of not more than three years, criminal detention or public surveillance.
Chinese law also has regulates free speech. Article 35 of the Chinese Constitution states that citizens have the right to free speech, but this right also has certain restrictions. Speech that harms the interests of the state, the public interests of society, or the legitimate rights and interests of others is forbidden.
In general, Chinese law protects citizens' right to free speech, while also allowing crackdowns and penalties for hate speech. In practice, the Chinese government has taken a series of measures that balance rights and responsibilities to uphold free speech and combat hate speech (Fu, 2019).
In addition, the responsibilities of media platforms are clearly expressed in China's law on internet management—the Administrative Measures for Internet Information Services. It clearly states that media platforms must develop reasonable review policies, stop transmission in due time, and take steps to deal with undesirable information on the Internet. However, there is no specific mention of hate speech against the LGBTQ community.
China has not introduced appropriate laws to protect LGBTQ community, and nor has the Chinese government acted to protect their rights. Chia (2019) shows that, even though the LGBTQ community is becoming more active in China, the problem has still not improved. The LGBTQ community has to struggle to survive in the gray area of the law.
As a result, those whose rights have been violated have had to seek redress through the media. But they have been disappointed to find that the naked hate speech on TikTok makes them even more desperate than being in the gray area of the law.
What does TikTok governance say?
After my research, I fount that TIK TOK is actually divided into two versions, the overseas version and the Chinese version. The two platforms have different rules. If we compare them, we find that the overseas rules clearly indicate the importance of sexual orientation, sex, gender, and gender identity. The rules emphasise that it is forbidden to offend, defame, stigmatise or degrade others. Users are also forbidden to post, upload, stream or share content that could cause mental, physical or psychological harm to others. They are also required to refrain from promoting violence, exclusion, segregation, or discriminatory behavior against others.
However, in China, this area is not taken seriously—or even mentioned. Only behaviors that endanger national security are prohibited. For example, there are rules banning terrorism and extremism, prohibited and controlled substances, minors, and other content, but nothing that protects marginalised groups.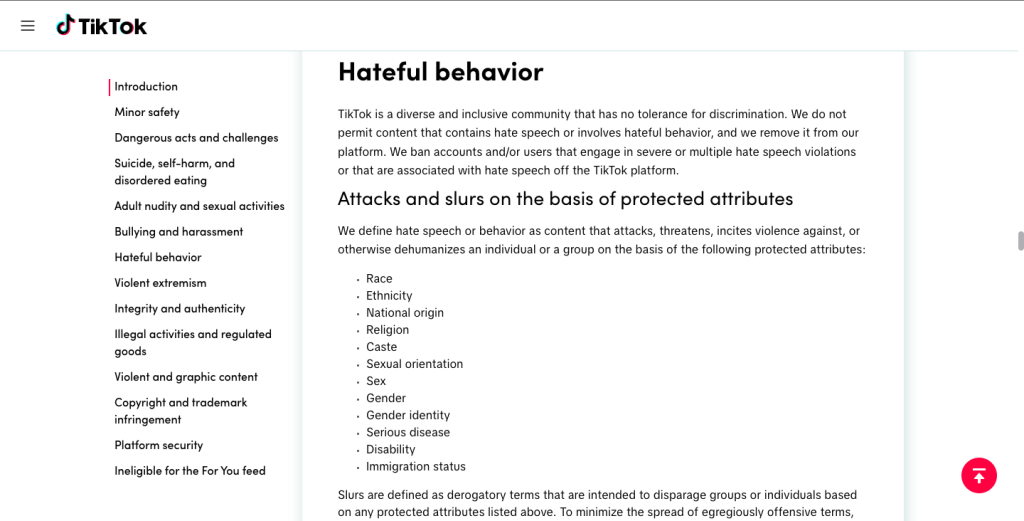 Picture from : TIK TOK OVERSEAS (2023) Rules about hate speech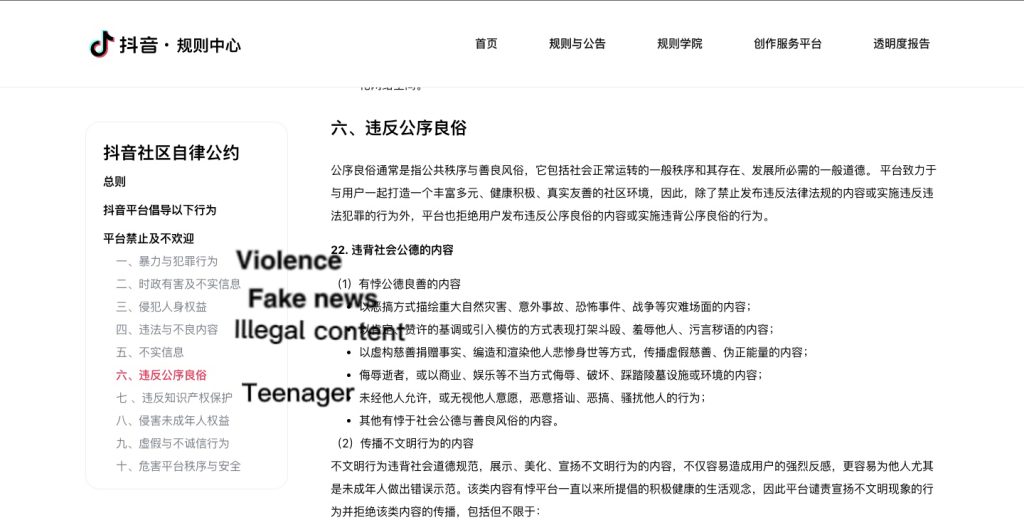 Picture from : TIK TOK CHINESE (2022) Rules
Since media platforms are not explicitly held accountable by law for hate speech against the LGBTQ community, and there are no legal policies in place to protect them. Media platforms, such as TikTok, have had to introduce their own policies, regulations or vetting systems when relevant issues and discussions occur.
The article published by TikTok on October 26, 2020, stated that they joined the European Commission's Code of Conduct on Combating Illegal Hate Speech Online. As a media platform, they will take responsibility for banning any form of hate speech or ideology and eliminating hate.

View more:
https://newsroom.tiktok.com/en-ie/tiktok-joins-the-code-conduct-on-countering-illegal-hate-speech-online
: Need A Place For Us !
However, beyond that, TikTok's moderation system and rectification is not satisfactory. Hate speech against the LGBTQ community has proved impossible to eradicate. Other media platforms provided data reports detailing the treatment of such speech, but TIK TOK has not followed suit. The following data provided by Oxford Internet Institute:
YouTube removed 85,247 videos that violated its hate speech policy in January–March 2021.
Facebook reported a total of 25.2 million pieces of processed content in the same quarter, while Instagram reported 6.3 million pieces of content.
Twitter's latest transparency report said the company removed 1,628,281 pieces of content deemed to be in violation of its hate speech policy during the July–December 2020 period.
At the same time, Arcadiy (2020) claimed that FACEBOOK has invested billions of dollars in people and technology to actively detect online hate speech, and says more than 35,000 people work in safety and security at Facebook. Third-party experts are consulted in the development of relevant policies, and if difficult questions are encountered, the case is referred to the Oversight Board for independent review and binding decisions. Meta data also provided the data about proactive detection rate for hate speech from Facebook and Instagram: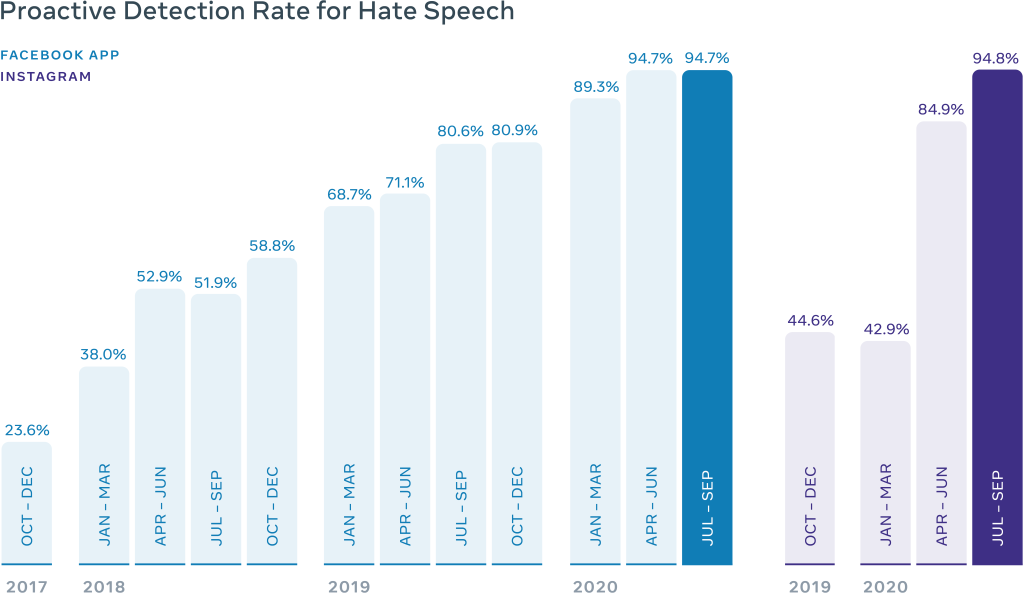 Meta (2020) proactive detection rate for hate speech from Facebook and Instagram
I personally observed for a long time, the situation of hate speech against this group has not improved. Vaterlaus and Winter (2021) support my idea and mention that TikTok has continued to block content from the LGBTQ community. Huang (2022) has noted that Weibo has lifted its ban on the gay community, allowing them to fully access their rights, in sharp contrast to TikTok.
Gillespie (2018) suggests that social media always advertises itself as a universal service that works for everyone, but their rules are not applied equally to people with different values and cultural backgrounds. Some legitimate users, like me, often violate the rules imposed by media platforms. Rules that fail to protect marginalised communities will inevitably provide a space for hate speech to flourish. LGBTQ groups in particular, who do not receive full protection under the law in China, are more vulnerable to media-imposed rules, since they have nowhere to turn for redress.
Also, although there are many problems with the overseas version of TIK YOK, there is no ban on the LGBTQ people posting videos, and many people say they are constantly fighting for their right to do so.
What should we do?
Gillespie (2018) has stated that platforms must protect one user from another, and one group from another. Content vetting is necessary, and whether platforms like it or not, they are arbiters of disputes, interpreters of laws, and enforcers of rules. Therefore, media platforms must not shirk their responsibilities by relying on communities to self-moderate.
TikTok is ostensibly committed to taking responsibility for online speech, but it remains to be seen what policies they develop, and well they will be enforced.
I read UNESCO's report, responding to and countering hate speech requires a multifaceted approach. This must include addressing its root causes, preventing its transformation into violent action, and addressing its social consequences (UNESCO, 2022). Developing effective measures to address hate speech, including through education, requires better monitoring and analysis using clear and reliable data.
More importantly, I support the idea that the law should protect the interests of all people, and behavior that does not explicitly protect the interests of one group is undesirable. There should be a strong endorsement for respect for others, in accordance with international law. This would make their rights legally enforceable.
The concrete ways to achieving this are as follows:
Education: Teach respect for others' cultural backgrounds, beliefs, and perceptions from an early age. Not to comment on others according to one's own preferences until one thoroughly understands the other's value system.
Recourse to national law: Make effective use of the Code of Conduct against Unlawful Hate Speech on the Internet, keep up with international legal and ethical standards, and update relevant legal policies.
Moderation standards: Involve people with diverse values and cultural backgrounds when formulating moderation systems for media platforms. Set up special departments to combat hate speech, taking into account different customs and languages in different places. At the same time, we should co-operate with all sectors of society to set up investigation organisations to combat hate speech and violent crime, to ensure that the rights of internet users are protected.
Why I made these suggestions?
Education is the most important thing !
Educational interventions can help raise awareness of the harmful consequences of hate speech, address the root causes, and effectively warn against manipulative techniques and rhetoric used to spread hate online and offline.
Laws are a necessary support to give minorities safeguards. With the right laws in place, media platforms have laws to follow and people have the right to sue
A robust moderation standards is the most immediate measure. It can quantitatively reduce discrimination and hate speech against minorities.
More suggestions can be found at https://unesdoc.unesco.org/ark:/48223/pf0000379177
If you have any good suggestions, please don't hesitate to leave a comment !
Reference List
Administrative Measures for Internet Information Services. (2000). http://www.gov.cn/zhengce/2020-12/26/content_5574367.htm
Autistically.autistic. (2022). LGBTQ TikTok Compilation. Www.youtube.com. https://www.youtube.com/watch?v=3Baq5aArkfs
Chia, J. L. (2019). LGBTQ rights in China: movement-building in uncertain times. In S. Biddulph & J. Rosenzweig (Eds.), Handbook on Human Rights in China (pp. 657–680). University of Melbourne. https://doi.org/10.4337/9781786433688.00043
China Digital Times. (2022, January 12). [Internet Civil Discourse] TIK TOK bans punishment for gay couples holding hands video: Special sexual orientation. China Digital Times.
Dou Yin Community. (2022, September 13). 抖音–记录美好生活 [Dou Yin Policy].
https://www.douyin.com/rule/policy?activeId=self_decipline&enter_from=pc_douyin_user_ service_agreement#heading-8
Fu, H. (2019). China's Hate Speech Conundrum. UN Human Rights; University of Hong Kong. https://www.ohchr.org/sites/default/files/Documents/Issues/Expression/ICCPR/Bangkok/Fu Hualing.pdf
Gillespie, T. (2018). Custodians of the internet: platforms, content moderation, and the hidden decisions that shape society. Yale University Press.
Huang, L. (2022). Queer Identity on Social Media: The Influence of Online Community on Identity Development of LGBTQ Youth in Contemporary China. [Doctoral dissertation, George Washington University].
Kantor, A. (2020). Measuring Our Progress Combating Hate Speech. About Facebook. https://about.fb.com/news/2020/11/measuring-progress-combating-hate-speech/
Keenan, C. (2019, August 16). TikTok joins the Code of Conduct on Countering Illegal Hate Speech Online. Newsroom: TikTok. https://newsroom.tiktok.com/en-ie/tiktok-joins-the- code-conduct-on-countering-illegal-hate-speech-online
Parekh, B. (2012). Is There a Case for Banning Hate Speech? In M. Herz & P. Molnar (Eds.), The Content and Context of Hate Speech: Rethinking Regulation and Responses (pp. 37–56). Cambridge.
People's Republic of China. (2004). Constitution of the People's Republic of China. http://www.dffyw.com/faguixiazai/xf/200701/20070119171202.htm
People's Republic of China. (2005). Order of the President of the People's Republic of China. http://www.china.org.cn/china/LegislationsForm2001-2010/2011- 02/11/content_21899252.htm
Sinpeng. (2021). Facebook: Regulating Hate Speech in the Asia Pacific. Department of Media and Communications, University of Sydney. https://hdl.handle.net/2123/25116.3
TikTok. (2023, April 21). Community Guidelines. www.tiktok.com. https://www.tiktok.com/community-guidelines?lang=en#38
Thiago, D. O., Marcelo, A. D., & Gomes, A. (2021). Fighting hate speech, silencing drag queens? artificial intelligence in content moderation and risks to lgbtq voices online. Sexuality & culture, 25(2), 700-732.
UNESCO. (2022). Addressing Hate Speech on Social Media: Contemporary Challenges. Unesco.org. https://unesdoc.unesco.org/ark:/48223/pf0000379177
Vaterlaus, J. M., & Winter, M. (2021). TikTok: an exploratory study of young adults' uses and gratifications. The Social Science Journal, 59(4), 1–20.