Imagine that the weather is sunny today, you are in a very good mood, and everything is so pleasant. You took a selfie and posted it on social platforms, wanting to record this beautiful day. In less than a while, you have countless comments. You found that your comment area was instantly flooded with all kinds of unfriendly, offensive, and threatening language. This is not fictional content; this scene is staged on the Internet every day. In recent years, the popularity of social media has provided people with unprecedented communication and sharing opportunities. However, it has also unleashed a darker side of the internet, where hate speech and online harm thrive and proliferate. In this blog post, we take a deep dive to illuminate the causes and effects of hate speech and online harm; discuss its challenges and current solutions.
What is Hate Speech & Online Harm?
The rapid development of online technology means that most Australian children are exposed to the Internet at an early age, and by their teenage years 78% of young Australians are regularly online and 80% use a smartphone. By the age of 15-17, almost all Australian teenagers are online for personal use on a weekly basis. While cyberspace offers opportunities including learning, socializing, and entertainment, young people risk making poor decisions about the information they access and share online. This includes hate speech and online harm.
Hate speech is language or expression designed to discriminate against or incite hatred against an individual or group of people based on race, disability, sexual orientation, religion, gender identity, or other characteristics. It may also include language that substantially abuses, or ridicules individuals or groups based on race. (Sinpeng et al., 2021, p. 59)
Online harm refers to the various forms of negative experiences or impacts an individual may experience while using the internet, and its broader scope includes but is not limited to, cyberbullying, harassment, stalking, public disclosure of other people's private information, Harmful behavior such as revenge porn, spreading disinformation, hate speech, inciting violence, and exposure to illegal activities.
The Proliferation of Hate Speech & Online Harm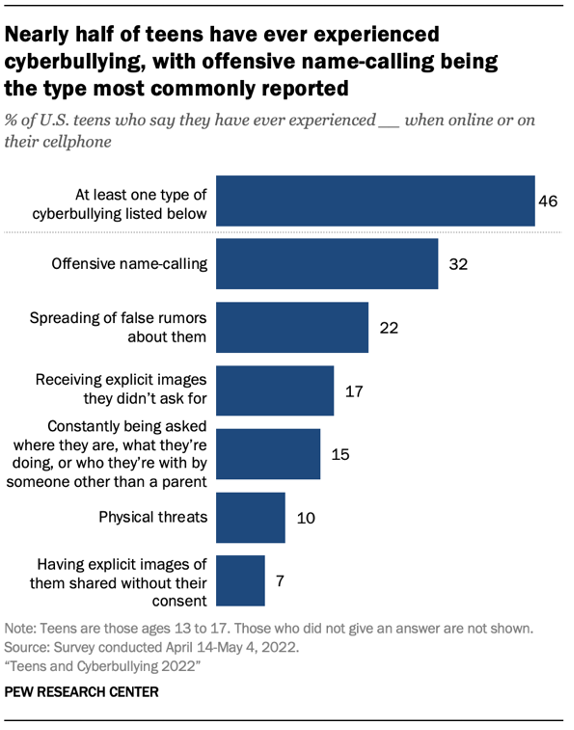 (Nearly half of teens have ever experienced cyberbullying, with offensive namecalling being the type most commonly reported, 2022)
While hate speech has long existed in real life, the rise of social media and the global reach and anonymity of the internet have provided fertile new ground for the rapid and easy spread of hate speech and online harm. Meanwhile, online hate speech and online harm cost next to nothing and are just a few clicks away. In this situation, people tend to let go of respect for others and the ability to think rationally, which leads to the proliferation of hate speech and online harm.
As a result, young people may underestimate the risks inherent on the Internet, and these online hazards can have a significant impact on an individual's mental health, well-being, and safety, as well as negatively impact society. Young people's internet usage can make them more likely to be targeted for hate speech and victims of online harm. Young people may share private, sensitive information on social media, and what young people perceive as "jokes" can make them more vulnerable to targeted attacks.
In addition, young people lack adequate awareness of the dangers and risks on the Internet, thereby underestimating the potential harm of hate speech and online harm. In a Pew Research Center survey conducted April 14-May 4, 2022, nearly half of U.S. teens ages 13 to 17(46%) reported experiencing at least one of six types of cyberbullying. It can be seen that the trend of hate speech on the Internet is constantly spreading, and it has a profound impact on young people. (VOGELS, 2022)
Celebrity Social Media Feuds & Nasty Remarks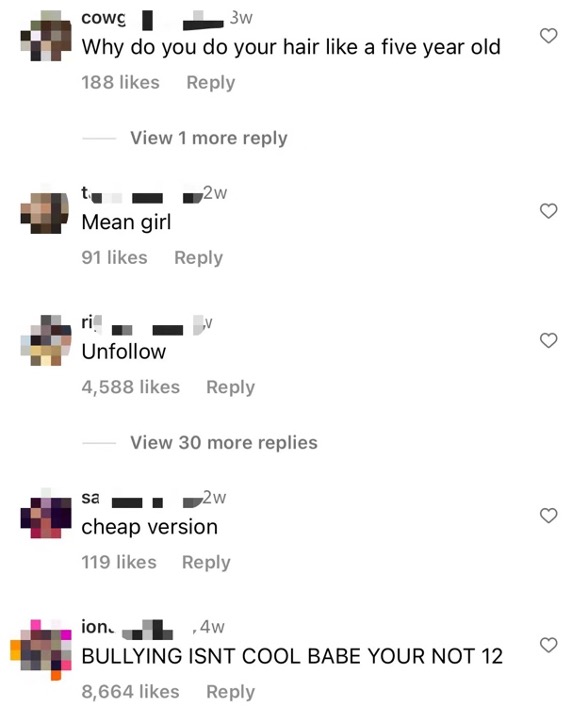 Recently, a very dramatic incident in Entertainment is a good illustration of the spread and impact of hate speech and online harm. Hailey Bieber and Selena Gomez are two well-known American female entertainers whose incidents on the Internet have involved controversy between them. The dispute between the two began when Selena Gomez fans accused Hailey Baldwin of indirect attacks and mocking of Selena Gomez on social media. This sparked a flurry of interactions and comments about the couple's appearance, relationship, past romances, and more. The controversies have sparked heated discussions on social media, with fans attacking and abusing both parties, including offensive language about gender, appearance, and personal life. The situation escalated after the debate spread for days. Fans of Selena and Hailey quarreled online, and some fans even yelled 「F**k Hailey」 together after Justin Bieber (Husband of Hailey Baldwin) performed, the degree of bullying was beyond imagination.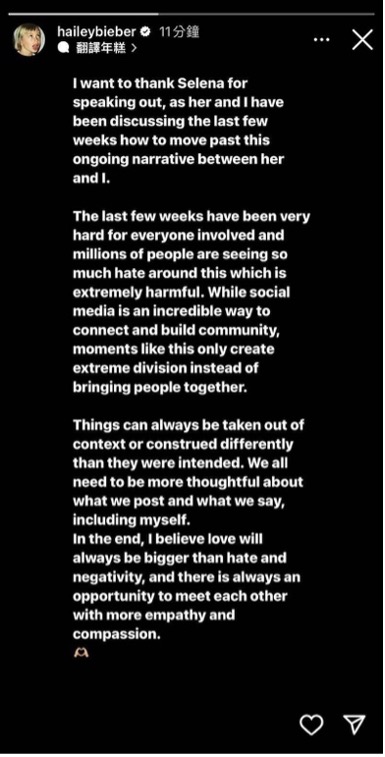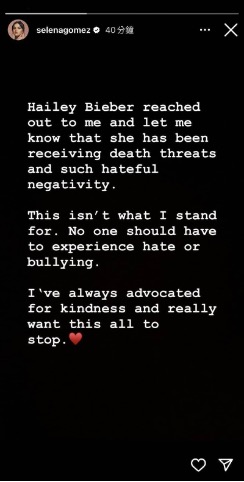 Hailey Baldwin even received a message of death threats, so Hailey Baldwin contacted Selena, and Selena posted on social media to ask everyone to stop the attack, mentioning that no one should be bullied, and hoping the world can be full of kindness. Hailey Baldwin also posted a post to thank Selena for speaking out for her Mentioning that 「The last few weeks have been very hard for everyone involved and millions of people are seeing so much hate around this which is extremely harmful. While social media is an incredible way to connect and build community moments like this only create extreme division instead of bringing people together. Things can always be taken out of context or construed differently than they were intended. We all need to be more thoughtful about what we post and what we say, including myself.」
Finally, the drama came to an end for now. The incident highlights how, in the age of social media, feuds and controversies between public figures can spark hate speech and online harm on the internet. It fully demonstrates the speed of its spread and the convenience of spreading bad words on the Internet.
It's clear that even famous people are not immune to such horrific cyberbullying attacks. Imagine how terrible it would be if the protagonists were replaced by ordinary people. This underscores the importance of respecting others and avoiding malicious speech when exercising free speech on the Internet. It should be noted that the Internet is not a 「freedom paradise」exempt from liability, and all words and actions still need to comply with social ethics and laws, and regulations.
Behind the Madness: Who Sanctions Rampant Hate Speech & Online Harm?
" It's unfortunate that the digital space has been so thoroughly polluted, but it's also unlikely to change for one reason – people don't change. "

Art Brodsky, 2021
Art Brodsky, a public knowledge communications consultant and former vice president of communications, responded: " It's unfortunate that the digital space has been so thoroughly polluted, but it's also unlikely to change for one reason – people don't change. "( ANDERSON & LEE , 2021)
Due to the Internet's anonymity and lack of accountability, the rapid spread of harmful content, and the regulation of online because of the difficulty of the platform, addressing online harms can be challenging. Clifford Lynch, Director of the Network Information Coalition, commented"The digital public sphere has become the target of all kinds of entities that want to shape opinion and disseminate propaganda, misinformation, and disinformation. It has become an attack vector in which to stage assaults on our society and to promote extremism and polarization. Digital spaces in the public sphere where large numbers of sometimes anonymous or pseudoanonymous entities can interact with the general public have become full of all of the worst sort of human behavior: bullying, shaming, picking fights, insults, trolling – all made worse by the fact that it's happening in public as part of a performance to attract attention, influence and build audience. I don't expect that the human behavior aspects of this are likely to change soon; at best we'll see continued adjustments in the platforms to try to reduce the worst excesses." ( ANDERSON & LEE , 2021). While legal measures may be effective in some circumstances, they also have limitations and risks, such as the potential for political abuse and missed opportunities to address underlying tensions and inequalities. At the same time, the laws and regulations of different countries and regions are not the same. Local laws need to be followed and considerations are more complex when it comes to governing hate speech and online harm. However, you define the phenomenon, no single actor can solve the problem of online hate speech. Cleaning cyberspace requires the joint efforts of multiple stakeholders involving individuals, communities, policymakers, and online platforms to effectively mitigate online harm, but hate speech and online harm will not disappear. (Gagliardone et al., 2015, p. 59)
What Can We Do?
Hate speech and online harm are pressing issues that have a major impact on individuals and communities in the digital age. What can we do to resist?
· Lead by example by not posting any hateful comments and/or reposting such content. Whether online or offline, we should all act responsibly to stop the spread of hate and misinformation.
· Check sources of misinformation and harmful content to flag and report to the platform.
· The most important thing is to respond to hate speech and online harm without being as silent as possible. Even if the target is someone else, stand up and publicly reject the hate and support the person the hate speech is aimed at. Counter-speech can be attempted to spread to ensure that hate is not the dominant discourse. Hate content can be undermined by spreading positive messages of tolerance, equality, and truth to protect those targeted by hate(United Nations, 2021).Access to education and literacy: Education is key because education has the power to transform society and is a tool to address the root causes and drivers of hate speech. Promote peaceful, inclusive, and just societies for all through education. Especially young people. Build immunity to hate speech by rejecting hate speech through critical thinking(United Nations, 2022).
at Last…
This blog post provides critical analysis and insight into online hate speech and online harm and uses the case of celebrity social media controversies to dissect the impact of hate speech and online harm in social media. Intended to introduce, as responsible digital citizens, what can we do to combat the spread of hate. Be aware that no one individual is perfect and effective at addressing the problem of online hate speech. Only individuals, communities, policymakers, and online platforms need to work together to combat hate speech and online harm to provide a cleaner, safer, and healthier online environment.
Reference List
ANDERSON , J., & LEE , R. (2021, November 22). 3. Large improvement of digital spaces is unlikely by 2035: Human frailties will remain the same; corporations, governments and the public will not be able to make reforms. https://www.pewresearch.org/internet/2021/11/22/large-improvement-of-digital-spaces-is-unlikely-by-2035-human-frailties-will-remain-the-same-corporations-governments-and-the-public-will-not-be-able-to-make-reforms/
Gagliardone, I., Gal, D., Alves, T., & Martinez, G. (2015). Countering Online Hate Speech – UNESCO (p. 59). The United Nations Educational, Scientific and Cultural Organization.
PEW RESEARCH CENTER, P. R. C. (2022). Nearly half of teens have ever experienced cyberbullying,with offensive namecalling being the type most commonly reported [Photograph].
[Pop Base]. (2023, March 8). Crowd chants "F*ck Hailey Bieber" during Justin Bieber's surprise performance with Don Toliver at Rolling Loud. [Video]. Twitter. https://twitter.com/PopBase/status/1633201957497364483?ref_src=twsrc%5Etfw%7Ctwcamp%5Etweetembed%7Ctwterm%5E1633201957497364483%7Ctwgr%5E6286439b55aaa20f735d4cf8e0a50557b526c672%7Ctwcon%5Es1_&ref_url=https%3A%2F%2Fwww.cosmopolitan.com%2Fentertainment%2Fcelebs%2Fa43245293%2Fcrowd-chants-fuck-hailey-bieber-justin-bieber-rolling-loud%2F)
Sinpeng, A., Martin, F., Gelber, K., & Shields, K. (2021). Facebook: Regulating Hate Speech in the Asia Pacific (p. 59). The United Nations Educational, Scientific and Cultural Organization.
United Nations (2021, November 22). Engage – how to deal with hate speech? https://www.un.org/zh/hate-speech/take-action/engage
United Nations, U. N. (2022, June 24). Building immunity against the virus of hate. https://unsdg.un.org/latest/blog/building-immunity-against-virus-hate
VOGELS, E. A. (2022, December 15). Teens and Cyberbullying 2022. Pew Research Center. https://www.pewresearch.org/internet/2022/12/15/teens-and-cyberbullying-2022/