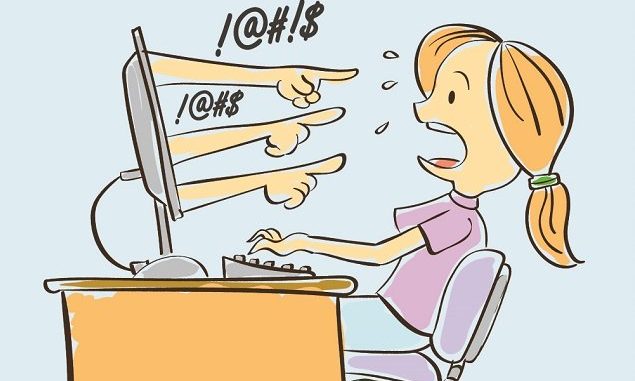 Introduction
In recent years, online harm and hate speech have become worldwide subjects with the evolvement of digitalization, especially existing in diverse forms of social media. Their universality and significance are instantiated by the great proportion of victims and abused circumstances which are increasingly rising. The 2020 report about abuse from Pew Research Center showed almost half of Americans (41%) have suffered from online harassments in U.S. (Vogels, 2021). The posts and traffic of anti-Asian have grown by 200% and hate expression tweets aimed at Chinese people have raised ten-fold on various websites in the last three years (O'Driscoll, 2023). The themes of online harm are always related to gender, race, nationality, social class, sexuality and other demographic features.
There was an impressive hate speech event happening in China a few months ago, the death of Zheng Linghua. Zheng Linghua, a young female who was a Master of Education and a senior secondary music teacher, posted photos of her grandfather and herself with master offer to appreciate her family on Little Red Book (a social platform in China) in July 2022. However, her pink hair, identity and even her grandfather were attacked by others online and this situation has lasted for several months till she suicided in February 2023. This tragedy typically demonstrates the implications of hate speech and online harassments and Internet governance.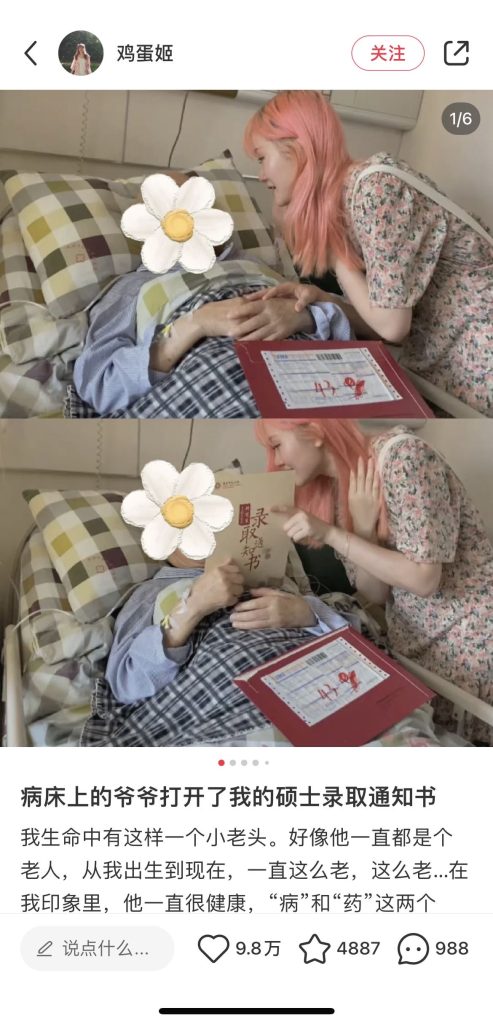 Therefore, with incorporating the Zheng Linghua event, this article intends to discuss the high severity and complexity of hate speech and online abuse in terms of ethics, society, culture, politics and regulation, which focus on three sections: what impacts of hate speech and online harassments on different actors and society, why hate speech and online harm continuously occur and what their reflections in this process, and why serious consequences still cannot lead to eradicate or govern these issues effectively.
What are Hate Speech and Online Harassments?
Hate speech can be understood as the hateful discourses or expressions on a group of people who have distinct characteristics like gender, nationality and race to exclude them from desirable qualities and considering them threatening social harmony in methods of joking or ironically critiquing and frequently becomes a larger channel or terminal form of online harm (Flew, 2021). There are two main categories of hate speech: the causal one directly makes harassments on people involving discriminatory actions and the constitutive approach is the harm led by the speech in a consequential way including marginalizing a group of people (Sinpeng et al., 2021). To online harassments, the key behaviors of implementation concentrate on doxing, shaming publicly, bullying, attacking personally, unwelcoming, teasing and belittling others online (Janis, Mitchell & Finkelor, 2007; Blackwell et al., 2018).
The Influence of Hate Speech and Online Harassments Bring to Assaulters, Victims and Society
Executing hate speech and online harassments is able to let both assaulters and victims have the risks of information leakage, lead assaulters to be numb in affections, make victims have mental and physical problems and destroy social peace and wellbeing, though these actions can boost Internet power in doing worthy stuff. Their common impact on privacy is mainly about doxing. Doxing is defined as the explosion of personal information to the public and is sometimes thought as a solution to restrict hate speech and online harm by recognizing speech pushers and origins (Dougles, 2020), meaning the privacy of participants might be threatened. A continuity of hate speech and online harassment will happen with a converse direction to assaulters. In Zheng Linghua event, netizens found her real name and workplace through scanning pictures of her master offer and videos of her working status displayed on her account to get more her private information to enrich their sources of posting hate speech. After knowing Zheng's death, people tried to dox those who express the fiercest speech and disclose their personal information online to induce others to attack them, aiming to achieve revenge for Zheng. Assaulters are changed to be victims.
Besides, when people browse painful things and post terrible tweets lots of times in a short term, they will lose empathic capacity and be numb to others' encounters (Gorrell, 2018). Assaulters in Zheng's events conform with this concept that they continued with no sympathy and positive emotions to treat her and were used to holding hate speech during those six months. Hate speech will hurt someone at once and last with time goes by, not just disrupt their feelings (Sinpeng et al., 2021). A US report shows over one-third of users who have experienced online harassments or hate speech have insomnia, anxiety and suicidal tendency (Statista, 2022). Humans' mental health is influenced by emotional security and self-esteem (Raypole, 2019), describing a causal relationship between receiving attacks from hate speech and psychological health. The suicide of Zheng is the result of accumulating speech harm and transforming to afflict her mentality.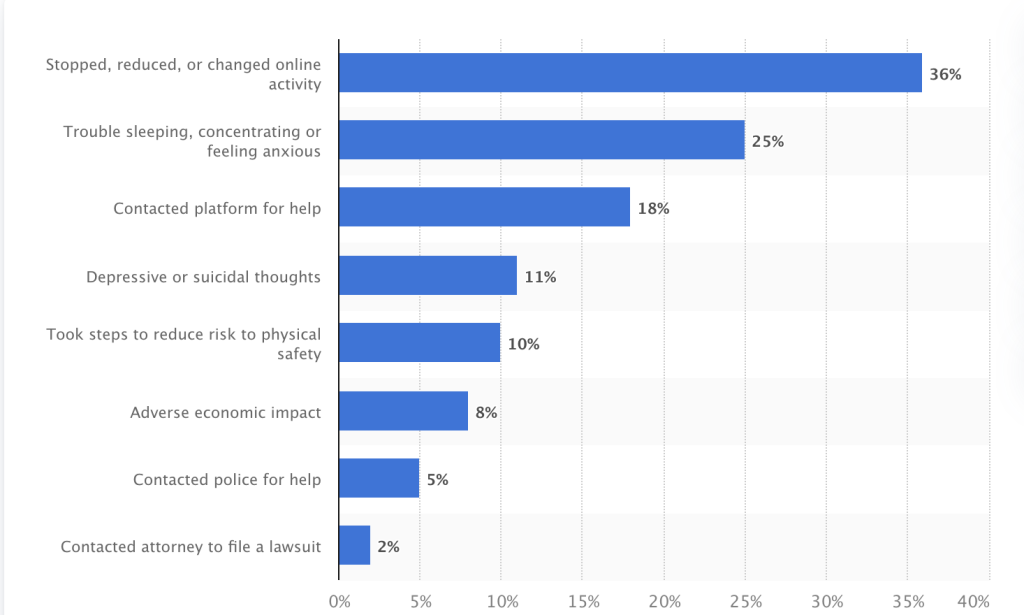 To social aspect, although hate speech and online harm improve traffic to be ranked at the top in searching, harmony can be interfered that discrimination, violation and violence are deepened. Zheng Linghua's knacks about education and reading shared on Little Red Book are in high demand that assist many people to proceed with the same things at that time. Whereas a study indicates hate speech will encourage people to take violent actions and support violence culture, such as Trump's anti-Muslim hate speech leads an increasing in hateful posts and anti-Muslim crimes under social media's high-speed dissemination (Byman, 2021), despite the violent conveying of language is not a property of hate speech (Flew, 2021). Because of the marginalization on minority of people in hate speech and online harassments, people's sense of social identity can be distorted that some groups have superiority and other groups are demeaned, aggravating social inequality and certain groups' marginal position. Also, half of victims of online abuse and hate speech are young people under 30 years old revealed in a US report (Vogels, 2021). They are the main force in constructing and developing society in which hate speech may impair their energy on contribution.
The Causes and Reflections of Hate Speech and Online Harassments
Hate speech and online harassments are motivated by the soakage of the Internet, functions of platforms and cultures and reflect social values and structure. The high frequency and longtime using/staying on Internet degrade humans' cognition that they may lose critical thinking, information-dealing abilities and the control of emotions and conduct vicious online behaviors (Quagilo & Millar, 2020). Overladen information and the gap between virtual space and the physical world provide people with a lax consciousness to abreact their living pressure and express random thoughts which cannot be done in real life without judgements. People get more freedom to resist ideas against them.
The interoperability between different platforms and people's conformity determines the range of hate speech and online harassments that more people join in. In the Zheng Linghua event, many people transmit Zheng's posts as their own contents with irrational tags to attain traffic and achieve commercial profits on Weibo, TikTok and Little Red Book, arousing and expanding hate speech and online harm. Almost no copyright scrutiny and monetary/legislative burden taken with deficient governance on platforms make netizens easily hold hate speech and online harm. Platforms work like tools to enlarge and produce the discourse and remake ideologies/social culture, same with the specific concept of platformed racism which platforms aid the diffusion of racism in these two modes (Matamoros-Fernández, 2017).
Except for racism, one of the hardest aspects for platform to moderate is the gender issue (Sinpeng et al., 2021), because societies of many countries are still male-dominant and have bias on females. The social culture and values of marginalizing females and restricting them into an appointed ideal standard are revealed in hate speech and online harassments. The comments "Do you think pink hair is suitable for a female teacher? Like a barmaid." "Your master offer is fake" and "Your grandfather must shame on you and die for you" are three directions of hate speech to attack Zheng Linghua after she posted the pictures celebrating her master application. Considering female teachers cannot dye hair, looking down on females' professional ability and standing as a "wise" angle judging females are stereotypical norms existing in the male-dominant society, leading hate speech to be carried out in contrasting people themselves' values with others who differ to normalize their ideologies and indicating the lack of inclusivity.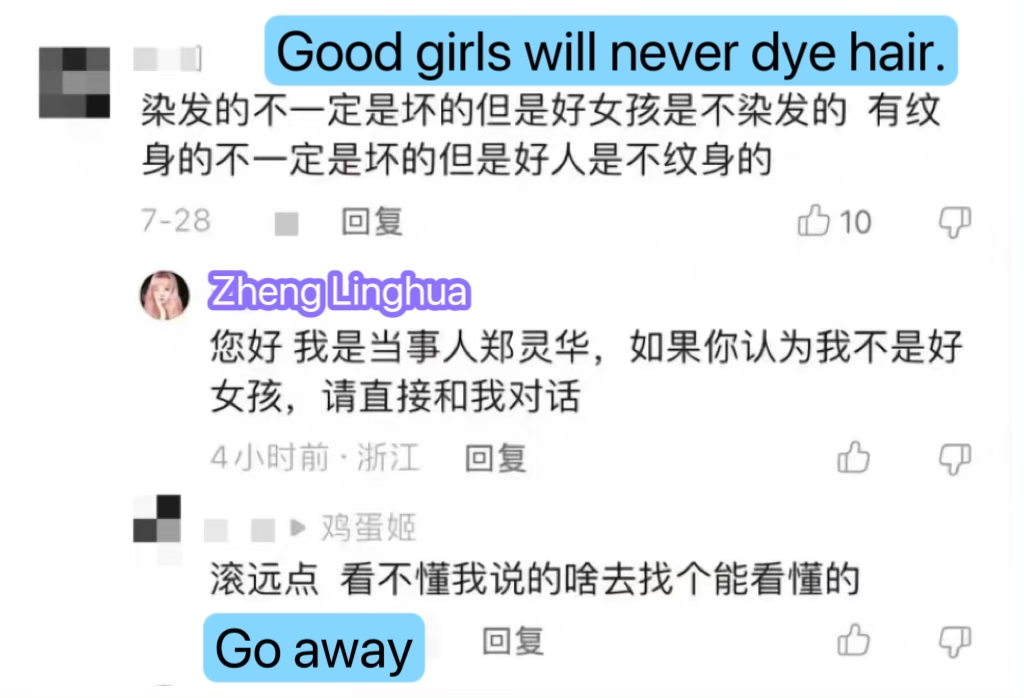 The Straits of Governing and Eliminating Hate Speech and Online Harassments
The ingrained culture, platforms' setting, ambiguous identification of hate speech, transparency and the balance between regulation and freedom limit the governance and avoidance of hate speech and online harassments. Culture is a component of shaping people's personalities and self-identification that hard to change internal essence (Neville & Schnider, 2021). Diminishing hate speech is like denying some people's culture/beliefs.
Besides, a majority of social media platforms target at encouraging users to engage, and their censorship is based on their business strategies (Roberts, 2019), such as Facebook, Weibo, and Little Red Book. Users' posts belonging to hate speech will partially be liberated from investigation for reaching higher participation and commercial benefits. Although Weibo and Little Red Book enforce a real-name system which people need to register using their phone numbers linked with official identification, anonymity is still available interacting with other users, implying they can have no worries to give out hate speech unless platforms regard their posts as hate speech. Furthermore, according to Weibo's and Little Red Book's policies, users are allowed to cancel their accounts anytime under any conditions and their previous posts will be remained without any personal information that provides them with an access to escape from taking responsibility for their speech and continue to harm others. There was a netizen taunting Zheng Linghua many times on Weibo and he/she created a new account to continue exporting hate speech after tip-off. Tip-off and unconditional re-registration do not work well to restrict hate speech and online abuse, so platforms are supposed to improve their policies of punishments on violated accounts to be effective.
Taking the conceptual definition of hate speech and online harassments into physical practices is incomprehensive that deciding which online behaviors are hate speech/online harassments is uncertain. Users can utilize sensitive filters, humorous expressions and recommendations to mask their hateful/discriminatory meanings, like implicit videos and pictures (Matamoros-Fernández, 2017). The contents posted by users do not have to include explicit violent, hateful or insulting words that hate speech and online harassment can also be produced. In Zheng's event, lots of comments consist with this idea, for example, "You grandfather will regret showing off with you". It is difficult for workers or algorithmic systems to determine whether these posts are thought of hate speech and online harm and collect evidence to prosecute assaulters. Zheng Linghua has used laws and announced lawyer's letters to defend herself, but they did not work due to inadequacy deterrence. Also, hate speech relies on context which people from different areas have various social values/norms, then comprehending and solving these issues should be localization (Sinpeng, 2021).
Another problem is people might not realize their actions are hate speech and online harassments, thus announcements in moderation process are necessary to remind users. However, it is hesitant to display completely transparent censorship criteria or processes on platforms, since ill-disposed people have chances to exploit loopholes to do more unethical things and platforms will lower their competitivity (Roberts, 2019).
The items of International Covenant about civil and political rights claim everybody can freely express, but discriminatory, hateful or violent statements are banned (Flew, 2021). These are contradictory that how to balance the situations between people feeling free to speak out and their speech is legal and ethical needs to be adapted. The right of free speech can be restricted when laws render services for opposite public aims/interests and the balance between freedom rights and prohibitions of unethical and illegal expressions needs to vary unceasingly with social standards (Kirby, 2013). The overall purpose is to achieve common interests under laws.
Conclusion
Hate speech and online harassments with their complexity and seriousness make people have numb senses, damage psychological and physical health, disorganize social order and aggravate violent and hateful ideologies. Assaulters and victims both can suffer from doxing and have privacy issues. Their motivations derive from the overuse of Internet declining people's cognitive system, platforms' features, and cultural and social reflections, especially gender discrimination. The difficulties of solving hate speech and online abuse are essentially associated with rooted culture, platforms' policies, physical practices of them with vague determinants, disclosure of moderation and the distribution of freedom rights and corresponding restrictions. Timely education may gradually relieve the current circumstances, enhancing these issues at source (people).
References
Blackwell, L., Chen, T., Schoenebeck, S., & Lampe, C. (2018). When Online Harassment Is Perceived as Justified. Proceedings of the International AAAI Conference on Web and Social Media, 12(1). https://doi.org/10.1609/icwsm.v12i1.15036
Byman, D. L. (2021, April 9). How hateful rhetoric connects to real-world violence. Brookings. https://www.brookings.edu/blog/order-from-chaos/2021/04/09/how-hateful-rhetoric-connects-to-real-world-violence/
Flew, Terry. (2021). Hate Speech and Online Abuse. Regulating Platforms (pp. 115-118). Cambridge.
Douglas, D. M. (2020). Doxing as Audience Vigilantism against Hate Speech. Introducing Vigilant Audiences (pp. 259-280). https://www.researchgate.net/publication/344459357_Doxing_as_Audience_Vigilantism_against_Hate_Speech
Gorrell, A. (2018). Spiritual Care in a Social Media Landscape. Journal of Pastoral Care & Counseling, 72(3), 221-223. https://journals.sagepub.com/doi/pdf/10.1177/1542305018801477
Janis, W., Mitchell, K. J., & Finkelhor, D. (2007). Does Online Harassment Constitute Bullying? An Exploration of Online Harassment by Known Peers and Online-Only Contacts. Journal of Adolescent Health, 41(6), 51-58. https://www.sciencedirect.com/science/article/pii/S1054139X07003631
Kirby. (2013, July 4). Freedom of Speech and giving offence: can a balance be struck? Humanrights. https://humanrights.gov.au/about/news/speeches/freedom-speech-and-giving-offence-can-balance-be-struck
Little Red Book. (2022). Pink Hair Girl.
Matamoros-Fernández, A. (2017). Platformed racism: the mediation and circulation of an Australian race-based controversy on Twitter, Facebook and YouTube. Information, Communication & Society, 20(6), 930–946. https://doi.org/10.1080/1369118X.2017.1293130
Neville, L., & Schneider, B. (2021). Why is it so Hard to Change a Culture? It's the People. Inspirations for the Future of OD & the Reality of Our Work, 41.
O'Driscoll, A. (2023, March 21). Online hate crime statistics and facts of 2020 – 2023. Comparitech. https://www.comparitech.com/blog/information-security/online-hate-crime-statistics/
Quagilo, G., & Millar, S. (2020). Potentially negative effects of internet use. European Parliamentary Research Service. https://www.europarl.europa.eu/RegData/etudes/IDAN/2020/641540/EPRS_IDA(2020)641540_EN.pdf
Pacina, M. D. (2023, February 23). Suicide of pink-haired Chinese woman sparks campaign to combat cyberbullying. Yahoo. https://news.yahoo.com/suicide-pink-haired-chinese-woman-194335539.html
Raypole, C. (2019, May 29). Trolls and Toxicity: Surviving Online Harassment. GoodTherapy. https://www.goodtherapy.org/blog/trolls-toxicity-surviving-online-harassment-0529197
Roberts, S. T. (2019). Behind the Screen: Content Moderation in the Shadows of Social Media. Yale University Press.
Selma Partners. (2019). April SELMA focus: The consequences of hate speech. https://hackinghate.eu/news/april-selma-focus-the-consequences-of-hate-speech/
Sinpeng, A., Martin, F., Gelber, K., & Shields, K. (2021, July 5). Facebook: Regulating hate speech in the Asia Pacific. Final Report to Facebook under the auspices of its Content Policy Research on Social Media Platforms Award. Dept of Media and Communication, University of Sydney and School of Political Science and International Studies, University of Queensland. https://r2pasiapacific.org/files/7099/2021_Facebook_hate_speech_Asia_report.pdfLinks to an external site.
Statista. (2023). Consequences of online hate and harassment according to internet users in the United States as of January 2020. https://www.statista.com/statistics/971876/societal-impact-of-online-hate-harassment-usa/
Vogels, E. A. (2021, January 13). The State of Online Harassment. Pew Research Center. https://www.pewresearch.org/internet/2021/01/13/the-state-of-online-harassment/