Have you ever considered the following questions when you see hate speech online?
How do you feel about playing the role of a cyber mobster on the internet?
What is the purpose of cyber mobsters posting rude words on the internet?
Do you get comments underneath your daily posts on social media apps, and do these comments hurt you and make you uncomfortable?
Have you ever received extraordinarily crude messages, replies or private messages? They will reply to you back even more furiously, and things will get worse if you fight back with them or expose their behaviour.
Cyberbullying involves using media and information technology with a series of malicious, hostile acts against individuals or specific groups of people, using online platforms to attack each other and cause them to receive harm. For example, during the 2022 Winter Olympics in Beijing, a Chinese female figure skater was harshly condemned by netizens and provoked to ridicule on social media for repeatedly falling during the competition. This series of verbal attacks on social media is cyberbullying. It occurs more often than real bullying because net names give netizens the freedom to go on the internet and engage in unrestricted attacks that don't really need to consider the person themselves.
Figure Skater Zhu Yi Received Cyberbullying Due to Her Falls During Olympics Games
During the 2022 Winter Olympics in Beijing, 19-year-old Zhu Yi, grew up in the United States. She suffered several faults in the women's short program team competition. Zhu repeatedly fell times in her first time Olympic game. She nearly kept China out of the next round of competition. The team dropped from third to fifth place because of Zhu Yi's errors. Zhu Yi said she was sad and a little embarrassed after the competition. She felt a lot of pressure because she knew the Chinese had expressed great surprise at choosing athletes to compete at the Winter Olympics in Beijing. Zhu wanted to prove to the crowd that she was good but failed. It was Zhu Yi's first time competing in such a major Olympic event since renouncing her US citizenship in 2018. She beat Chen Hong Yi to become the only Chinese competitor in the women's singles figure skating event at the 2022 Winter Olympics in Beijing.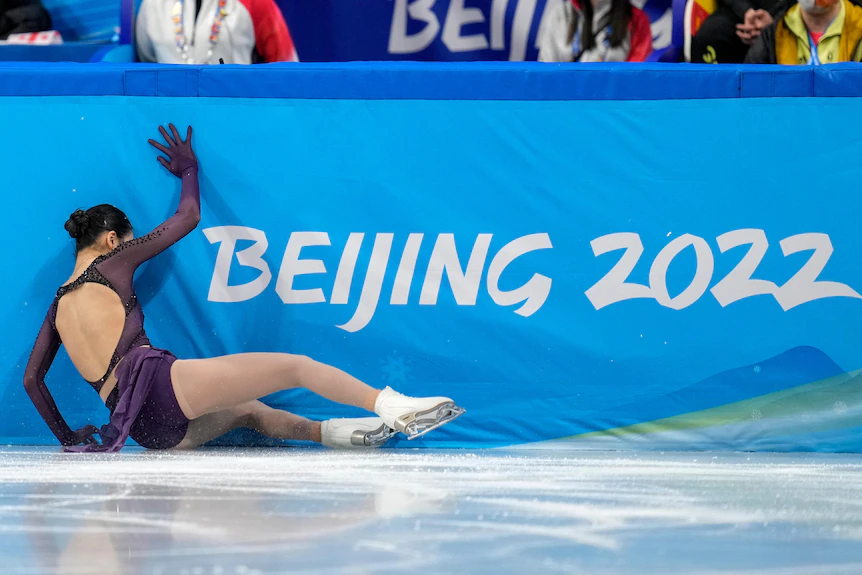 Netizens showed no sympathy for Zhu Yi after her fall and mistake. After that, the hashtag "Zhu Yi Falls" received over 230 million views on the Chinese social media platform Weibo, a Twitter-like platform.
One user questioned, "this is what happened after Chen Hongyi was replaced?"
Social media users slammed her performance in a Weibo topic. They questioned her selection to the national team over Chan Hong Yi.
While one portion of users slammed Zhu Yi for not speaking fluent Chinese, another portion claimed she was favoured in the selection because of the honour of her father. Her father is an award-winning artificial intelligence scientist and the dean of the School of Artificial Intelligence at Peking University.
The internet is full of criticism of Zhu Yi.
One Weibo user urged for her to first learn Chinese before discussing patriotism.
"Do you dare to skate for China?" "You can't even compete with an amateur!" said another user.
" This is a shame disgrace," said another netizen, who received 11,000 votes.
Another hashtag, "Zhu Yi MessedUp", has also disappeared from Weibo, and topics about her are no longer in the top 50 ranking hashtags on Weibo. But some netizens continue to bash it. "All of her posts about her falls have been censored… I'm completely speechless," a Weibo user commented.
Although popular hashtags related to Zhu Yi can no longer be found on the platform, some netizens continue sharing footage of Zhu Yi's fall.
At the same time, there is a rational part of the population that argues,
"What athlete does not feel pressure from his or her country and people?"
"The girl is actually under a lot of stress… Is this a good idea to blame her?" Another Weibo user commented.
Finally, Zhu Yi's mother diminished this cyberbullying by posting a video of Zhu Yi's high-scoring performance at the national Olympic qualifiers on social media platforms, a set of complex and smooth arrangements. The video led to a reduction in comments about cyberbullying.
Attitudes Towards the Winner and Loser
Compared to Zhu Yi's cyberbullying, another American-born athlete, Gu Ailing, has received a cult following in China. After winning the freestyle ski jumping competition, Gu Ailing has become a star in the Chinese media and among netizens. She has been hailed as the 'girl genius' of the world. As a result of her success and popularity, Gu Ailing has 1.9 million followers on Weibo. She has become a spokesperson for the Olympic Games.
With a pure accent, excellent skills and a beautiful appearance, Ailing Gu has undoubtedly become a model among most Chinese netizens. She has become a popular spokesperson for various sponsors, with whom she has several endorsements or collaborations.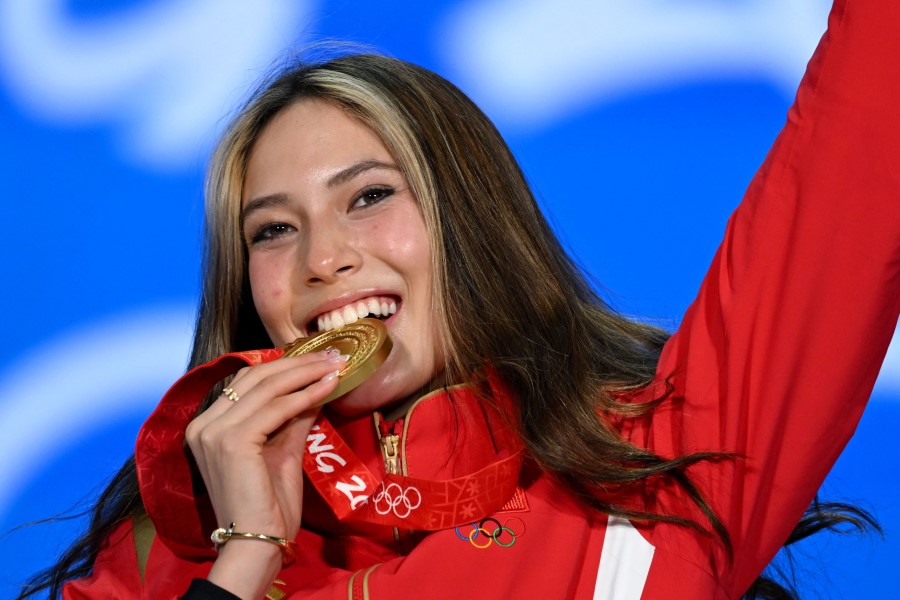 Statistics and Perspectives on Online Harm to Teenagers and Athletes
In an era of global information transparency, users can verbally bash on various platforms as they do not need to identify themselves as real people. Netizens can use a nickname and fake an ID to attack victims verbally, and many teenagers are victims. Zhu Yi was still in the teenage stage at the Olympics at 19.
Nowadays, cyberbullying is already present around the world. According to 'Cyberbullying facts and statistics for 2018-2023' provided by Comparitech, from a survey of 1011 parents of young people, nearly 60% of parents said their child received bullying at aged 14-18. 53.4% of parents said their children aged 19 or over receive bullying. One-fifth of this bullying occurred on social media. Bullying was reported by 19.2% of those who used social media sites and apps. (Cook, 2023) Other electronic sources of bullying include texting, video games, non-social media sites, calls, and emails. Comparitech states that after cyberbullying occurred, 59.4% of parents discussed internet safety and wise practices with their children. (Cook, 2023) The majority of parents took proactive steps to intervene.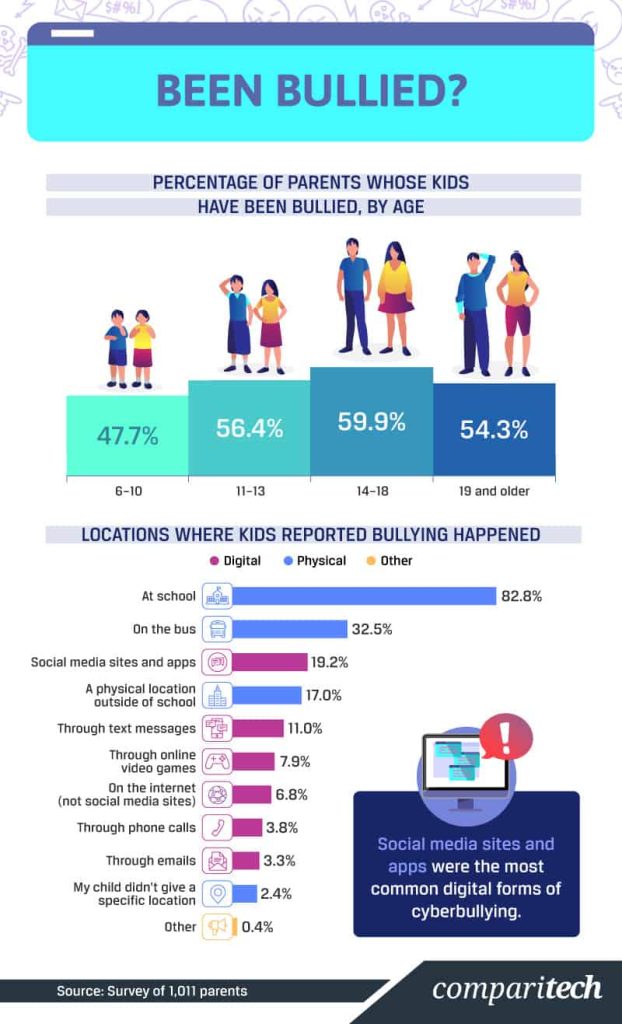 The Pew Research Center states that 59% of teens have been victims of cyberbullying. The research shows that teens receive bullying in different ways, including 31% of offensive name-calling, 26% of purposeful embarrassment, 14% of physical threats, 11% of stalking, 11% of sexual harassment and 11% of sustained harassment.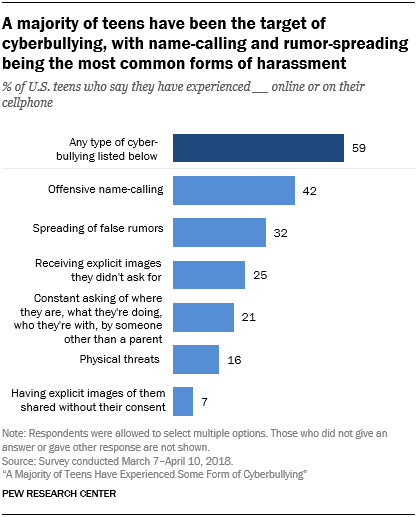 According to US students, the most common form of online harassment is comments (22.5%). (Djuraskovic, 2023) It is common among US students to use offensive and derogatory terms to attack the victim.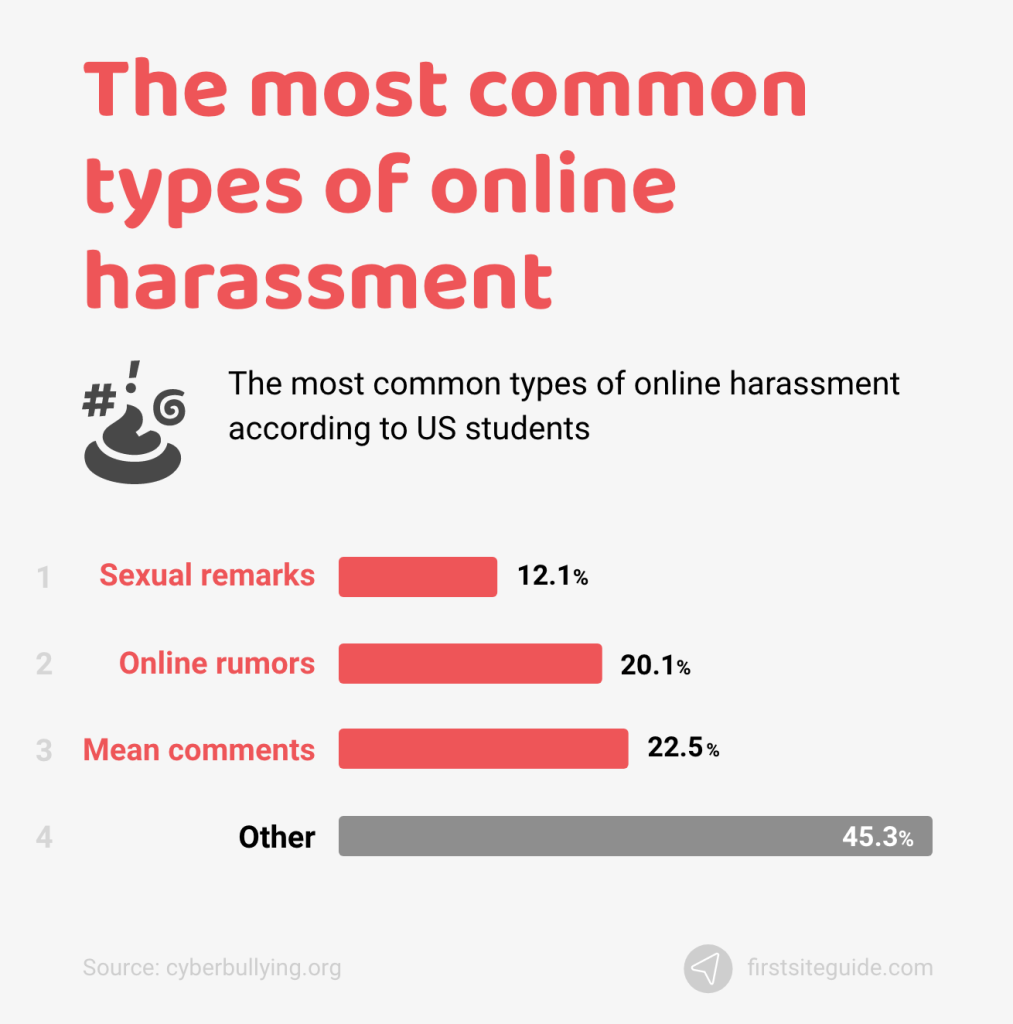 In addition, a successful athlete needs to be highly visible in the public eye and have excellent results. Still, many athletes are also subject to verbal abuse and vitriol on social media. Ahmed and Meggs point out that in sports, athletes are subject to cyberbullying by opposing teams during a successful competition result. At the same time, the athlete is also condemned by supporters if they lose the match. In Zhu Yi's case, she received cyber abuse for poor performance in a competition. Moreover, it is undeniable that athletes can only succeed by interacting and building relationships with their fans, so it is even more important for athletes to manage their messages to achieve a lesser impact on themselves.
How Online Harms Happens
There are some characteristics of cyberbullying in general. Online harm does not only involve fabricating facts but also distorting them. Things that are not true are exaggerated more by the verbal abuse of cyberbullying. In addition, cyber-violent people are in groups or an organisation. The group will create two sides of the internet to argue about the topic, increasing the views on the topic and attracting more people to join the conversation. Finally, there is no legal liability for posting harmful comments online. Still, at most, the platform will stop operating the account or remove the topic, but no one will be penalised for it.
In the current stage of continuous development of information technology, the Internet provides us with both convenience and various hidden dangers at the same time, and social software is a social platform built for people to communicate on it. John Perry Barlow points out that we are in an open and free world where we are free to express our opinions anywhere we like. (Barlow, 1996) At the same time, it is difficult for the system to identify and filter controversial or hurtful speech, so the government has put in place measures to regulate this range of behaviour.
Online Harms with Government Intervention
According to online platform transparency, electronic media platforms must tell users how they are regulated and audited (Goggin, 2023).
A real-name system was enabled across Chinese social media, requiring Weibo and WeChat users to verify their accounts with their ID cards, personal information, and mobile phone numbers and to continue using the platforms only after their real names have been verified starting in 2017.
This real-name registration is a way to strengthen online security, curb online rumours, and clean up some harmful content. However, some unverified users still use the online platform due to lax enforcement. The Weibo platform has said that this requirement cannot be fully enforced as it is a time-consuming process, and some users will resist, reducing the number of users on the platform.
Under new rules updated on 15 December last year, Chinese social media have stepped up training for online information censors to stop publishing harmful content. The new law is an updated version of the 2017 Regulation on Internet Commenting Services. The new law emphasises the responsibilities of internet service providers and operators. It states that these online platforms must employ relevant content review teams to review all comments and filter out harmful comments. The law also says that operators who do not comply with the regulations will be warned, fined, or even have their services shut down. Following the announcement of the regulations, many websites have recruited new staff to use algorithms to review sensitive information. But still, Weibo has yet to respond to the regulations.
Moreover, there are over a hundred million users under 19 in China. The Legislative Affairs Office of the State Council (LAOSC) has issued a draft legislative document to address cyberbullying and protect young people because evidence shows that the trend of social media platform users is more youthful. Youth health has always been a concern for the Chinese government. Many celebrities and athletes are still teenagers and sometimes unable to accurately judge and filter the verbal behaviour of bullies, which can harm their physical and mental health and affect their performance in the competition.
The government needs to intervene and strengthen the regulation of online violence. Suzor et al. state that in the future, internet platforms need to create new institutions that focus on algorithmic systems to accurately filter and review content and support diversity so that users worldwide can learn about it.
Sander states that governments must regulate the internet according to local language, culture, and background. Suppose the local culture and environment are not understood in the policy-making process. In that case, this can lead to hate speech and disinformation on platforms and cause offline discrimination and violence.
Therefore, the Chinese government needs to incorporate the local dialects of China into its algorithms. For example, some Cantonese words are used differently from Mandarin. If the use of Mandarin is restricted, there will still be a proportion of users who still can use Cantonese to lash out at the victim.
Conclusion
Many people have a variety of views on government regulation of media platforms. Some support government filtering and purging hate speech, but some argue that the internet is a platform for freedom of expression. If the government needs to regulate speech, it is no different than abolishing it. The online community use the internet to connect with the real world. Much of the malicious speech online is generated from incidents in the real world, so the government needs to reinforce the rational real world while controlling speech online.
Despite government control, the internet is still an open platform, so will this ensure that online harm, hate speech and other phenomena will never happen?
Reference
Atkin, N. (2022, February 7). 'shame on Zhu Yi': Chinese fans turn on US-born figure skater after fall at Winter Olympics. AsiaOne. Retrieved April 11, 2023, from https://www.asiaone.com/china/shame-zhu-yi-chinese-fans-turn-us-born-figure-skater-after-fall-winter-olympics
Chan, C. C., & Chong, L. G. (2022, February 9). China's love-hate relationship with naturalised athletes. ThinkChina. Retrieved April 11, 2023, from https://www.thinkchina.sg/chinas-love-hate-relationship-naturalised-athletes
ABC News. (2022, February 7). Hashtag hitting out at US-born Chinese figure-skater racks up 200 million views before being censored. ABC News. Retrieved April 11, 2023, from https://www.abc.net.au/news/2022-02-07/beverly-zhu-yi-china-figure-skater-beijing-winter-olympics/100809564
Cook, S. (2023, March 23). Cyberbullying statistics and facts for 2023. Comparitech. Retrieved April 11, 2023, from https://www.comparitech.com/internet-providers/cyberbullying-statistics/
Anderson, M. (2018, December 27). A majority of teens have experienced some form of cyberbullying. Pew Research Center: Internet, Science & Tech. Retrieved April 11, 2023, from https://www.pewresearch.org/internet/2018/09/27/a-majority-of-teens-have-experienced-some-form-of-cyberbullying/
Djuraskovic, O. (2023, March 22). Cyberbullying statistics in 2023 (with charts): 36 "key" facts. FirstSiteGuide. Retrieved April 11, 2023, from https://firstsiteguide.com/cyberbullying-stats/
Ahmed , W., & Meggs, J. (2022, January 29). Online abuse in sport: Why athletes are targeted and how they can end up winning. The Conversation. Retrieved April 11, 2023, from https://theconversation.com/online-abuse-in-sport-why-athletes-are-targeted-and-how-they-can-end-up-winning-174569
Barlow, J. P. (1996, February 8). A declaration of the independence of Cyberspace. Electronic Frontier Foundation. Retrieved April 11, 2023, from https://www.eff.org/cyberspace-independence
Zhang, P. (2022, November 18). China steps up social media controls to keep out 'harmful' content. South China Morning Post. Retrieved April 11, 2023, from https://www.scmp.com/news/china/politics/article/3199997/china-step-internet-censorship-stricter-rules-social-media-and-streaming-sites
Chinalawtranslate. (2017, August 29). Provisions on the Management of Internet Post Comments Services. China Law Translate. Retrieved April 11, 2023, from https://www.chinalawtranslate.com/en/provisions-on-the-management-of-internet-post-comments-services/
Chinalawtranslate. (2022, July 1). Provisions on the Management of Internet Post Comments Services (Draft Revisions for Soliciting Comments). China Law Translate. Retrieved April 11, 2023, from https://www.chinalawtranslate.com/en/comment-service-restrictions-draft/
Suzor, N. P., West, S. M., Andrew, Q., & York, J. (2019). What Do We Mean When We Talk About Transparency? Toward Meaningful Transparency in Commercial Content Moderation. International Journal of Communication , 13(2019).
Chinese authorities address online bullying. Cybersmile. (n.d.). Retrieved April 11, 2023, from https://www.cybersmile.org/news/chinese-authorities-address-online-bullying
Sander, B. (2020). Freedom of Expression in the Age of Online Platforms: The Promise and Pitfalls of a Human Rights-Based Approach to Content Moderation, 43 Fordham Int'l L.J. 939.
Gan, N. (2017, September 8). China's Twitter-like weibo orders users to register real names. South China Morning Post. Retrieved April 11, 2023, from https://www.scmp.com/news/china/policies-politics/article/2110400/chinas-twitter-weibo-orders-users-register-their-real
Goggin, G. (2023, March). ARIN6902 Internet Cultures and Governance Week 6: Hate Speech, Online Harms & Moderation. Lecture.