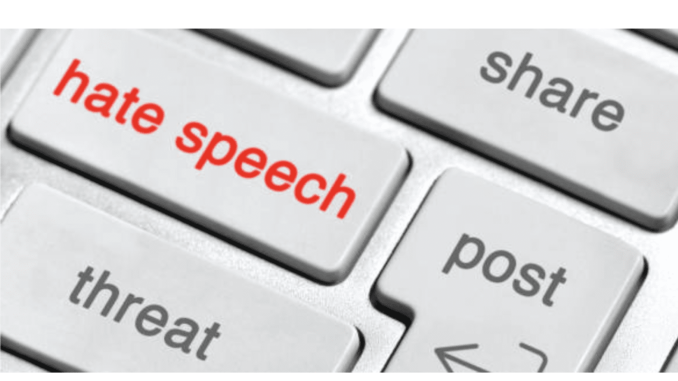 You might have inadvertently posted something about hate speech. Sometimes you may think you are just expressing an opinion or using emotive words to express a view that may have involved hate speech.
What is hate speech?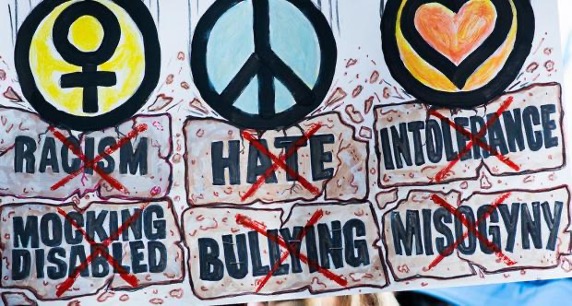 The topic of hate speech began to be discussed in the early 20th century, when racism was rampant, and crimes were increasingly committed. Most of the hate speech was directed at the racial characteristics of a particular social group and was mostly synonymous with 'racial hatred' (Kibler, 2015). Afterwards, the outreach of hate speech began to expand, from race to religion, party affiliation, and gender. Hate speech can not only cause harm to the group or individual but can also have a negative impact on society and can lead to violent unrest.
Nowadays, the main locus of hate speech has moved to cyberspace with the development of the Internet. As cyberspace is very closely connected to real life and its complexity is increasing, there is an urgent to address the issue of hate speech on the Internet. Hate speech is common in cyberspace, but it is not a familiar term. Unlike simple verbal abuse and personal attacks online, hate speech is a form of identity violence. It is an incitement to hatred and violence against a person or group of people based on the inherent characteristics of that person's or group's identity – such as race, religion, nationality, gender, sexuality, and physical status (Flew, 2021).
Online harm can be caused by hate speech on the internet. It is an activity that takes place online and can cause harm to an individual's social, emotional, psychological, financial, and even physical safety. Williams (2016) states that social media is playing an increasingly dangerous role in violence and that teenagers' prolonged reading of extremist and hateful content online can lead them to dangerous situations and a progressive path to violence. Studies have found that online hate speech can lead to a deterioration in the emotional health of young people who are targeted, causing low self-confidence, reduced sleep quality, social anxiety, and a strong sense of insecurity, and even self-harm and suicide (Gelber, 2016).
In addition, hate speech undermines social inclusion and the dignity of some groups. An inclusive society requires each group to recognise that society is for everyone who lives in it together and provides a sense of security so that the community does not have to face hostility, violence, discrimination, or exclusion by others (Lutfiyya, 2020). The hate speech is undermining that sense of social security. It is like a 'poison' in society. Crucially, these negative sentiments do not actually solve any problems, but only lead to disunity in society, and to increased harm, antagonism and tearing.
Relevant case occurred on Weibo
During the period when China was on lockdown for COVID-19, a woman was worried that her father would not be able to cook conveniently, so she wanted to deliver a prepared meal to him. The delivery person ended up taking a full four hours to complete the delivery order because of the location being far apart, road closures and other problems. when the woman realised how difficult it was for the delivery person, she offered to add money to the pay, but the delivery person refused. The woman subsequently recharged the delivery person with a 200 RMB phone bill. The story was consequently posted on social media platforms, with the intention of spreading positivity and urban warmth. Unfortunately, the users' focus was overly one-sided, with a large portion of people blaming the woman. Slamming her for paying the deliveryman a really small amount of RMB 200, describing her as petty and shrewd, others even rose to the level of a regional discrimination, condemning the 'Shanghainese' for being snarky and mean.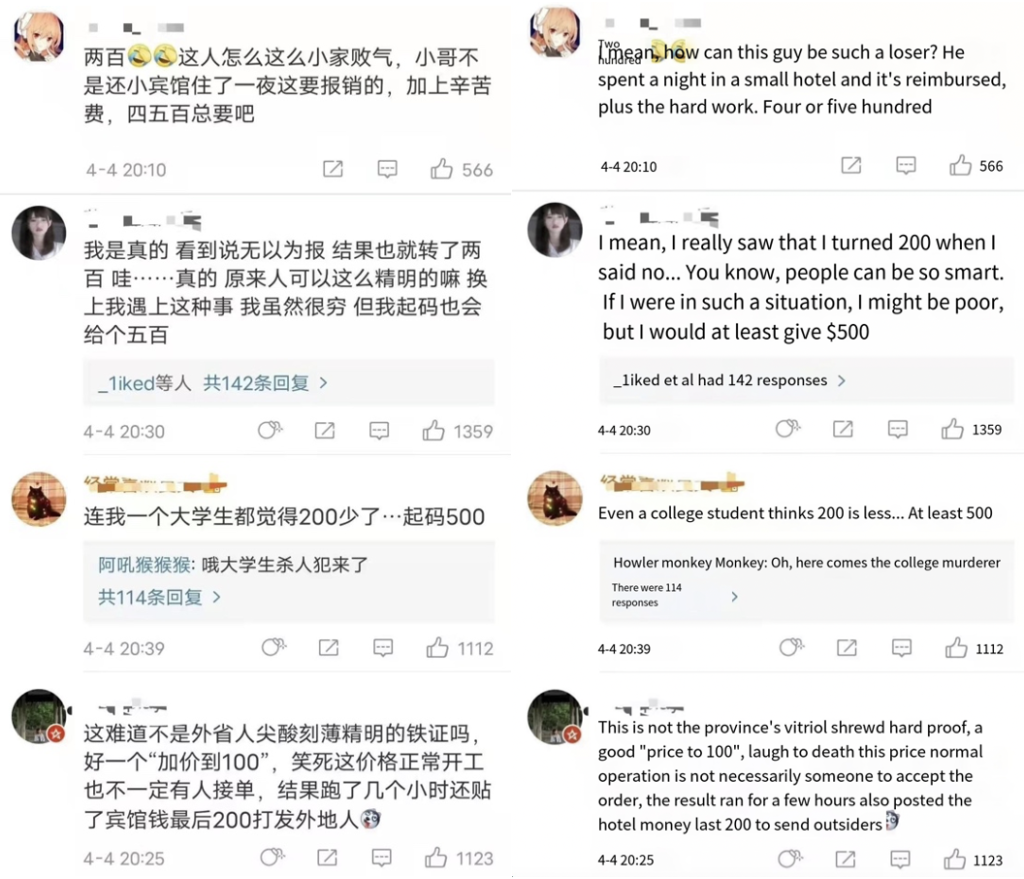 The story has generated a lot of attention on social media and hate speech has had a serious impact on the woman. She tried to explain but the amount of hate speech and abuse made her feel extremely humiliated and upset. Calvert (1997) states that the victim of hate speech may feel that she has been treated unfairly and feel isolated and rejected by society and the public, which can negatively affect that woman's self-esteem and self-confidence. As things go from bad to worse, the delivery man came out to clarify the situation to the public. But even though it did not stop the hate speech developing. Eventually the woman was unable to overcome the negative emotions and psychological distress, she jumped to her death after three days.
Hate speech contributed to the tragedy. Weibo as the platform for the incident did not do a perfect task of regulating and governing hate speech. Online platforms should be responsible for and regulate the content on their platforms, including preventing the emergence and spread of hate speech (UNESCO, 2015). Platforms ought to have appropriate rules and measures to regulate, and deal with offending content. Weibo defines the act of 'promoting hatred' as leading an unspecified majority of users to attack others by organising incitement or going to other platforms to violate the rights of others and disrupt social order. The normal activity of citizenship rights, literary criticism and consumer comments are not included in the list. Real-name authentication is required to use social media in China, and Weibo also deals with hate speech. The definition of whether comments below a post are expressions of criticism or hate speech is still vague, it depends on the subjective view of the platform reviewer in some cases. It is probable to lead to the unbridled spread of genuine hate speech. The main issues are what statements are hating speeches, what extent of speech should be regulated and what punishment exists for the publisher of hate speech, these concerns should be clearly defined.
Words and texts can be murderous weapons at times and can sting others more deeply and sharply. Even if some people think it is just expressing own views, it is a human right and not a personal attack.
Hate speech is an extension of freedom of expression?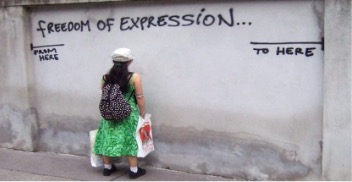 The freedom of expression is a basic right, but it is not unconditional and must not be used as a justification for violent, defamatory, insulting, or obscene expressions. Article 10 of the European Convention indicates that the right to expression is allowed to be restricted to necessary extent for protecting the reputation or rights of others (Keane, 2007). Hate speech that glorifies violence or incites hatred is unprotected in many countries. Some countries have also enacted laws against hate speech.
The UK's hate speech prohibition has clear provisions making it a criminal offence to incite racial or religious hatred (George. 2015).
In Australia, there are anti-defamation laws on every state. The government and the local community consider hate speech to be an unacceptable form of expression and government intervention is necessary to reduce its harm (Gelber, 2007).
The Philippines has enacted an anti-cyberbullying legislation in response to cyber harm (Yang, 2016).
Countries such as Myanmar, Denmark, France, Germany, Sweden also have basic legislation against hate speech.
Do legislative constraints really eradicate hate speech?
In fact, these laws are not fully implemented and enforced in many countries. In the Philippines, Burma and Indonesia, these legal measures are tools used by governments to address terrorist crimes to consolidate their position rather than to fundamentally eliminate hate speech (Flew, 2021). Restrictive legislation against hate speech is not concerned with the motivation of expressions, neither does it arise from a negative effect on 'hate'. The concern of these types of legislation is fundamentally with the consequences of hate speech (Waldron 2012). Political and socio-cultural factors have had a negative impact on the implementation of national legislation. Some countries face implementation challenges and problems with their legislation, such as the blurring of legal boundaries between personal negative emotional outbursts and hate speech. Although many countries have laws to restrict hate speech, implementation and enforcement in practice can be varied and challenging.
Is there no other way?
Hate speech is a negation of the values of tolerance, inclusion, diversity and the very essence of human rights norms and standards. If left it unchecked, hate speech can even harm society, peace and development. It sets the foundation for conflicts, tensions and human rights violations including atrocity crimes (Guiora, 2017). Therefore, dealing and countering hate speech is indispensable for countries, platforms and individuals. It requires a comprehensive approach to mobilise the whole of society. Not only States, but also online platforms and individuals have a moral obligation to stand firm against hate speech and can play a critical role in combating the online harm.
Platforms are vital gatekeepers as a medium for the dissemination of hate speech on the Internet. Platforms need to discipline, monitor, and analyse hate speech to fully understand its dynamics. As the spread of hate speech can be an early warning of violence such as atrocity crimes, regulating and limiting hate speech can contribute to mitigating its impact.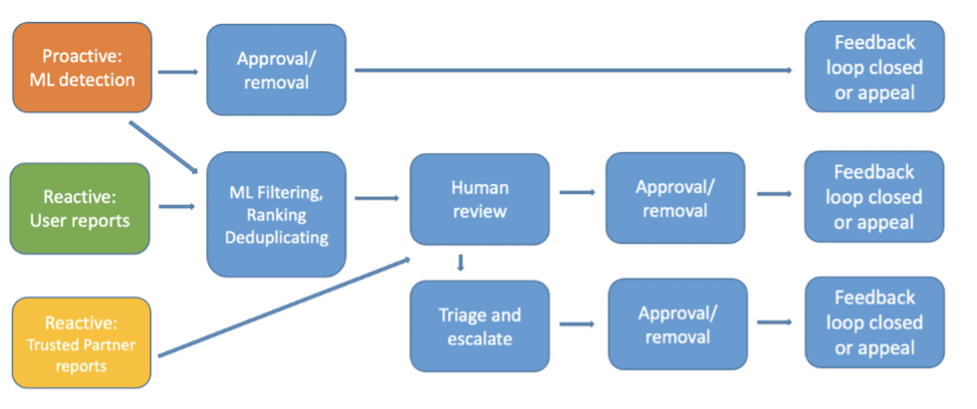 Facebook has continuously updated its community standards over the past few years and explicitly banned content related to attacks on identity, including hate speech against immigrants and refugees (Facebook Business,2020). The platform has also hired twice number of human reviewers in recent years to monitor content, especially hate speech. It uses a wide range of tools and technologies to detect and remove hate speech, judged and dealt it by community standards and legal requirements. Australia has a very low incidence of LGBT hate speech, which benefits from effectively and actively moderated page monitors (Flew, 2021). Platform regulation and active removal of hate speech related content can help reduce the spread of hate speech and make it less online harm.
TikTok also actively manages hate speech through a combination of technology and human review, aiming to reduce the spread as much as possible. It also encourages community members to use the tools provided by the platform to report any content or accounts deemed to violate community guidelines ("Community guidelines," 2022). Proactive interventions in response to hate speech can prevent it from harming and damaging society while preserving freedom of expression; it can also enhance the reputation and image of online platforms.
While most online platforms are actively using tools or human resources to combat hate speech, such efforts are not always significant effective. The background and practical implications of the group conflict underlying the hate speech have also not been properly addressed. National laws and platform regulation can only reduce the harm caused by hate speech, they do not address the 'roots' of hate speech. The peaceful development of the internet does not only depend on national government governance and platform regulation, personal behaviour of users is the 'seed' of hate speech. Individual users need to be aware of the online harm of hate speech and self-regulate by not publishing and spreading hate speech on the Internet as well as reporting violations. The originators of hate speech should also be held accountable to end impunity and low-cost harm to others.
References
Calvert, C. (1997). Hate speech and its harms: A communication theory perspective. Journal of Communication, 47(1), 4-19.
Community guidelines. TikTok. (2022, October). Retrieved from https://www.tiktok.com/community-guidelines#38
Flew, Terry (2021) Regulating Platforms. Cambridge: Polity, pp. 91-96.
Gelber, K., & McNamara, L. (2016). Evidencing the harms of hate speech. Social Identities, 22(3), 324-341.
Gelber, K., & Stone, A. S. A. (Eds.). (2007). Hate speech and freedom of speech in Australia (Vol. 2118). Federation Press.
George, C. (2015). Hate speech law and policy. The international encyclopedia of digital communication and society, 1-10.
Guiora, A., & Park, E. A. (2017). Hate speech on social media. Philosophia, 45, 957-971.
Keane, D. (2007). Attacking hate speech under Article 17 of the European Convention on Human Rights. Netherlands Quarterly of Human Rights, 25(4), 641-663.
Kibler, M. A. (2015). Censoring Racial R idicule: Irish, Jewish, and African American Struggles over Race and Representation, 1890-1930. UNC Press Books.
Kunst, M., Porten-Cheé, P., Emmer, M., & Eilders, C. (2021). Do "Good Citizens" fight hate speech online? Effects of solidarity citizenship norms on user responses to hate comments. Journal of Information Technology & Politics, 18(3), 258-273.
Peppe. (2019, January 4). Hate speech: A old, current, battle. Youth for Europe. Retrieved April 11, 2023, from https://youthforeurope.eu/hate-speech-a-old-current-battle/
The right to freedom of expression. ICNL. (2019, August 16). Retrieved from https://www.icnl.org/resources/research/global-trends-ngo-law/the-right-to-freedom-of-expression-restrictions-on-a-foundational-right
Lutfiyya, Z. M., & Bartlett, N. A. (2020). Inclusive societies. In Oxford Research Encyclopedia of Education.
Facebook Business. (2020, July 1). Sharing Our Actions on Stopping Hate. Retrieved from https://www.facebook.com/business/news/sharing-our-actions-on-stopping-hate
Waldron, J. (2012). The harm in hate speech. Harvard University Press.
Williams, M. L., & Pearson, O. (2016). Hate crime and bullying in the age of social media.
UNESCO. (2015). Countering online hate speech. Paris: United Nations Educational, Scientific and Cultural Organization.
Yang, Y. T., & Grinshteyn, E. (2016). Safer cyberspace through legal intervention: a comparative review of cyberbullying legislation. World Medical & Health Policy, 8(4), 458-477.