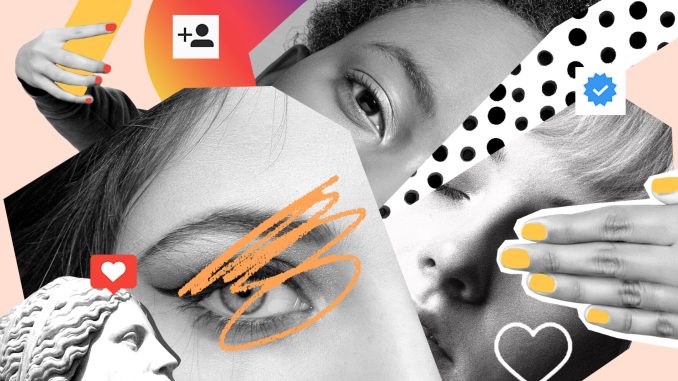 Introduction
When people talk about Instagram, they often use words like social media, a photo-sharing app, and other similar phrases. Instagram is a hotspot for young people aged between 13 and 24, who make up almost half of its user amount (Statista, 2022). It is gaining popularity among young generations and keeps doing so, while it is hard to link it to the problem of toxic beauty standards and online harm, especially for young women.
According to the Online Harm White Paper published by the British government, online harm is a "behaviour online which may hurt a person physically or emotionally" (Department for Digital, Culture, Media & Sport, 2019). However, there is no specific definition of online harm and who can be the implementing role of it. It is possible that a platform can be considered as a "accomplice" in online harm. So in this blog, I will use the Wall Street Journal article "Facebook Knows Instagram Is Toxic for Teen Girls, Company Documents Show" as a case to discuss why and how social media can cause online harm and what we could do to stop it from affecting youth.
Case Study: Instagram is Poisoning Teenager Girls
In 2021, the Wall Street Journal published a series of investigative reports on Facebook, including one that shed light on how Instagram damages teenage girls' mental health. Instagram, in particular, admits in a published report that "Teens who struggle with mental health say Instagram makes it worse" (Meta, 2021, p.25). The report authors highlight the negative impact of Instagram and the platform's failure to address it (Wells et al., 2021).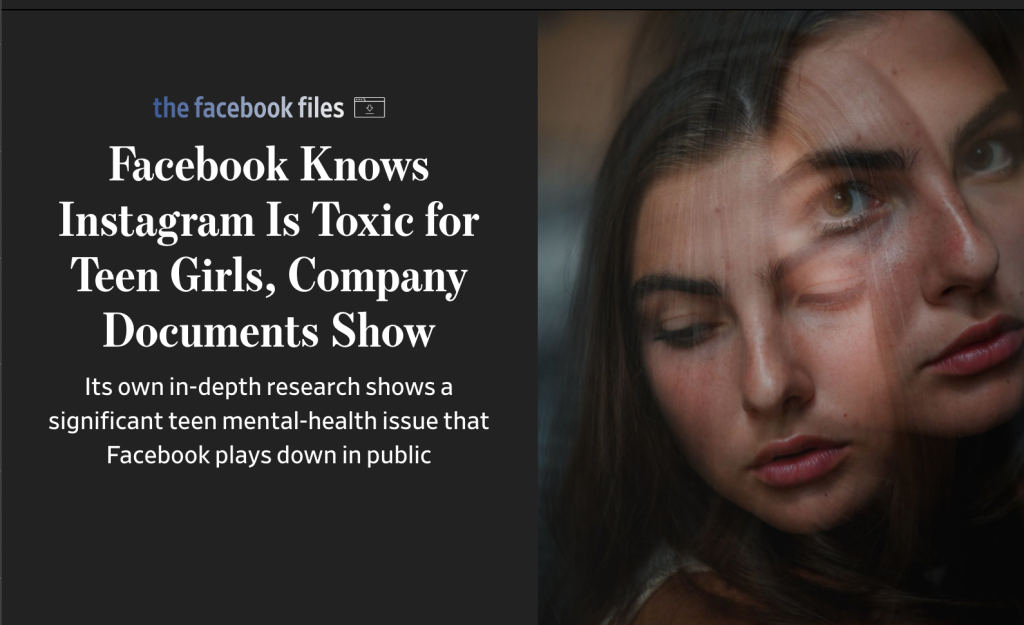 The image credited by the Wall Street Journal
Before the Facebook investigative reports were released, several academic studies had already shown that Instagram has terrible effects on the mental health of teenagers, such as depression, low self-esteem, anxiety about how they look, and dissatisfaction with their bodies (Sherlock & Wagstaff, 2019; Kleemans et al., 2016). For instance, Kleemans et al. (2016) found that teenage girls compared themselves to edited images on Instagram, which adversely affected the body image of female adolescents. They also discovered that teenage girls prefer to edit their photos to make them look better on social media. This is because they are more sensitive and aware of others' opinions and face pressure to measure up to their peers' perfect images. Moreover, Meta's (formerly Facebook) report on the relationship between teenagers and Instagram indicated that comparing one's appearance to others on social media could have a negative psychological impact, particularly on those with mental health issues, while Meta clarified that the study's results only apply to the participants and not all teenage Instagram users (Wells et al., 2021; Meta, 2021). Nonetheless, Meta acknowledged in a roundabout way that Instagram's push for a perfect body image could hurt teenagers, which cannot be ignored.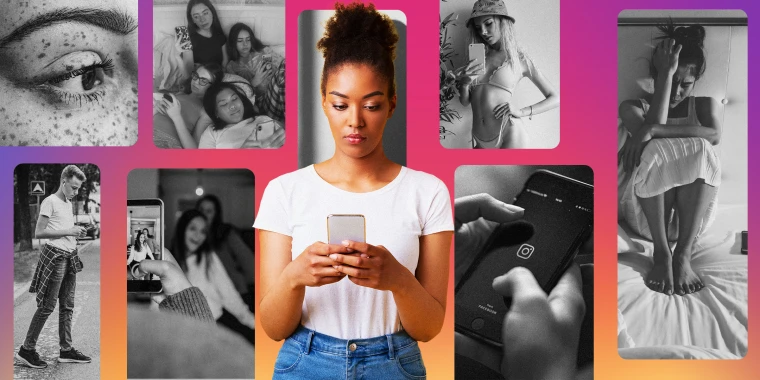 The image credited by Today
Furthermore, the negative impact of Instagram on young women's mental health can sometimes result in violent physical behaviour, such as eating disorders and plastic surgery. The Wall Street Journal investigated that the pressure on body image could cause eating disorders among young women, making them want to lose weight even more (Wells et al., 2021). In addition, a study that examined the relationship between social media usage and the desire for cosmetic surgery among 604 Dutch adolescents (aged 11 to 18) found that exposure to beauty standards on social media can increase young people's motivation to invest in their looks (de Vries et al., 2014). When young girls see overwhelming images of beauty standards on social media, they may worry about how they look and want to change their bodies. What is worse, the Wall Street Journal reported that around 10% of Instagram users in the US and UK wished to commit suicide (Wells et al., 2021). This demonstrates that Instagram is "toxic" to young females and causes both mental and physical harm. More importantly, it is necessary to comprehend how the platform's design and culture are corrupting the youth, as well as the dark side of internet culture on social media.
The Dark Side of Instagram and Social Media
"It makes me feel insecure about my body even though I know I am skinny," a young girl said to Facebook's researchers reported by the Wall Street Journal (Wells et al., 2021). Instagram's design has significantly impacted how young females view their bodies and self-worth. Because of the platform's emphasis on visual content, young girls feel under pressure to present themselves in the best possible light. This culture has been further amplified by the FOMO (Fear Of Missing Out) phenomenon, which is the fear that people may miss out on some form of reward, so they must maintain online interactions with others (Przybylski et al., 2013).
On the one hand, Instagram promotes a type of visual culture. Due to the platform's focus on visual content, young females are more concerned about their beauty and body presentation (Wells et al., 2021). The platform's built-in photo editing tools and filters allow users to create visually appealing images of themselves. However, it also promotes an unrealistic beauty standard that young girls might find difficult to achieve. Also, Instagram's social features, such as likes, comments, and tags, have made it more common for people to rank others' looks and bodies. As Leaver et al. (2020) noted that visual-based content builds the culture of Instagram, but how users show themselves and how others interpret such photographs is more important. Instagram is a social media platform, and it offers social features to encourage users to engage with the interaction with photos. In this aspect, young girls are not only obsessed with making their post images "perfect," but they are also eager to gain positive feedback from others. Additionally, Instagram's algorithmic system for making recommendations based on content has made the platform even worse for body image culture. If young girls are continually exposed to content and advertising that promotes the idea of the "perfect body," it can result in excessive attention and concern over their appearance and body shape (Wells et al., 2021). It is especially troubling because young girls are still building their sense of self and self-worth at a vulnerable age.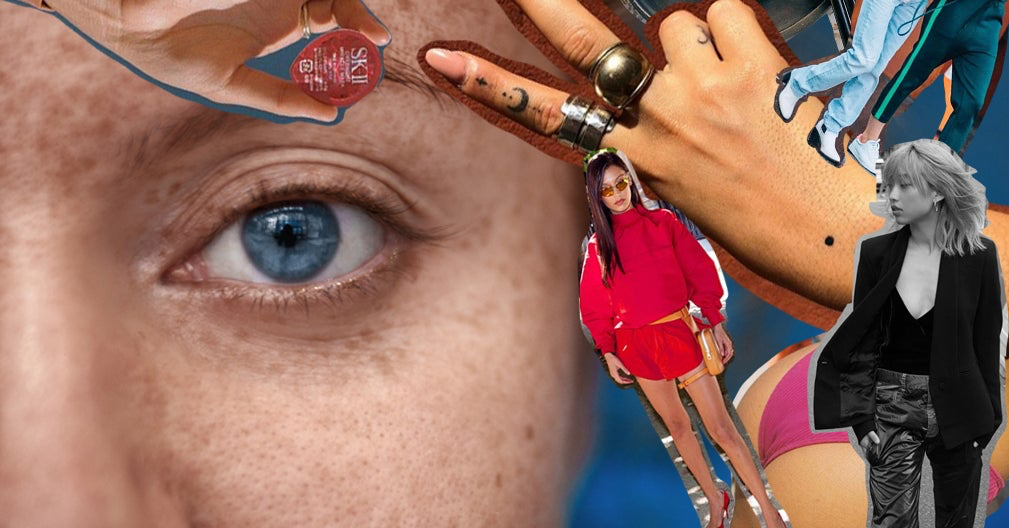 The image credited by Buzzfeed
On the other hand, FOMO culture worsens the dilemma. As explained before, suppose someone posts a photo on Instagram but receives no comment. In that case, they may feel anxious and eager to be noticed. At the same time, girls under 18 are more likely to become addicted to social media and have FOMO (Balta et al., 2018; Abi-Jaoude et al., 2020). One clear effect is that young women can become involved in the virtual world's relationships, emotions, and even the established aesthetic standards rather than in real life. Noticeably, One thing that might happen if young women use social media too much is that they might be cyberbullied about their looks. The Guardian talked about the pressure on teenage girls to be beautiful, the effects of cyberbullying, and how social media can be addicting (Sales, 2023). The author also says that the growing number of girls who have been victims of forced sex, as reported by the CDC, is related to the use of social media and should bring attention to the risks and potential harm that young women face online.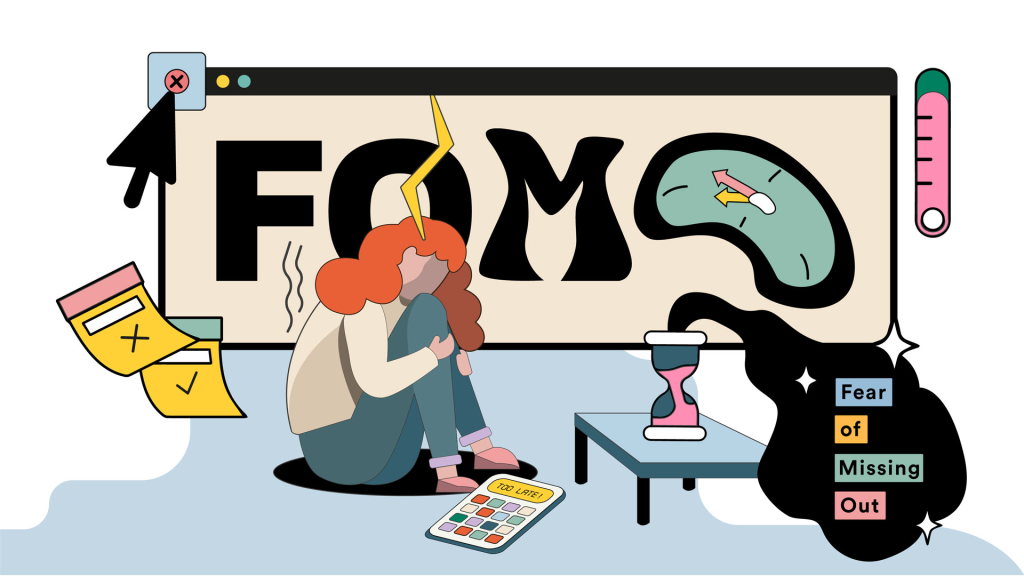 The image credited by MozartCultures
How might we govern
The Wall Street Journal has released the Facebook files for almost two years, and some adjustments and moderations have been implemented. To think about the future governance of social media, it is necessary to understand existing rules, principles, and laws. Flew (2021) introduces The Platform Governance Triangle in Chapter 5 of his book regulating platforms, which can be used to investigate how to govern Instagram from feeding young females with toxic content. The Platform Governance Triangle considers governments, NGOs, and firms to represent the three points of a triangle and thinks that they can either exercise governance functions separately or collaborate to govern collectively, so seven distinct governance models develop (Flew, 2021). Here are three existing and ongoing governance structures established by the firm, the government, and non-governmental organisations:
Instagram's self-governance. Instagram has responded to the Wall Street Journal research and has developed necessary policies to manage body image and eating disorders among teenagers caused by the platform. For example, if someone wishes to upload photos of eating disorders, the images will be blurred (Instagram, 2021). Also, Instagram will redirect users to a support page if they search for similar keywords. Instagram will also apply new rules to prevent third-party companies from obtaining teenagers' personal information, such as age and gender (The Guardian, 2023). This can help to prevent the promotion of beauty products or cosmetic operations that cause teenagers to be overly concerned about their appearance.
The UK and Australia's regulation on content moderation. From a national standpoint, the United Kingdom and Australia are attempting to reduce the harm caused by social media platforms to teens. This year, the UK communications regulator Ofcom created rules for legally acceptable but harmful content. If a technology corporation specifically indicates that it does not support eating disorder content but encourages users to upload such content, it will risk particles with high (Milmo, 2023). This guideline expressly prohibits Instagram from creating an unhealthy aesthetic for underage girls. Likewise, if someone makes body-shaming comments or posts discriminating statements about others online, the Australian government's Internet Safety Act will punish platforms that fail to take adequate actions (eSafety Commissioner, 2022).
The Santa Clara Principles 2.0 about content moderation. Regarding non-governmental organisations, The Santa Clara Principles were established in the United States by a collection of originations, professionals, and experts. The most recent version, the Santa Clara Principles 2.0 (n.d.), emphasises that social media firms should apply the same content moderation standards to advertising and user-generated content. This is done to create better transparency and accountability in big tech companies' content moderation procedures and safeguard users' rights and freedoms online. Notably, there is an open letter to Mark Zuckerberg on the Santa Clara Principles official website, as they urge Facebook to follow the Santa Clara Principles to ensure that Facebook's content moderation procedures are transparent, responsible, and respectful of users' rights and dignity (The Santa Clara Principles, n.d.). Nonetheless, Facebook has not yet to implement its invitation in 2023.
Just like the UK communications regulator, Ofcom has previously established a punishment for "legal but harmful content" on social media platforms. Similarly, sharing posts about weight loss, looking good, and being beautiful is not illegal but should be governed. Although several studies have found that Instagram's constant promotion of a single aesthetic to minors through advertising and algorithm content recommendations causes both physical and mental harm to young girls, governing the "toxic beauty culture" generated by Instagram's recommendation system will be difficult unless Instagram is more open about its advertising and content recommendation mechanisms. Moreover, even the Santa Clara Principles have consistently urged Zuckerberg to adopt their standards; they are not legal rules and have no binding measures. However, government regulations are mandatory, such as the United Kingdom's internet safety bill, which can impose fines on social networking companies for "inconsistent behaviour." Technology businesses control social media platforms that influence society's culture, politics, and economy, leading to regulating technology corporations become a collective effort of all societal roles to accomplish co-governance.
Conclusion
Overall, it is critical to recognise social media's latent harm to teenage girls' physical and mental health. Because adolescence is a sensitive period for teenagers, what they see on Instagram is more likely to influence them. Girls, compared to boys, are more worried about their appearance and body image on social media. That is not simply because of Instagram's visually centred design but also because social media promotes a culture of anxiety about missing out on information.
Instagram and social media have underlying negative effects on young people, therefore, governments, NGOs, and corporations must take steps to mitigate the harm. Many efforts have been taken since Meta responded to the Wall Street Journal investigation by developing policies and algorithms to detect "eating disorder" key terms. The UK and AU governments are pressuring the platform to become involved in protecting underage teenagers. Furthermore, The Santa Clara Principles continue to urge Zuckerberg to adopt their approach. After all, while the governance and regulation of potential risks to young women on social media is complex, it still requires cooperation and efforts from all stakeholders in society.
---
References
Abi-Jaoude, E., Naylor, K. T., & Pignatiello, A. (2020). Smartphones, Social Media Use and Youth Mental Health. Canadian Medical Association Journal, 192(6), E136–E141. https://doi.org/10.1503/cmaj.190434
Balta, S., Emirtekin, E., Kircaburun, K., & Griffiths, M. D. (2018). Neuroticism, Trait Fear of Missing Out, and Phubbing: The Mediating Role of State Fear of Missing Out and Problematic Instagram Use. International Journal of Mental Health and Addiction, 18(3), 628–639. https://doi.org/10.1007/s11469-018-9959-8
de Vries, D. A., Peter, J., Nikken, P., & de Graaf, H. (2014). The Effect of Social Network Site Use on Appearance Investment and Desire for Cosmetic Surgery Among Adolescent Boys and Girls. Sex Roles, 71(9-10), 283–295. https://doi.org/10.1007/s11199-014-0412-6
Department for Digital, Culture, Media & Sport. (2019, April 8). Online Harms White Paper. GOV.UK. Retrieved April 10, 2023, from https://www.gov.uk/government/consultations/online-harms-white-paper
eSafety Commissioner. (2022). Learn about the Online Safety Act. Retrieved April 10, 2023, from https://www.esafety.gov.au/newsroom/whats-on/online-safety-act
Flew, T. (2021). Regulating platforms. Polity Press.
Instagram. (2021, February 23). How we're supporting people affected by eating disorders and negative body image. Retrieved April 10, 2023, from https://about.instagram.com/blog/announcements/how-were-supporting-people-affected-by-eating-disorders-and-negative-body-image
Kleemans, M., Daalmans, S., Carbaat, I., & Anschütz, D. (2016). Picture Perfect: the Direct Effect of Manipulated Instagram Photos on Body Image in Adolescent Girls. Media Psychology, 21(1), 93–110. https://doi.org/10.1080/15213269.2016.1257392
Leaver, T., Highfield, T., & Abidin, C. (2020). Instagram : visual social media cultures. Polity.
Meta. (2021). Instagram Teen Annotated Research Deck 2. https://about.fb.com/wp-content/uploads/2021/09/Instagram-Teen-Annotated-Research-Deck-2.pdf
Milmo, D. (2023, January 17). TechScape: Finally, the UK's online safety bill gets its day in parliament – here's what you need to know. The Guardian. https://www.theguardian.com/technology/2023/jan/17/online-safety-bill-meta-pinterest-snap-molly-russell
Przybylski, A. K., Murayama, K., DeHaan, C. R., & Gladwell, V. (2013). Motivational, emotional, and behavioral correlates of fear of missing out. Computers in Human Behavior, 29(4), 1841–1848.
Sales, N. J. (2023, February 28). Teen girls are struggling. They need our help. The Guardian. https://www.theguardian.com/commentisfree/2023/feb/28/teen-girls-are-struggling-social-media-tiktok-instagram
Sherlock, M., & Wagstaff, D. L. (2019). Exploring the relationship between frequency of Instagram use, exposure to idealized images, and psychological well-being in women. Psychology of Popular Media Culture, 8(4). https://doi.org/10.1037/ppm0000182
Statista. (2023). Distribution of Instagram users worldwide as of January 2023, by age group. Retrieved from https://www.statista.com/statistics/325587/instagram-global-age-group/
The Guardian. (2023, January 10). Facebook and Instagram to restrict advertisers' access to teenagers' data. https://www.theguardian.com/technology/2023/jan/10/facebook-and-instagram-to-tighten-restrictions-around-teenagers-data
The Santa Clara Principles. (n.d.). Santa Clara Principles on Transparency and Accountability in Content Moderation. https://santaclaraprinciples.org
Wells, G., Horwitz, J., & Seetharaman, D. (2021, September 14). Facebook Knows Instagram Is Toxic for Teen Girls, Company Documents Show. Wall Street Journal. https://www.wsj.com/articles/facebook-knows-instagram-is-toxic-for-teen-girls-company-documents-show-11631620739