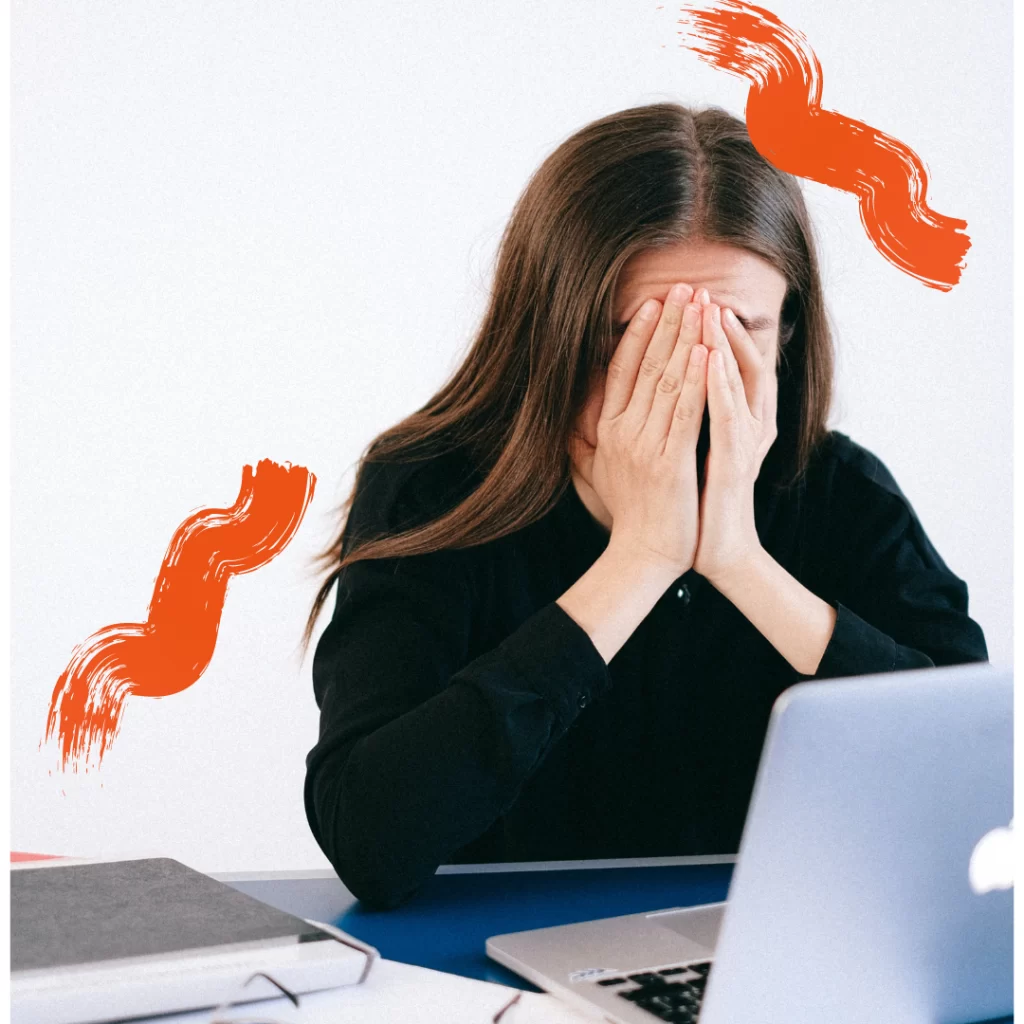 Introduction:
People can now submit their own comments and ideas about anything or an event on any electronic or mobile device thanks to the continued development of numerous social media platforms, and the majority of these remarks reveal the user's genuine sentiments. Although the internet looks to be a less concentrated environment than face-to-face interactions in daily life, where users are not required to reveal their identities and even their usernames can be made up, making overly direct or serious statements can be psychologically harmful to others. When we discuss "hate speech," this is what we need to keep in mind. This essay will define hate speech, describe how it appears in various sections on gender discrimination, examine the connections and disagreements between "freedom of expression" and "hate speech," and then discuss ways to effectively manage hate speech in the context of internet governance. The topic of how to better manage hate speech will be covered in the last part.
What is hate speech?
According to Watanabe et al. (2018), hate speech is a particular type of offensive language used by those whose viewpoints are either founded on segregation, racial or extremist backgrounds, or stereotypes. He defines hate speech as an extreme kind of offensive language, more particularly, as speech or behavior that is hostile and includes hostility-inspiring traits including malice, put-downs, intimidation, inciting violence, discrimination, defamation, degradation, persecution, threats, etc (Richardson, 2020). Hate speech has just been revealed to be a weapon. Ironically, it is humans that 'create' such discourse, not artificial intelligence, despite the fact that it is damaging, cruel, and does little to benefit people. The LGBTQ community, teens, and other particular groups are frequently the targets of hate speech because, in the views of the majority of people, they share many characteristics: they are few in number, lack social acceptance, and are not legally protected in certain places. These unstable factors contribute to an increase in hate speech, but in this article, we focus on sexist hate speech, excluding the many different types of gender, and we address the harm done to women in hate speech from a single gender perspective. Women are subjected to hate speech not only on social media platforms and the internet, but also at work and in schools, where they are not given the protection they need. Women are also subjected to hate speech at work and in the classroom, and they are not given the respect and equal rights they deserve. However, racism is simply a feeling of pride, which can be interpreted as overconfidence in one's own position, whereas hate speech is a feeling of inferiority and jealousy, which is different from racism. It is important to emphasize that mere discrimination is not hate speech, just as hate speech is not to be confused with racism, which is much more serious than hate speech and can also be misleading. Because of this, Matsuda (1989) contends that not all gender discrimination qualifies as hate speech and that it is important to examine hate speech directed specifically at women.
How does hate speech threaten women?
Research scientists, doctors, and university professors are just a few occupations where hate speech towards women is a typical occurrence. Even these professions, which have a higher social standing, are nonetheless prone to discrimination and unfair treatment at work. According to statistics, women journalists in Germany, Switzerland, and Sweden are not more likely to be the targets of online hate speech or harassment than men, but they do encounter sexist threats and hate speech more frequently (Löfgren Nilsson and Örnebring, 2016; Preuß, Tetzlaff, and Zick, 2017; Stahel and Schoen, 2020; Springer and Troger, 2021, as cited in Obermaier, 2023). Excluding hate speech suffered due to political affiliation, about one in four German journalists suffer hate speech because of their gender, a proportion of about 11% (Preuß, Tetzlaff, and Zick, 2017, as cited in Obermaier, 2023). What is more, female journalists are more often than men targeted by online hate speech concerning their gender, especially female journalists with a migrant background, which is visible in different countries around the world (Chen et al., 2017, as cited in Obermaier, 2023).
As a result, the emergence of hate speech is not determined by who is in a position of greater authority or status; rather, it is random. However, once this randomness is established, it becomes more targeted, meaning that journalists with such backgrounds may experience online hate speech directed at their line of work more frequently.
What we can infer from the case study of female journalists is that, if this is true, women appear to be more exposed to online hate speech than men. The aforementioned situation might be more of an outlier than typical of all women. The subject of whether online hate is a more widespread issue for particular women or is it disproportionately a problem for women in general is discussed in a book written by sociologist Sarah Sobieraj, who interviewed 52 women in 2020. The replies to the question: Have you seen cruel or hateful remarks or images posted online? are shown in the bar chart below, which is taken from the OxIS dataset, a representative sample of the UK population.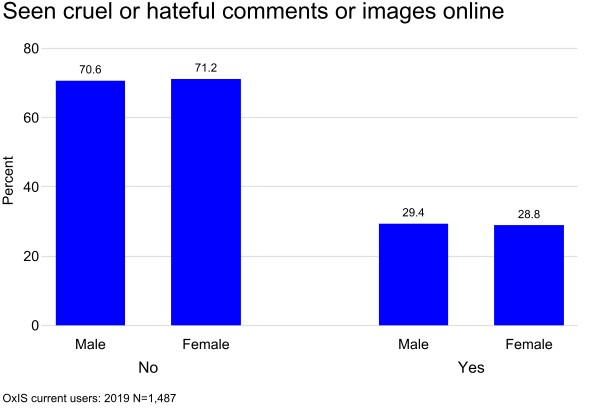 (Image via OXlS data)
The pictures demonstrate how little difference there is between the phenomena of hate speech experienced by men and women online, with the majority of individuals responding negatively. No significant gender disparities in exposure to hate speech online were discovered. Whether women are more susceptible to hate speech than men does not appear to be related to one's presence on social media (Blank et al., 2021).
The association between age, gender, and hate speech is shown in the following bar chart, which also includes age as a variable. In this age range, men are surprisingly 11% more likely than women to encounter hate speech, however overall age has little of an impact.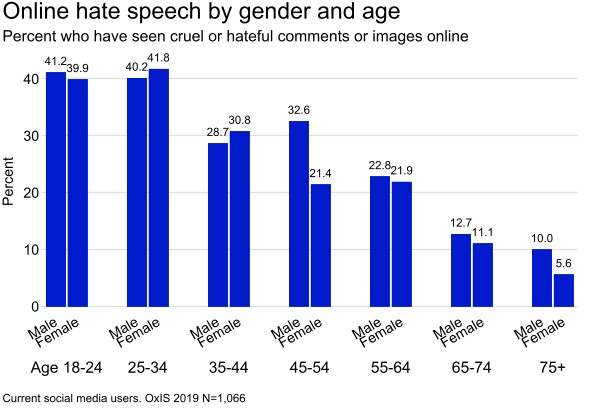 (Image via OXlS data)
We still need to take into account specific circumstances to re-examine the harm, such as dress style, sexual orientation, and educational attainment, which are not taken into account because they may only be specific and not universal. It is crucial to note that only two fixed variables (age and gender) were sought to assess the extent to which hate speech reaches women, and we still need to take into account specific situations to do so.
Free speech vs. Hate speech
The satirical attack on country music singer Taylor Swift by American rapper Kanye West in 2016 via social media and even her music videos will serve as the starting point for the examination in this section. In reality, Kanye and Taylor Swift had already developed "a lot of feuds" before to then, with the two singers garnering additional exposure for their conflict after Kanye disrupted the 2009 MTV Awards for acting rudely. Although Kanye officially apologised to Taylor at the time for interfering with her moment at the 2009 MTV Awards, it was evident from what transpired subsequently that the 'apology' was merely a show for the benefit of public pressure. When it appeared that the drama should have ended, Kanye resurrected it in 2016 with the satirical lyrics to his song "Famous" from his album "The Life of Pablo": "I believe Taylor and I may still be having sexual relations. I made that b*tch well-known "despite the fact that Kanye had called Taylor explicitly to let her know he wanted to leverage her social media to release the song simultaneously. Even more puzzling is the fact that Swift's friend Lena Dunham criticised West's music video in a Facebook post while Kanye took the liberty of using Taylor's naked image to appear in the video without getting her consent. While she claimed to have no personal issues with West, she asked the rapper to steer clear of using gender stereotypes and objectifying women's bodies by vehemently criticising the video. The music video, according to her, is nasty and unsettling (Grace Gavilanes and Sophie Dodd, 2022).
(Video source: YouTube)
We cannot label Kanye's behaviour as sexist because he hasn't displayed bias towards women in other public or social media platforms. Swift's friend Lena Dunham said in an interview, "Taylor was in scandal for a while because of this harassing sexual incident, her work suffered, and she became emotionally unstable. Kanye did not hide his behaviour too much, and his hateful comments have been extremely damaging to Taylor's career, and as a public figure, Kanye's almost total disregard for Taylor's public image has made not only Taylor herself but also her supporters feel offended. But in contrast, Kanye's life has not suffered as a result, as though this outcome proves that success can indeed be had by demeaning women. It is unfair that platforms are disregarded and that the media fabricates news items to grab viewers' attention and boost ratings, as if Taylor was the only one who could earn from it. Freedom of speech should be defined as the ability to speak up for oneself and express one's opinions without feeling the need to denigrate others. We must be aware that hate speech is offensive because it fosters distrust and hostility in society and diminishes the human dignity of the target group, despite the fact that the right to freedom of expression should be highly valued as an essential expression of freedom of thought and a tool for human development, political life, and intellectual progress (Flew, 2021). A celebrity, especially one with a sizable fan base and voice, needs to be mindful of how his or her actions may effect more people and should be held responsible for them. While we do not dispute the reality of free expression, we ask that you respect others.
How should hate speech be regulated?
1. Education
Education must be one of the available options when it comes to governance. The outcomes that have already occurred cannot be changed, but we can alter the tragedies that have not been impacted by hate speech. Starting with education about how to raise the next generation with positive values is the most effective way to impact change. Education has a lasting effect on a person, and it will point the next generation in the correct path by teaching them about the perils of hate speech and how to utilise social media more effectively. It is crucial to remember, nevertheless, that case studies are necessary in order to provide students a greater comprehension of the topic and, more significantly, a deeper capacity for reflection. Hate speech education is particular and cannot be covered in a textbook on its own.
2. Platform regulatory mechanisms
Social media networks must treat hate speech seriously by classifying it into several categories and enforcing stringent guidelines to contain it. J.K. Rowling, the author of the Harry Potter series, received threats from terrorists on Twitter for opposing transgenderism, but the social media site did not take action. Fortunately, she was able to report the event to the authorities and was protected. This demonstrates that social media sites still have serious regulatory shortcomings when it comes to policing hate speech. Online speech and content can be disseminated anonymously in the age of digital media, frequently without thought to the repercussions. Social media businesses must be open about what they are eliminating and make their data accessible to scholars and the general public for evaluation in order to create such a regulating framework (Oxford & Rd, 2020). As a platform that allows for the expression of opinions, social media companies have a duty to make their position known to the public and to impose strict discipline on those who violate the rules. This is especially true for some special groups, who should be marked specifically for greater protection.
Conclusion:
This article focuses on the harm that hate speech causes to women and the unfairness that is demonstrated through case studies. Women are merely the target group of this essay, which focuses on how hate speech threatens other marginalised groups through women in general. Hate speech is against the fundamentals of human rights. Although the overall impact of hate speech may not be very significant at the moment, if the problem of hate speech persists, it could easily escalate into a more serious social issue, possibly with irreversible results. It is undeniable that the internet is a manifestation of globalisation and that restrictions on hate speech cannot be applied to all areas of regulation. However, there is still a need to explore this aspect.
References

Albadry, W. (2022, March 8). Want to empower women? Call out hate speech – DW – 03/08/2022. Dw.com. https://www.dw.com/en/opinion-want-to-empower-women-call-out-hate-speech-online/a-61041795

Blank, G., Buettner, N., & H.Dutton, W. (2021, August 22). Are women more exposed to online hate speech? | Oxford Internet Surveys – OxIS. Oxis.oii.ox.ac.uk. https://oxis.oii.ox.ac.uk/blog/are-women-more-exposed-to-online-hate-speech/

Flew, Terry (2021) Regulating Platforms. Cambridge: Polity, pp. 79-86.

Gavilanes, G., & Dodd, S. (2022, September 2). Inside Kanye West and Taylor Swift's 10-Year Feud: A Truly Comprehensive Timeline. PEOPLE.com. https://people.com/music/kanye-west-famous-inside-his-and-taylor-swifts-relationship-history/

Kanye West Famous Video Stirs Controversy. (2016, June 27). Www.youtube.com. https://www.youtube.com/watch?v=VaB_xvtxUUc&t=35s‌

Obermaier, M. (2023). Occupational Hazards: Individual and Professional Factors of Why Journalists Become Victims of Online Hate Speech. Journalism Studies (London, England), ahead-of-print(ahead-of-print), 1–19. https://doi.org/10.1080/1461670X.2023.2173955

Oxford, C. D. B. I. of H. R. U. of, & Rd, M. C. M. (2020, February 26). Hate speech regulation on social media: An intractable contemporary challenge. Research Outreach. https://researchoutreach.org/articles/hate-speech-regulation-social-media-intractable-contemporary-challenge/

Richardson‐Self, L. (2018). Woman‐Hating: On Misogyny, Sexism, and Hate Speech. Hypatia, 33(2), 256–272. https://doi.org/10.1111/hypa.12398

Sękowska-Kozłowska, K., Baranowska, G., & Gliszczyńska-Grabias, A. (2022). Sexist Hate Speech and the International Human Rights Law: Towards Legal Recognition of the Phenomenon by the United Nations and the Council of Europe. International Journal for the Semiotics of Law = Revue Internationale de Sémiotique Juridique, 35(6), 2323–2345. https://doi.org/10.1007/s11196-022-09884-8

Watanabe, H., Bouazizi, M., & Ohtsuki, T. (2018). Hate Speech on Twitter: A Pragmatic Approach to Collect Hateful and Offensive Expressions and Perform Hate Speech Detection. IEEE Access, 6, 13825–13835. https://doi.org/10.1109/ACCESS.2018.2806394

‌