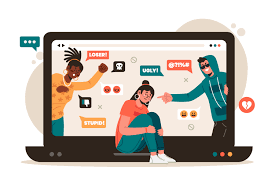 Introduction
The internet has undoubtedly made our lives easier and more connected, helping us enter the digital age. However, the presence of hate speech and cyberbullying has also influenced changes in people's values and opinions. Here, the aim is to discuss the impact of spreading hate speech and cyberbullying and the mechanisms and strategies to tackle it. This blog argues that the internet is a powerful tool of the digital era but hate speech and cyberbullying are the most detrimental to individuals in the long run. This blog outlines the several categories of hate speeches and cyberbullying and the mechanisms of spreading hate speech and violence on the internet. The safety, well-being, and mental health of countless people worldwide are negatively affected by hate speech and cyberbullying as individuals become more reliant on social media platforms. The impact of cyberbullying and the significant challenges, along with a focus on the recommendations to mitigate those issues, have been brought out within this essay. Individuals need to use the internet responsibly to avoid hate speeches and cyberbullying.
Definition and Types of Hate Speech and Cyberbullying
Hate speech over the internet is offensive language or a mode of communication-related to the ideology of the utilization of hate. Hate speeches can be directed towards various characteristics, including gender, disability, ethnicity, religion, and so on (Chetty & Alathur, p. 108-118, 2018). Hate speech can take many forms, from overtly offensive statements to prejudice and stereotyping. Some of the significant categories of hate speeches include speeches based on gender, race, religion, and so on. Gender-based hate speeches are targeted toward people having queer sexual preferences. Insults are often hurled at them based on their sexism. We are aware that they are often subjected to objectification or other harmful stereotyping. So, we know racism through hate speeches often includes offensive speeches and racial slurs against different minority groups. Spreading hate based on one's religious choice is rampant on social media today. Cyber-hate or spreading hate speeches is an online attack on a collective set of people. At the same time, cyberbullying intends to harm an individual or a group through repetitive actions and showcasing an imbalance of power (Bedrosova et al., p. 107, 2022). This research represents cyberhate and cyberbullying faced by adolescents in Poland, Slovakia, and the Czech Republic. Online hate often negatively impacts individuals' mental health, limiting their capacity to become confident and connect with others over the internet.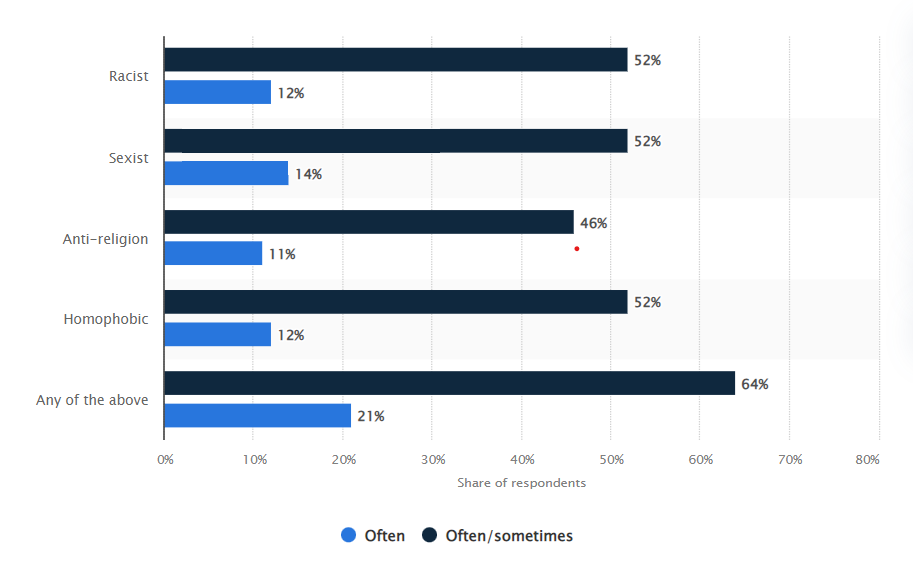 Figure: Hate speech on social media platforms as of April 2018, by type
Source: (Statista, 2022)
There have been growing rates of cyberbullying on a global level. As per statistical reports, it has been found that there will be a growing percentage of internet users who have experienced cyber-bullying and cyber-crimes in 2022. The countries to face maximum cyberbullying included India (68%), the USA (49%), Australia (40%), New Zealand (38%), France (33%), U.K (33%), and so on (Statista, 2023).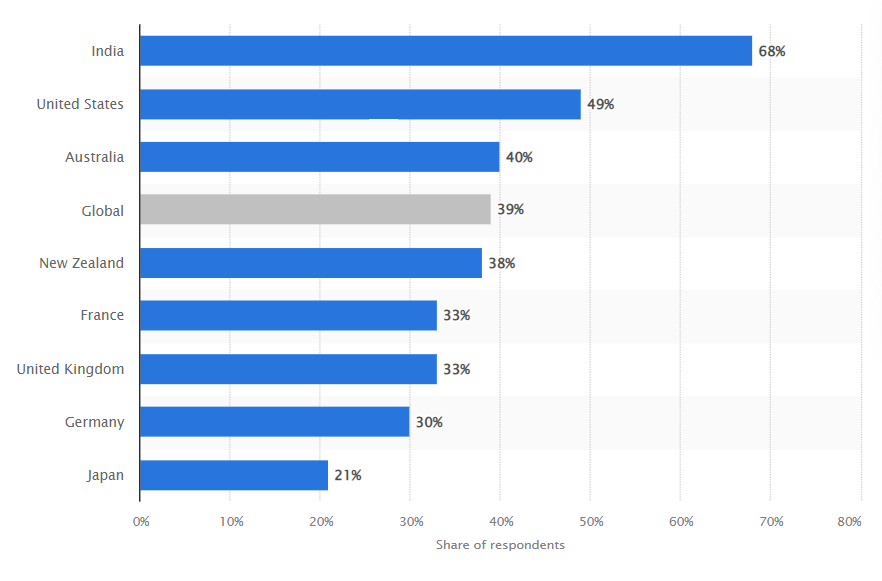 Figure 2: Share of Respondents
Source: (Statista, 2023)
Cyberbullying can be defined as willful and repetitive harm inflicted on individuals or groups using cell phones, computers, and other electronic gadgets (Englander et al., p. 148-151, 2017). Some significant cyberbullying categories include cyberstalking, consisting of repeated, unwanted, and intrusive online contact or surveillance, often causing fear or distress to the target. Harassment is also a type of cyberbullying where offensive or inflammatory content is shared to cause anger or despair to others. There are also certain instances where individuals are trolled, which include harassing them based on their opinions, race, color, religion, disability, and so on. Therefore, it is crucial to analyze the similarities and differences between hate speeches and cyberbullying to analyze the two betters.
Mechanisms for the Spread of Hate Speech and Online Violence
In the age of information, everyone with a smartphone in hand can become the producer, reviewer, and one to spread information at a very fast pace. Social media platforms have been major tools for the spread of hate comments and cyber-bullying which has accelerated since the spread of COVID-19. The sudden shift in lifestyles of youth during the pandemic has increased their reliance on social media, hence increasing rates of cyberbullying (Ncbi, 2022). Hate speeches have also been said to rise significantly after the pandemic, as a certain group of people thinks that some ethnic groups were involved with the spread of the pandemic. An assessment of several algorithms of social media sites shows that each has distinctive qualities that influence the spread of hate speech and online violence. For example, Twitter's character limits and real-time nature make it conducive to the rapid spread of controversial content. Facebook's algorithm prioritizes content that generates engagement, which may include hate speech. Conversely, YouTube relies heavily on visual content and user-generated recommendations, which can also spread harmful material.
Various factors, such as algorithms, user behavior, and platform policies, contribute to the spread of hate speech and online violence. The study by Matamoros (p. 930-946, 2017) shows how these factors interact and contribute to the spread of harmful content in cyberspace. The inability of social media platforms or a lack of proper content moderation also leads to the spread of hate speeches. Platform policies that prioritize user engagement over content review may inadvertently amplify hate speech. Similarly, user behavior, such as engaging with controversial content, can reinforce algorithmic biases and promote harmful material. The research by Matamoros (p. 930-946, 2017), showcases the entanglement of users' practices to boost racial slurs and violence and the platform features and algorithms' contribution to the circulation of hate speeches and online violence. However, reliance on algorithms and automated tools for content moderation can lead to errors and bias. Social media platforms have been major propagators of increasing hate and violence toward minorities. This often results in physical violence and targeting of individuals resulting in lynchings, mass shootings, ethnic genocides, and so on. The mental health of individuals is hampered after being cyberbullied, hence limiting the ability of individuals to connect openly with people on social media platforms. There is a need to analyze the associated factors of hate speech and online violence, which will result in a reduction of the spread of harmful content and enable a safer online environment in the long run.
Impact and Challenges
Hate speeches and online harm have social, legal, personal, and national consequences, causing permanent damages in some instances. Cyber-harassment and bullying are significant causes of reduced self-value, causing anxiety and depression resulting in suicidal attempts and hampering professional and personal lives. The statistics of cyberbullying in 2017 had increased by 14.5% and suicide attempts by 8.7% (Dataprot, 2023).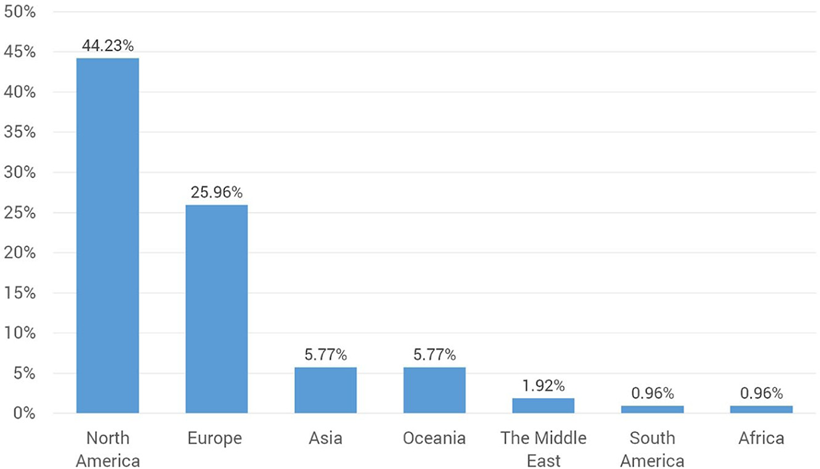 Figure 3: Social Media Oppression
Source: (Matamoros & Farkas, 2021)
This statistical report also states that more than 44.21% of teens in North America have experienced cyber harassment. 25.96% of internet users have been bullied in Europe, and More than 5% of people in Asia and Oceania reported cyberbullying (Matamoros & Farkas, p. 205-224, 2021). According to Carlson and Frazer (2018), Indigenous Australians often encounter hate speech, racism, and online harassment on social media. The anonymity provided by some platforms has encouraged some users to post harmful and derogatory content, exacerbating the problem. The 2019 terrorist attack on mosques in Christchurch, New Zealand, is an example of hate speech (NBC, 2019). During the attack, the perpetrators live-streamed their horrific actions on Facebook, resulting in the loss of 51 lives and further injuries. Before the attack, the terrorists' manifesto was full of hate speech, specifically targeting Muslims and immigrants while promoting white supremacist ideals. Online harassment has been a means of harassment for people from all across the world.
The impact that cyberbullying has on youngsters has caused them to become casualties over the years. Some of the significant challenges faced by youngsters associated with cyber harassment include hacking of personal information, meeting scams, and a severe blow to the reputation of an individual by the fast spread of false information or personal data about an individual (Akram & Kumar, p. 351-354, 2017). The internet is laden with several risks involving several online communities. Cyberbullying is perpetrated through various technologies regarding various social media platforms. The victims of cyberbullying are more likely to be the people who are more addicted to surfing the internet than the non-cyber victims. Therefore, it can be stated that victimization is directly proportional to internet addiction (Lin et al., p. 1-8, 2020). There are several impacts of social media harassment of individuals causing mental and physical distress in the long run.
Strategies and Recommendations
There are several strategies associated with cyberbullying that Government and nonprofit organizations have undertaken to help the cause of cyberbullying. A report has been published by the United Nations (UN) called 'Strategy and Plan of Action on Hate Speech in 2019', which was a measure to handle hate speech online (Williams, 2019). This report commits to making changes in monitoring and addressing hate speech and its causes. This report has laid a roadmap for the UN to undertake the necessary steps to mitigate the problem. The Government of the UK released new safety changes in November of 2022, requiring platforms to reduce racial and sexual contents that would lead to controversy. The safety changes adopted by the Government have changed the picture of cyberbullying to a great extent in the long run. The intervention of the Government was essential to ensure that adolescents are not pushed towards social anxiety and depression.
Figure 4: Impact of Cyber Bullying
Source: (Infosecawareness, 2023)
Cyberbullying not only hurts an individual's emotions, but they are also more prone to isolation, leading to mental stress that can often result in them becoming suicidal in the long run. Content moderators are essential to tackling hate speech and online violence on social media sites. However, they also face significant dilemmas and challenges in their work. Roberts (p. 33-72, 2019) highlights the psychological strain experienced by content moderators tasked with sifting through and removing offensive material. Daily exposure to such material has been linked to post-traumatic stress disorder, fatigue, and emotional distress.
Various legal, technological, and educational training methods exist to overcome online harassment. Article 19 states that Legal harmonization and digital constitutionalism an international human rights laws (Airin6902, 2023, Week 2).In 2020, the theme of the regional forum in Geneva was "Hate speech, social media, and minorities '. Some of its objectives included promoting an understanding of online hatred's harms and social media's role in spreading hatred (Ohchr, 2022). It also focused on developing strategies to restrict hate speeches on social media. Detection of online hate with artificial intelligence is essential as it will help detect such speeches on social media platforms and remove them efficiently within a short time frame. Various non-profit organizations should arrange educational training to ensure that everyone is aware of the consequences of online hate on others' lives and mental health.
Conclusion
Well! So, we know about the ill effects of cyberbullying, hate speeches and complicated issues with far-reaching implications for individuals and society. Understanding the processes that lead to the spread of hate speech and cyberbullying and the difficulties and implications that arise from their complexity is essential as the digital world continues to evolve. This research provides a detailed view of defining hate speech and cyberbullying and their impacts on vulnerable people. Various causes associated with it and a focus on statistical information have also been provided here. Similarities between hate speech and cyberbullying have been impacted here. Several mechanisms that are responsible for the quick spread of cyber harassment have also been highlighted within this essay. Some significant factors of online hate spread have also been discussed here. Some significant impacts and challenges of the reach of online hatred have been impacted within this area of research. The major groups who are affected by it have been brought out along with an impact on recommendations to resolve the issue. Steps taken by the Government and the role of education and technology in mitigating the problem have been discussed in great depth within this area of research.
Reference:
Airin6902, 2023. Internet Cultures and Governance. Week 2.
Akram, W., & Kumar, R. (2017). A study on positive and negative effects of social media on society. International Journal of Computer Sciences and Engineering, 5(10), 351-354.
https://www.researchgate.net/profile/Waseem-Akram-19/publication/323903323_A_Study_on_Positive_and_Negative_Effects_of_Social_Media_on_Society/links/5ab1c064a6fdcc1bc0bfefef/A-Study-on-Positive-and-Negative-Effects-of-Social-Media-on-Society.pdf?forcedefault=true
Bedrosova, M., Machackova, H., Šerek, J., Smahel, D., & Blaya, C. (2022). The relation between the cyberhate and cyberbullying experiences of adolescents in the Czech Republic, Poland, and Slovakia. Computers in Human Behavior, 126, 107013.https://doi.org/10.1016/j.chb.2021.107013
Carlson, B., & Frazer, R. (2018). Social media mob: being indigenous online.
https://apo.org.au/node/234656
Chetty, N., & Alathur, S. (2018). Hate speech review in the context of online social networks. Aggression and violent behavior, 40, 108-118.
https://doi.org/10.1016/j.avb.2018.05.003
Dataprot, 2023. Heart-Breaking Cyberbullying Statistics for 2023.
https://dataprot.net/statistics/cyberbullying-statistics/
Englander, E., Donnerstein, E., Kowalski, R., Lin, C. A., & Parti, K. (2017). Defining cyberbullying. Pediatrics, 140(Supplement_2), S148-S151.
https://doi.org/10.1542/peds.2016-1758U
Infosecawareness, 2023. About Cyber Bullying.
https://www.infosecawareness.in/concept/cyber-bullying
Lin, L., Liu, J., Cao, X., Wen, S., Xu, J., Xue, Z., & Lu, J. (2020). Internet addiction mediates the association between cyber victimization and psychological and physical symptoms: moderation by physical exercise. BMC psychiatry, 20, 1-8.
https://link.springer.com/article/10.1186/s12888-020-02548-6
Matamoros-Fernández, A. (2017). Platformed racism: The mediation and circulation of an Australian race-based controversy on Twitter, Facebook and YouTube. Information, Communication & Society, 20(6), 930-946.
https://doi.org/10.1080/1369118X.2017.1293130
Matamoros-Fernández, A., & Farkas, J. (2021). Racism, hate speech, and social media: A systematic review and critique. Television & New Media, 22(2), 205 224.
https://journals.sagepub.com/doi/pdf/10.1177/1527476420982230
Ncbi, 2022. Cyberbullying on social media under the influence of COVID‐19
https://www.ncbi.nlm.nih.gov/pmc/articles/PMC9350190/
NBC NEWS. (14 June 2019). Christchurch mosque shootings.
https://www.nbcnews.com/news/world/christchurch-mosque-attack-suspect-pleads-not-guilty-trial-set-next-n1017466.
Ohchr, 2022. Draft 'Effective Guidelines on Hate Speech, Social Media and Minorities'.
https://www.ohchr.org/sites/default/files/2022-06/Draft-Effective-Guidelines-Hate-Speech-SR-Minorities.pdf
Roberts, Sarah T. (2019) Behind the Screen: Content Moderation in the Shadows of Social
Media. New Haven, CT: Yale University Press, pp. 33-72.
Williams, M. (2019). Hatred behind the screens: A report on the rise of online hate
speech.
https://orca.cardiff.ac.uk/id/eprint/127085/1/Hate%20Behind%20the%20Screens.pdf