As online video games are increasingly perceived as an entertainment medium that helps people connect, more and more female gamers are being drawn into the world of online gaming (McLean & Griffiths, 2019). However, the rapid expansion of social media and video games has sparked debate around the phenomenon of female gamers being targeted by online hate speech (Sinpeng et al., 2021). Research has shown that the majority of female gamers in the online gaming community report online harassment and hate speech related to sexism while playing games (Ekiciler et al., 2022).
We have to acknowledge that toxic language and harassment used in online games can be rationalised by players due to the lack of adequate and reasonable regulation of online hate speech. Through games such as League of Legends, Apex Legends, Overwatch and StarCraft, players perceive communication styles that are unacceptable in the real world to be normal and acceptable in the gaming community. There is therefore a need for the online gaming industry to gain insight into the negative interactions suffered by female gamers and to take urgent action. By combating and curbing hate speech in the gaming community, an inclusive and equal environment is created to ensure that the rights and safety of all players, regardless of gender, are protected (JoAnn, 2022).
Hate speech and gaming
"Welcome to the Internet": Hate speech against female gamers is ubiquitous in the gaming community
Maybelline New York, Australia's number one cosmetics brand, launched a new campaign in February this year, releasing an eye-opening video that reveals a number of hate speeches female gamers experience in online games. The video features two male players who are relatively popular on the live gaming platform. They were asked to write their gender as a female in their game profiles and to use voice modification software to change their voices to female while playing a first-person shooter game (Tu, 2023).
They experienced, as female gamers, how women are subjected to abuse, violence, discriminatory language and harassment when playing games.
"What we could witness in just a few short hours made us only imagine how it feels to face this hate everyday."
—— Anneliese Sullivan (HERO Copywriter, an independent creative agency producing Maybelline campaign videos)
It is an undisputed fact that today's online gaming community has become a battleground where hate speech and heated debates based on gender role portrayals take place (Tomkinson & Harper, 2015). Not limited to online gaming platforms, the spread of online hate speech is rapidly expanding and its reach has extended to the entire online world.
Flew (2021) argues that hate speech is a form of violence that runs counter to human rights principles, as it can cause ongoing, long-term harm to the psychological health and well-being of victims (Council on Foreign Relations, n.d.; Sinpeng et al., 2021). Although the understanding and definition of hate speech vary culturally and politically from country to country, its broad understanding highlights its discriminatory and pejorative character (United Nations, n.d., 2021). In layman's terms, hate speech is a discourse that discriminates against a group or a specific individual on the basis of race, country, colour, gender or other identity factors (Sinpeng et al., 2021; Waseem et al., cited in Kang, Kuo & Grossklags, 2022). People often use verbal or written communication to directly or indirectly convey hostility and intimidation to the target group, denying them access to equality and leading to early harassment, discrimination, victimisation and violence on the part of the victim (Flew, 2021; Sinpeng et al., 2021).
Based on this definition, we must acknowledge the magnitude of the problem of hate speech in today's gaming world. Furthermore, women as a protected group, especially in heavily stereotyped and widely perceived male-dominated online gaming spaces, suffer a great deal of online hate speech and victimisation (Sinpeng et al., 2021; Choe, Doh & Ha, 2020).
In the video released by Maybelline, 83% of female players in the Australian online gaming community reported experiencing sexist harassment and abuse from other players in online games because of their gender (Tu, 2023; Ingersoll, 2020). These harmful and toxic harassments often occur in voice channels and text chat in multiplayer online games.
Being a female gamer means facing online harassment: what kind of hate speech do they receive?
Toxic, hateful rhetoric and harassment against female gamers have been occurring for a long time due to the underrepresentation of women in the gaming industry (Graham & Dutton, 2019). According to Ballard and Welch (as cited in McLean & Griffiths, 2019), women are more likely to be victims of hate speech than other groups in the online gaming community, and this negative online violence and bullying often come from male players.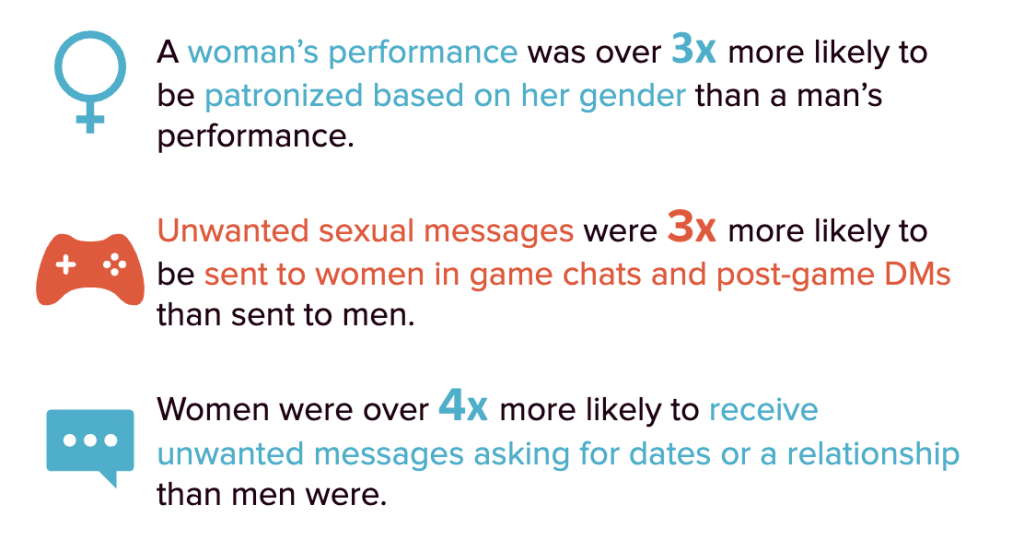 "[In a] first person shooter game, men made comments about how I am not good at it because I'm a girl. Once playing with a boyfriend, the other guys online kept laughing at me."

—— She/her, Age 25-34 (Ibricic, 2022)
Research3 (Ibricic, 2022) examined the gaming conditions faced by female gamers in today's online gaming community and found that 88% of female gamers in the study experienced hate speech such as "you're not good at games because you're a woman" during gameplay. Their skill level and gaming performance were looked down upon simply because they were "female gamers". This hate speech is rooted in the discriminatory beliefs that the gaming community generally holds about the female gamer community that they are not as competent as men in video games (Kauffman, 2016; Sinpeng et al., 2021).
Slysssa – a member of Team Liquid and a Hearthstone pro – mentioned that she has been accused of cheating by other male pros on the field at Hearthstone pro tournaments on numerous occasions. They even stigmatized Slysssa, saying that she colluded with other male players in the tournament (Gardner, 2022). They use hate speech to dismiss her achievements and express sexism because they do not want to believe that a female player can be better than them and achieve higher levels of success in competitive tournaments (Sinpeng et al., 2021).
"Get back in the kitchen and take your goddamn hands off a video game controller."

—— Hate speech that a female gamer received when she recorded herself playing Call of Duty: Modern Warfare 3 (Fletcher, 2012).
Hate speech against female gamers based on gender also includes the direct use of derogatory language to label female gamers and make them feel ashamed and persecuted (Tagle, 2021). Ekiciler et al. (2022) compiled a list of some of the sexualised insults most often used to classify female gamers as inferior on online gaming platforms, including "bitch", "whore", " cunt" and "slut." and "slut".
One female League of Legends player mentioned that when she first participated in the competitive multiplayer game, she had heard about the toxic hate speech that was ubiquitous on the platform. But she was still greatly shocked at being criticised when she made just one mistake in the game and received hate speech from her teammates, such as "U R A BITCH." and "Uninstall League and go back to the kitchen" (Tagle, 2021). These words carry the discriminatory beliefs of male gamers against women because they believe that gaming platforms are a male space and that women are only worthy of being in the kitchen and serving men. Male players use sexist and abusive hate speech to deny and violate women's equal rights to enter the gaming world, with the aim of 'defending' their gaming territory by forcing female players into a subordinate position.
Why tackling hate speech in online games must be on the agenda now?
How hate speech hurts female gamers within the game: They are still masking…
As online games are all about collaboration with other players in chat rooms and voice channels, female players are inevitably inundated with hate speech against their gender in the gaming community. This has a serious impact on the female gamer experience. Research shows that more than half of female players choose to hide their gender, such as using a male character or changing their game ID to a unisex pseudonym. This avoids negative interactions with other players or receiving unsolicited gender harassment from them (McLean & Griffiths, 2019; Fox & Tang, 2017).
In a 2012 study of Halo 3, Kuznekoff and Rose (as cited in Fox & Tang, 2017) found that speaking in a female voice in a voice channel during gameplay resulted in three times as many negative interactions as using a male voice, even if their game performance was excellent. As a result, many female players refuse to connect to voice because they do not want to be subjected to discriminatory special treatment and be the target of harassment and hate speech.
How hate speech hurts female gamers in the real world: the tragedy of a 19-year-old female competitive gamer
The harm caused to female players by gender-based verbal violence and harassment in cyberspace is serious and real (Fox & Tang, 2017). The consequences of hate speech can extend into the real lives of victims and have a significant negative impact on their physical and mental health. They may develop negative emotions such as fear, anger and other disturbing feelings, which may lower their self-esteem and in severe cases may even lead to psychological disorders such as depression and panic attacks (Larsen & Fitzgerald, as cited in Fox & Tang, 2017).
In extreme cases, hate speech can escalate into violence against female gamers and even murder (Sinpeng et al., 2021). ESPN Brasil reported on the tragic incident of Ingrid Oliveira Bueno da Silva, a female CoD (Call of Duty) Mobile pro in Brazil. The 19-year-old girl, known as 'Sol', was found brutally stabbed to death by her male rival Guilherme Alves Costa, also a professional, in February 2021 (Onder, 2021). Costa allegedly planned the murder in a premeditated manner and recorded it on camera. He shared the video on WhatsApp. The video is full of hate speech aimed at inciting violence against female gamers. Ingrid's career as a female eSports gamer was just beginning, but online misogyny and hate speech against her femininity spilled over into her real life, causing her immediate and irreparable harm (Onder, 2021; Sinpeng et al., 2021). The challenging culture towards female gamers in the online gaming community must be addressed, as it has had a disastrous impact on the female gamer community.
Efforts by gaming companies to stop hate speech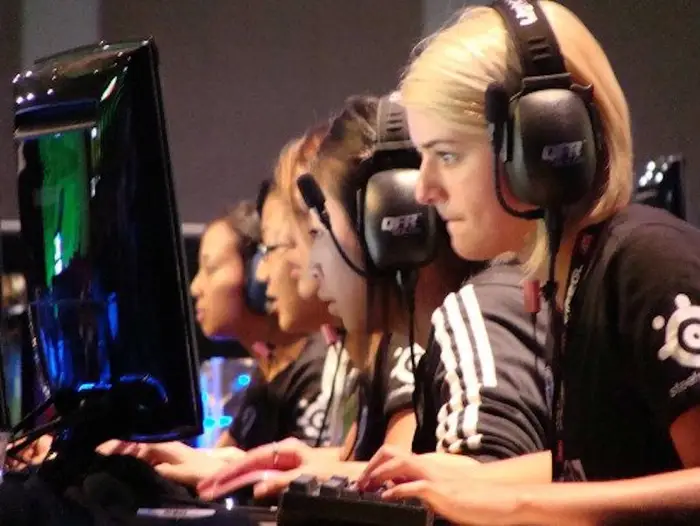 Most game companies provide minimal restrictions on interactive communication in online games. Players can simply turn off chat (e.g. mute players in a chat channel or exit a voice channel) or report hate speech that incites discrimination (Smith, 2022). However, players who make reports point out that while those who are reported may be punished by being temporarily or permanently suspended from playing on the gaming platform, it can take weeks to months for gaming companies to process the reports they receive.
Players who make a report also usually do not receive feedback on whether their report was successful. Another problem with having a reporting channel is that audits can only use chat logs in the chat boxes and usernames as evidence of objectionable hate speech. Recording verbal exchanges in voice channels for auditing purposes can lead to discussions about player privacy.
In addition, almost all online gaming platforms use automated auditing to detect and filter potential hate speech in chat (Sinpeng et al., 2021). In an effort to reduce offensive, gender-based discourse in online games, Riot Games introduced a reward system five years ago. Players can receive special gifts when they demonstrate good sportsmanship and ethical behaviour in the game. For example, League of Legends gives away free limited edition skins at the end of each season to players who follow a code of conduct and interact in an equal and positive manner in the game. According to data provided by Jeffrey Lin, Riot's lead game designer, this strategy has effectively reduced verbal abuse by 6.2% and disruptive comments by 11% (Smith, 2022). However, some players have changed the spelling of words or used jokes to discriminate and belittle the target group in order to avoid being identified by the automated review system as having made hate speech and thus being exempt from punishment.
What recommendations can we provide for game companies?
Improve reporting systems: Given that many online gaming platforms are slow and passive in dealing with reports of in-game hate speech, this may reduce players' motivation to report harmful verbal attacks and harassment (Simpeng et al., 2021). This is because they believe that the reporting channel is not useful. Therefore, game companies need a more effective censorship system to deal with reports of hate speech content. It is also necessary for online game companies to block the IPs of players who are proven to use hate speech to commit online violence in order to prevent them from repeatedly registering and using new game accounts and profiles, logging into games and harassing specific groups or individuals.
Develop in-game voice auditing systems: Game companies need to develop artificial intelligence-like systems to record and analyse verbal exchanges between players on voice channels and flag potentially abusive comments. Some players may be accustomed to using voice channels outside of the platform, such as Discord and YY (a well-known Chinese voice software that is often used for in-game communication). Game companies will need to consult with these voices to improve the management of discriminatory hate speech that occurs outside of the game's operating platform.
References
Choe, K., Doh, S.-J., & Ha, J. (2020). Adolescents' experiences and coping with sexism affect both female and male online gamers in South Korea. Sex Roles, 83(1-2), 43–53. https://doi.org/10.1007/s11199-019-01094-0
Ekiciler, A., Ahioglu, I., Yildirim, N., Ajas, I. I., & Kaya, T. (2022). The bullying game: Sexism based toxic language analysis on online games chat logs by text mining. Journal of International Women's Studies, 24(3), 1–16.
Fletcher, J. (2012, June 3). Sexual harassment in the world of video gaming. BBC News. Retrieved April 10, 2023, from https://www.bbc.com/news/magazine-18280000
Flew, T. (2021). Regulating platforms. Polity Press.
Fox, J., & Tang, W. Y. (2017). Sexism in video games and the Gaming Community. New Perspectives on the Social Aspects of Digital Gaming, 115–135. https://doi.org/10.4324/9781315629308-8
Graham, M., & Dutton, W. H. (2019). Society and the Internet: How Networks of Information and Communication Are Changing Our Lives. Oxford University Press, Incorporated. https://doi.org/10.1093/oso/9780198843498.001.0001
Ibricic, E. (2022, November 11). How female gamers are dealing with harassment and what can be done about it. Reach3. Retrieved April 10, 2023, from https://www.reach3insights.com/blog/female-gamers-dealing-with-harassment
Ingersoll, C. (2020, November). Free to play? hate, harassment and positive social experience in online games 2020. ADL. Retrieved April 9, 2023, from https://www.adl.org/resources/report/free-play-hate-harassment-and-positive-social-experience-online-games-2020)
JoAnn. (2022, March 28). Sexism in the gaming industry: Are things beginning to change? – society of women engineers. Magazine. Retrieved April 7, 2023, from https://magazine.swe.org/gaming-sidebar/
Kang, N. G., Kuo, T., & Grossklags, J. (2022). Closing pandora's box on Naver: Toward ending cyber harassment. Proceedings of the International AAAI Conference on Web and Social Media, 16, 465–476. https://doi.org/10.1609/icwsm.v16i1.19307
Kauffman, G. (2016, July 12). Women aren't actually worse at video games: Why the stereotype is harmful. The Christian Science Monitor. Retrieved April 10, 2023, from https://www.csmonitor.com/USA/Society/2016/0712/Women-aren-t-actually-worse-at-video-games-Why-the-stereotype-is-harmful
McLean, L., & Griffiths, M. D. (2019). Female gamers' experience of online harassment and social support in online gaming: A qualitative study. International Journal of Mental Health and Addiction, 17(4), 970–994. https://doi.org/10.1007/s11469-018-9962-0
Onder, C. (2021, February 24). Call of duty esports player murdered in Disturbing tragedy. ScreenRant. Retrieved April 12, 2023, from https://screenrant.com/call-of-duty-esports-player-murdered-disturbing-tragedy/
Sacco, D. (2021, May 25). 59% of women gamers say they adopt a non-gendered or male identity to avoid harassment while playing online. Esports News UK. Retrieved April 11, 2023, from https://esports-news.co.uk/2021/05/25/women-play-video-games-online-mask-gender-harassment/
Sinpeng, A., Martin, F. R., Gelber, K., & Shields, K. (2021). Facebook: Regulating Hate Speech in the Asia Pacific. Department of Media and Communications, The University of Sydney.
Smith, N. (2022, September 23). Racism, misogyny, death threats: Why can't the booming video-game industry curb toxicity? The Washington Post. Retrieved April 13, 2023, from https://www.washingtonpost.com/technology/2019/02/26/racism-misogyny-death-threats-why-cant-booming-video-game-industry-curb-toxicity/
Tagle, E. (2021, August 4). Sexist language in gaming remains as men defend notion that video games are their domain. RAPPLER. Retrieved April 10, 2023, from https://www.rappler.com/technology/features/why-sexist-language-female-gamers-continues-exist/
Tomkinson, S., & Harper, T. (2015). The position of women in video game culture: Perez and Day's Twitter Incident. Continuum (Mount Lawley, W.A.), 29(4), 617–634. https://doi.org/10.1080/10304312.2015.1025362
Tu, J. (2023, February 23). The campaign highlighting the sexism, discrimination and bullying female gamers face. Women's Agenda. Retrieved April 9, 2023, from https://womensagenda.com.au/latest/the-campaign-highlighting-the-sexism-discrimination-and-bullying-female-gamers-face/ United Nations. (n.d.). What is hate speech? United Nations. Retrieved April 9, 2023, from https://www.un.org/en/hate-speech/understanding-hate-speech/what-is-hate-speech