Introduction
In the year of 2023 January, the number of internet users increased to 5.16 billion, and the number of social media users increased to 4.76 billion. There are certain possibilities that happen hate speech and online harm as more and more people keep active online. Online hate speech and harm are delivered through the internet and many social media like Facebook, Instagram, and Twitter. Moreover, Research shows that the percentage of online hate speech has increased by 22 % in 2022.
The language used for inciting violence or hate against groups is hate speech, which attacks or diminishes others based on specific characteristics, such as physical appearance, religion, gender identity, nationality or sexual orientation. (Fortuna and Nunes 2018, p. 5). Online hate speech and online harm lead to kind of harassment, bias, and personal attack that makes people feel negative emotions and impact a person's mental health or even result in suicide to people who suffered hate speech and harm.
Especially for women, women are suffering more hate speech and harm than men. Research indicates that women are disproportionately become the targets group of hate speech and harassment in the internet (Barak, 2005; Citron, 2010; Finn & Banach, 2000; Herring, Job-Sluder, Scheckler, & Barab, 2002; Morahan-Martin, 2000). In addition, there is a global survey conducted by the organization No Hate Speech Movement indicates that around 83 percent of the 6,601 female respondents have suffered online hate speech. Moreover, A survey conducted from German Internet users shows that more than 9,000 Female German Internet users in the aged of 10 to 50 years old were more likely to be victims of online hate speech, online sexual harassment and experiencing insulting comments (Staude-Müller, Hansen, & Voss, 2012). The above data not only indicate that online hate speech and harm most likely happen to women but also that women are suffering online hate speech and harm is a global issue. women in each country have suffered varying degrees of online hate speech related to their characteristic physical appearance, nationality and so on.
Some online hate speech towards women including terms such as "b*tch", "sl*t" or "c*nt", and so on are very common on online platforms. Which attacks women based on their gender identity and physical appearance. and based on the data we can know that women are receiving a large number of slurs than the man. Some women become anxious and depressed because of those online hate speeches, even though those hate speeches are conducted online but the hateful content directly and immediately brings a negative impact on those women. And unfortunately that the law fails to address the problems of hate speech against women and we haven't come up with an effective method to the problem nowadays.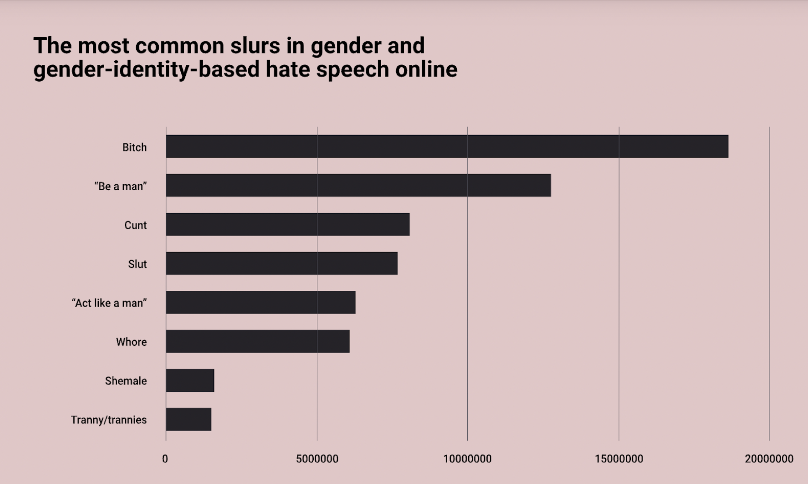 Impact of hate speech and online harms
For the women who are suffering from online speech, women are hurt by the online content of hate speech directly and immediately, and there are growing anxieties about hate speech on social media, and how offensive messages can impact society and the psychology of individuals (Gelber and McNamara 2016; Judge and Nel 2018). Online speech brings a negative impact on individuals' physical and mental health. In particular, Individuals who suffer from online hate speech may be facing a problem of low self-esteem, anxiety, insomnia, and other mental problems. Even worst it could cause some behavioral harm to victims such as suicidal thoughts.
For the impact of online hate speech on platforms, since platforms like Facebook and Twitter used to happen a large amount of online hate speech, many female platform users stop using those social media as they have experienced online hate speech and harm. For instance, there is a feminist writer who name is Jessica Valenti who is suffering online hate speech in way of sexual harassment, gender discrimination, and suppression of her thoughts, and Jessica Valenti has to take time off from social media as a result of some people is keep having rape threats towards her daughter. As women keep receiving online hate speech and platforms haven't come up with an effective method to solve the problems of spreading online hate speech, some women like Jessica Valenti have to stop using those social platforms. So there is research conducted by Mythos Labs for UN Women Asia shows that approximately 35 percent of women less than men have internet access due to online hate speech and harm happened.
Case study
To explore more about online hate speech and harm, give an example would be useful to explain the topic.
Leslie Jones is a black female comedian actress who was suffering online hate speech since she appeared in the all-female movie of "Ghostbusters." After she participates in the movie, she has received a huge amount of online hate to insult her.A message posted and reposted, or a message content that is responded to on social networks can spread hate speech. People have been attracted to her through the Twitter platform and leaving content such as "you such an sl*t" "can't believe black people are in Ghostbusters" and " omg you are so ugly, like an evil" " what a big ugly lip you had" "women should not be Ghostbusters, can't believe you just ruined my movie". Those online hate speeches aimed to insult an individual's physical appearance, gender, and ethnicity. As data shows that hate speech towards gender identity and nationality or ethnicity is around 20.4% as reported in 2022.So, for Leslie Jones as a black woman, is receiving more hate speech aimed at her gender as well as her ethnicity.
Moreover, online hate speech brings a huge negative impact on Leslie Jones's mental health. The main consequences found of online hate speech are that it's against social groups by creating an environment of prejudice and fostering discrimination as well as facilitating violent action to encourage others to be violent (Gagliardone et al., 2015). Leslie Jones said that: "I didn't do anything to deserve this. It's just too much. It shouldn't be like this. So hurt right now." "I feel like I'm in a personal hell". Leslie Jones felt torturous, she cried all day and was afraid of to play on her phone to watch her social media. She was in fear and anxiety because people are attack her physical appearance, gender, and ethnicity. After suffering online hate speech, Leslie Jones end up decide to quit the social media platform for a while.
Leslie Jones received online hate speech from her social media and most of the online hate speech was from Twitter. Twitter is a terrible platform for conducting policy or management to control hate speech. Even though Twitter has some terms of service and rules to control and forbid online hate speech, but Twitter administration team rarely conducts those rules due to there being a large amount of hate speech happening every day and they don't have an effective management method to solve the problem. Leslie Jones could report hate speech to the Twitter administration team but Twitter is unlikely to delete those hate speech. This kind of situation is not only happened to Leslie Jones but also happens to most women when they are using Twitter. As researcher Demos conduct a study showing that there are more than 200,000 hate speech tweets using the words like "sl*t" and "who*e" and over 80,000 women experiencing those aggressive hate speech.
The reason why Leslie Jones experienced hate speech is that the internet is an intermediary that could provide a place for expressing free speech and hate speech, harassment with anonymity and mobility. Almost no one gets punished when they deliver their hate speech. In this particular circumstance, traditional law enforcement does not apply to this abstract issue. Twitter wasn't conducting the action to actually forbid online hate speech due to the removal of content is based on commerciality and cost, Twitter is commercial software and they need to consider its benefits before taking the action to control the hate speech. Controlling hate speech is costly and time-consuming which Twitter does not have the desire to effectively control hate speech. Also, the responsibility for the social platform wasn't identified clearly and the individual wasn't aware of the power of words that could bring to others and the individual also wasn't aware of they are responsible for the victim's emotional and physical damage. Moreover, Cyber-libertarians are supporting the right of freedom, to speak out freely, since they believe that regulation and rules are obstructing the exchange of knowledge, thoughts, and ideas. Meanwhile, it's hard to clearly identify the line between free speech and online hate speech.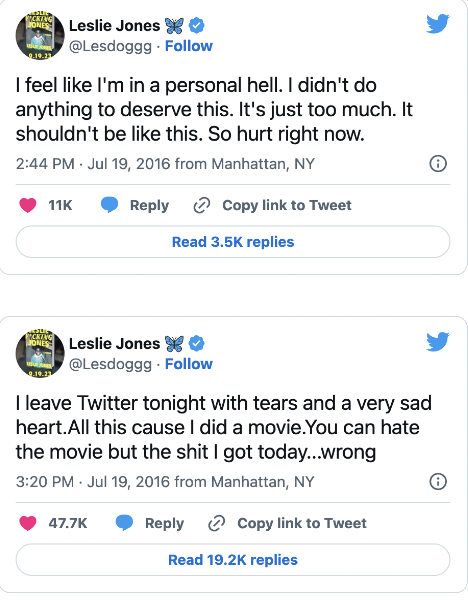 How to govern hate speech
Nowadays, with the development of the internet and platforms take a large position in people's life. Platforms such as Twitter Facebook or Google and youtube became online content curators and were responsible for spreading content and building intimate connections in the platforms and websites. The anonymity, and immediacy of the internet facilitate hatemongers to promote hate speech. From the Simon Wiesenthal Center study find out that there are around 8000 hate exists, also include social media and the web. As the rate of online hate speech is constantly increasing, that would be difficult for the government and the platforms to manage and control. Investigating online offenses that do not have immediate public effects is unlikely to be a priority for criminal justice agencies. therefore, there is a rare chance to respond to online hate speech unless the specific crime has been committed (BANKS, James 2010).
In order to control and manage online hate speech, the collaboration between the government, businesses (platforms), and internet users are most likely to be an effective way to reduce online hate speech and minimize the negative impact that online hate speech brings to individuals.
From the aspects of the platform, platforms could provide a guideline or education test for each individual when they log in to the platforms. For instance, each individual will need to complete the test when they log in to the platforms. the test will be conducted in video or an online quiz format. Content would be teaching how users behave and talk properly online. Moreover, platforms can also manage online hate speech through filtering software, which could automatically filter out and label some sensitive words. Moreover, not only provide education training to users but also conduct training for employees, to teach employees how to manage the online environment and improve their professional skills to identify hate speech and train them to be able to take immediate action when the hate speech is shown up.
From the aspects of the relevant authorities, relevant authorities could build a hotline channel for users to monitor and report online hate speech. Once users noticed there is occurring hate speech, they could report it to the channel and alert relevant authorities. So relevant authorities take immediate action like blocking the account, warrant investigation, and prosecution. Other than that, relevant authorities can also hold regular hate speech meetings for stakeholders to discuss the situation of the hate speech and based on the current situation to come up with relevant solutions and training to reduce the rate of online hate speech.
Conclusion
In conclusion, online hate speech is to attack an individual's physical appearance, religion, gender identity, nationality, or sexual orientation through the internet. The rate of hate speech is constantly increasing due to the internet becoming worldwide, Other than that, women are experiencing hate speech more than men due to the general social environment of ​​traditional views about gender roles and male dominance. And online hate speech brings a huge negative impact on an individual's mental and physical health or even worse results in suicide. However, the urgency of online hate speech has been increasingly recognized by individuals nowadays (Gambäck & Sikdar, 2017). So some action should be taken to control and manage online hate speech. In order to conduct an effective way to solve the problem, promoting collaboration between government, business, and internet users is essential. From the aspects of the platform should be provided training to internet users and improving platform management skills, applying some filtering software, and labeling sensitive words. From the aspects of the relevant authorities, build a hotline channel for users to monitor the hate speech and provide a convenient way for reporting hate speech and be able to respond effectively.
Reference
Castaño-Pulgarín, S. A., Suárez-Betancur, N., Vega, L. M. T., & López, H. M. H. (2021). Internet, social media and online hate speech. Systematic review. Aggression and Violent Behavior, 58, 101608. https://doi.org/10.1016/j.avb.2021.101608
Deutsche Welle (www.dw.com. (2017). Why women tackling online hate speech are internet heroes | DW | 08.03.2017. DW.COM. https://www.dw.com/en/why-women-tackling-online-hate-speech-are-internet-heroes/a-37849796
Flew, T., Martin, F., & Suzor, N. (2019). Internet regulation as media policy: Rethinking the question of digital communication platform governance. Journal of Digital Media & Policy, 10(1), 33–50. https://doi.org/10.1386/jdmp.10.1.33_1
Grady, C. (2016, July 22). Watch Leslie Jones explain exactly why Twitter has a harassment problem. Vox. https://www.vox.com/2016/7/22/12256384/leslie-jones-twitter-harassment-seth-meyers
Helen Whittle. (2022, August 3). Austrian doctor's death puts spotlight on hate speech – DW – 08/03/2022. Dw.com.
Laub, Z. (2019, June 7). Hate Speech on Social Media: Global Comparisons. Council on Foreign Relations. https://www.cfr.org/backgrounder/hate-speech-social-media-global-comparisons
Musgrave, T., Cummings, A., & Schoenebeck, S. (2022). Experiences of Harm, Healing, and Joy among Black Women and Femmes on Social Media. CHI Conference on Human Factors in Computing Systems. https://doi.org/10.1145/3491102.3517608
MacAvaney, S., Yao, H.-R., Yang, E., Russell, K., Goharian, N., & Frieder, O. (2019). Hate speech detection: Challenges and solutions. PLOS ONE, 14(8), e0221152. https://doi.org/10.1371/journal.pone.0221152
Petrosyan, A. (2022b, April 26). Global digital population 2022. Statista; www.statista.com. https://www.statista.com/statistics/617136/digital-population-worldwide/
Schmid, U. K., Kümpel, A. S., & Rieger, D. (2022). How social media users perceive different forms of online hate speech: A qualitative multi-method study. New Media & Society, https://doi.org/10.1177/14614448221091185

SELMA. (2019, April 8). The consequences of online hate speech – a teenager's perspective | SELMA Hacking Hate. Hackinghate.eu. https://hackinghate.eu/news/the-consequences-of-online-hate-speech-a-teenager-s-perspective/
Vidgen, B., Margetts, H., & Harris, A. (2019). How much online abuse is there? A systematic review of evidence for the UK Policy Briefing – Full Report Public Policy Programme Hate Speech: Measures and Counter Measures. https://www.turing.ac.uk/sites/default/files/2019-11/online_abuse_prevalence_full_24.11.2019_-_formatted_0.pdf