Have you ever had an appointment with a friend at a restaurant at six o'clock, but he's late and can't be reached? Don't worry. With a map-based social networking application like Zenly, you can not only see where your friend is in real time, how fast he is travelling or how long he has been staying at any place, but even know how much his mobile phone power is. With such detailed information, it's easier to deduce how long he will take to get to the appointment, instead of waiting blindly.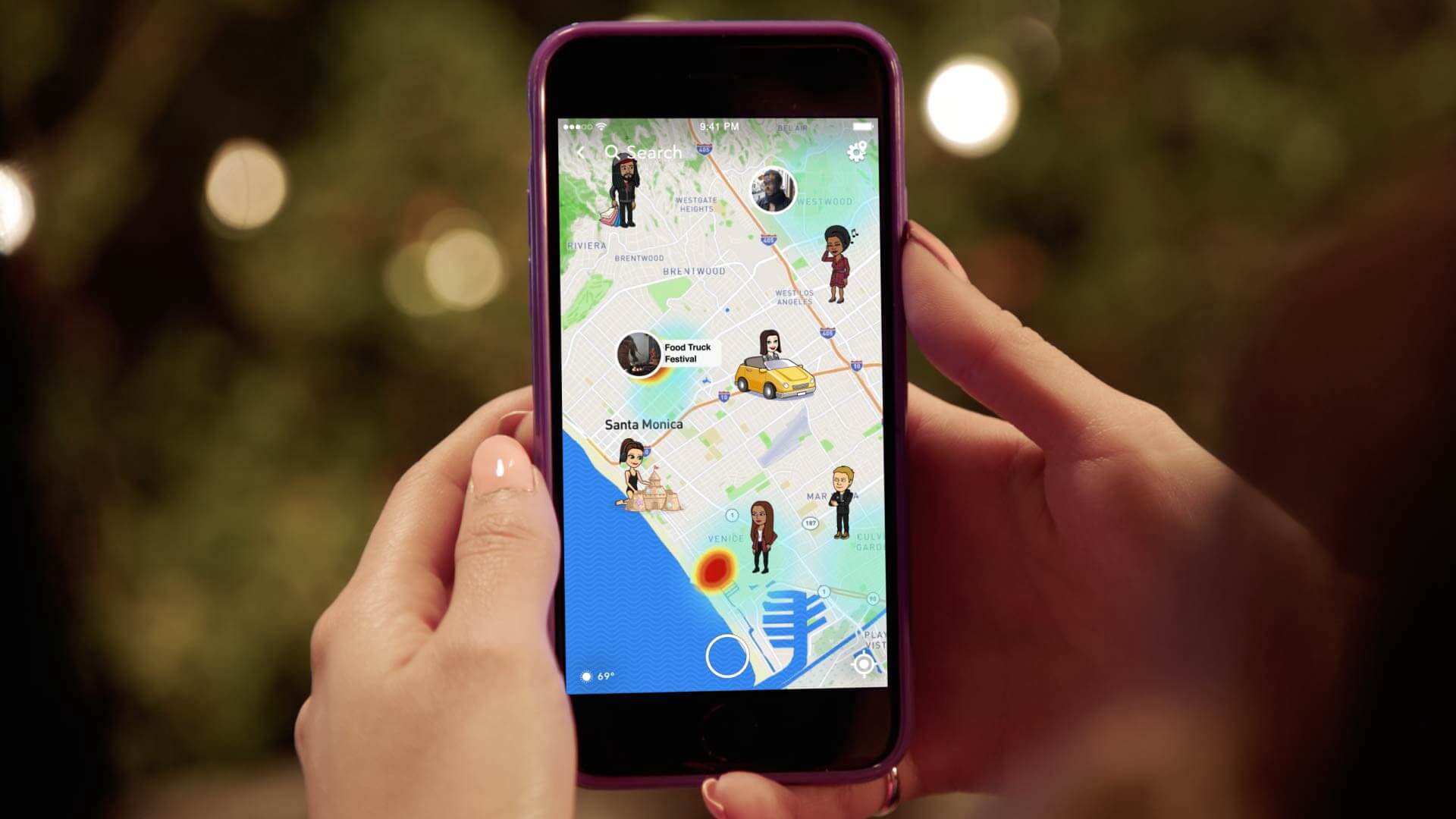 Launched in December 2014 and positioned as a social product for the young generations, especially Gen Z, Zenly was created by a local French team in Paris led by Antoine Martin and Alexis Bonillo, and in March 2022, it even became the top ten of the most downloaded social apps in the world, growing faster than Discord and Twitter.
Apart from the opportunities of the times and the financial support it has received, Zenly's success is closely linked to the product functionality and user-oriented design:
– GPS location mapping, where users can view their friends' location, travel speed and length of stay, and even their mobile phone power
– Generated trail maps, retaining user records, available for friends to view within 24 hours
– Group chat and individual chat windows, with support for sending exaggerated, funny emojis in addition to graphics, video, voice, etc.
– Map navigation, with recommended travel routes and ways of transportation
– New friends seeking, BUMP to add strangers
– Some interesting and user-friendly settings, such as support for ghost mode by freezing your location status at any time; a fire icon will be displayed on the map when you are in the same location as your friends, click on it and a group chat will be created; display of case data during the Covid-19 outbreak in 2020 ……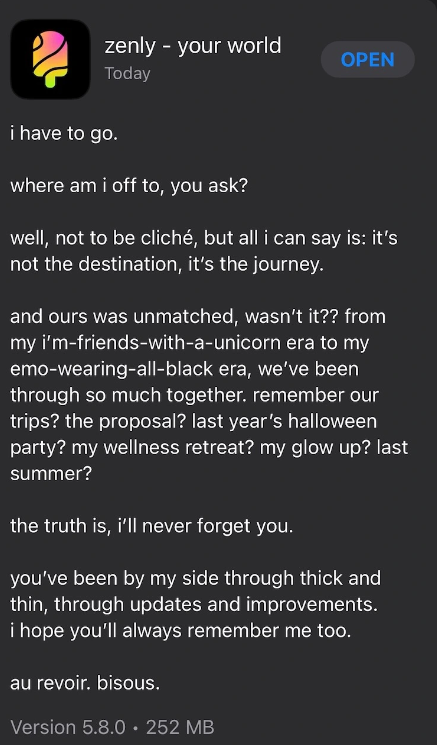 However, after financial losses, plummeting stock prices, and massive layoffs, Snapchat's parent company, Snap, has chosen to fight the "winter" by scaling back its business, with its mapping social app Zenly being taken offline on 3 February 2023. As an application that has reached 35 million active users a month, its downfall triggers a lot of sighs of regret from users and developer teams and unleashes a number of market gaps – this year, an app called Jagat has reappeared on the market under the banner of "Next Zenly". It has almost the same functions as Zenly and plans to surpass it in the future.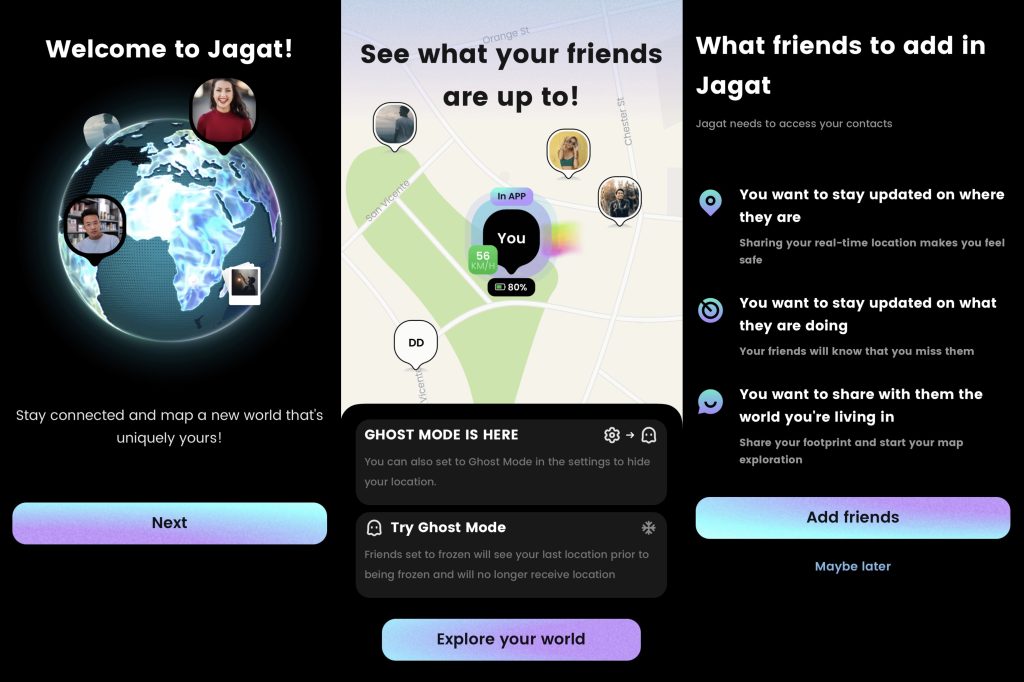 Once Jagat is downloaded, in accordance with its privacy policy, the user must provide the following information in order to use this application:
– Google email or Apple ID: Jagat asks users to provide their email address or Apple ID to register an account. In addition, if you want to add friends quickly, you are supposed to open the Contacts permission to find friends.
– Location data: The main function of this mapping social media platform is to track the users' location and show their friends where they are. Therefore, Jagat needs access to the users' precise location data. However, users can choose to hide their location by selecting the ghost mode in the settings, so that their friends can only see their last location before hiding it.
– Additional information: Upon opening the application, basic information such as the user's IP address, Cookies, browsing history, time zone and location, mobile device model, and operating system will be directly recorded, no matter whether you are registered or not; after registration, users can also provide extra information such as their name, gender, avatar; share footprints, photos on the My World page.
According to Jagat Privacy Policy, it is a controller of its users' personal data in the sense of Art. 4 (7) of the General Data Protection Regulation ("GDPR") and other data protection or data privacy laws in the Member State of the European Union and other Guidelines with a data protection nature regarding the Platform.
In the last 20 years, the General Data Protection Regulation (GDPR) has been considered one of the most significant changes in terms of data privacy regulation. Since May 2018, GDPR privacy law in the European Union extends to any organization that collects and processes the personal information of EU citizens inside or beyond the EU (Zaeem & Barber, 2020).
The significance of GDPR is to enhance the level of personal data protection, protect the rights of citizens, promote the development of the digital economy, encourage the development of global data protection standards, and provide important legal protection and guidance for building a healthy ecological environment in the digital world.
– Enhancing personal data protection: GDPR strengthens the protection and privacy of personal data by setting out a series of principles and standards that organizations should follow when processing personal data, including transparency in data use, data security, data confidentiality, data correctness, and more.
– Safeguarding citizens' rights: GDPR ensures the right to privacy and data protection for European citizens, guaranteeing their autonomy and choice in the digital age. This is important for safeguarding citizens' freedoms and human rights.
– Promoting the digital economy: GDPR provides organizations with a regulated and transparent model of data management that promotes the sustainable development of the digital economy. By improving the quality and security of data, it provides businesses and organizations with greater business opportunities and a competitive advantage in the industry.
– Encouraging the development of global data protection standards: The implementation of GDPR provides an important reference for the development of global data protection standards, and provides an important impetus for the construction of a global data protection system.
As Jagat Privacy Policy writes, "Personal Data" includes any information in relation to an identified or identifiable natural person, and an identifiable natural person is one who can be identified, directly or indirectly, in particular through reference to an identifier such as a name, an identification number, positional data, an online identifier or to one or more factors specific to the physical, physiological, genetic, mental, economic, cultural or social identity of that natural person (Goddard, 2017). Just like what other social media platforms such as Facebook have done, information about a particular person appearing in the photo you post will also be collected and stored as data for a potential account.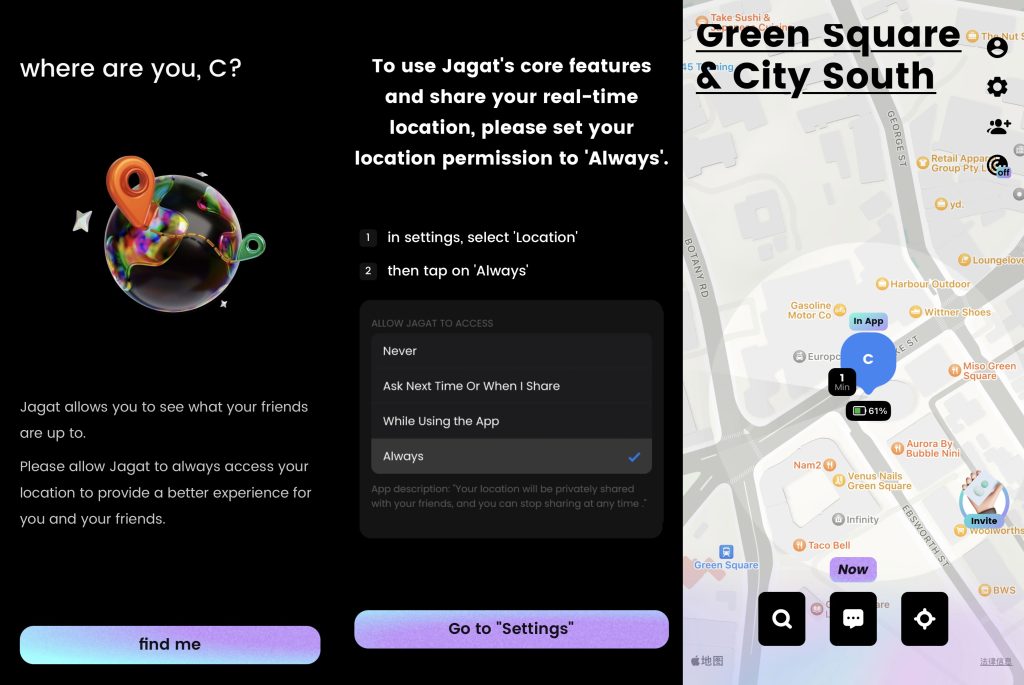 Apart from the fact that personal data is forcibly identified and stored, there is also an uncomfortable design that the users must "always" allow their real-time location to be accessed, that is, everything you do is under the supervision of Jagat. If this data is misused or accessed by the unscrupulous, it could pose a serious threat to the user's personal privacy. This information could be used to locate and track user's movements and activities for crimes such as theft, kidnapping and sexual harassment, and there is also a risk of online fraud. Although Jagat claims that it uses encryption technology to protect user data, it cannot avoid sharing data with some third parties including its business partners, suppliers and subcontractors, search engine providers or any member or affiliate of the group, which leaves the data at greater risk of being compromised.
If data is undoubtedly the 'new oil', the currency that now underpins the digital economy (Datoo, 2018), then user privacy and digital rights are the 'new environmental protection'. With increased digitization, our lives are generating vast amounts of digital data, which has become an important resource in both business and politics. However, the collection, use and sharing of data also pose a potential threat to personal privacy and digital rights. At the same time, we need to protect these digital rights, ensuring fairness and transparency in the use of data, as well as its security and privacy.
Similar to environmental protection, digital rights protection requires a series of measures, including strengthening the formulation and implementation of laws and regulations, enhancing the establishment and operation of regulatory and review mechanisms, improving the development and application of technological tools and instruments, and raising public awareness of privacy and digital rights.
The Internet has connected us all, but at the same time, we are all standing on a wire, with an endless abyss beneath our feet. With the advent of such applications, users are not only able to monitor the movements and activities of others, but are also being tracked by other people, companies or organizations that are difficult to anticipate. Therefore, the protection of privacy and digital rights is the responsibility of every user in the digital age as well. Above all, when using apps such as Jagat and Zenly, privacy policies should be read carefully and make sure you understand the ways in which your information is collected, used and shared by them.
How "mapping friendships" and "acquaintance socializing" will evolve
As a social media application based on data such as user location, a platform like Jagat knows how to avoid the controversies and negative effects associated with privacy and digital rights. The overall tone of the brand is about having a "great experience", not saying "we will always locate you and your friends" but "you will have a great time with your friends". Instead of getting your location directly, it says that one of your friends or family members wants to know where you are. In addition, when using some settings and permissions related to location, the platform rewards you with nice emoji or other virtual incentives, trying to bury the "real-time access to the users' location" under these guides and exaggerated functional effects, creating an atmosphere of "it's not a big deal to share your location with us".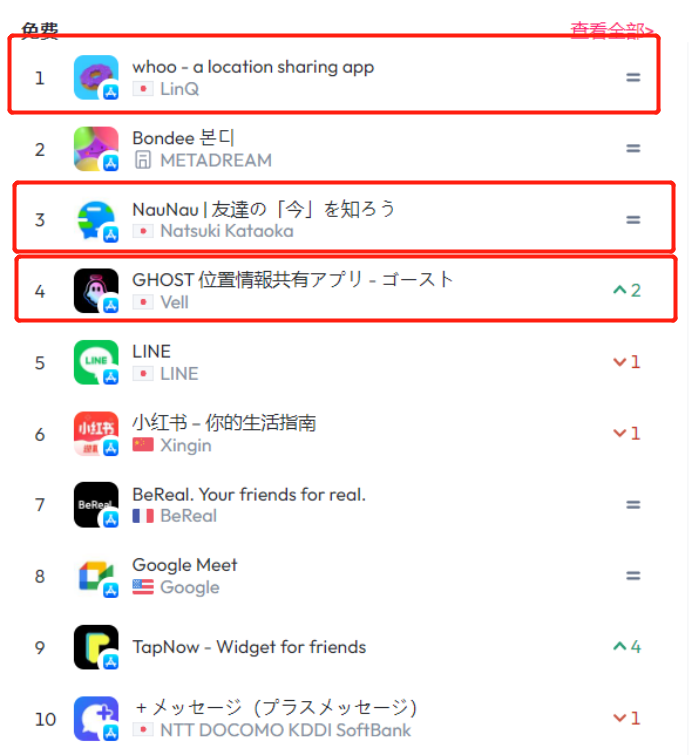 In addition to this, a number of localized cultural factors have contributed to the development of mapping friendships. Even after Zenly is taken offline, three of the top ten Japanese social apps in the iOS social category are still about social mapping platforms. From the extraordinarily engaged Japanese developers to the Japanese users who are looking for "Zenly alternatives", it is clear that social mapping application has a high impact in Japan.
In densely populated cities like Tokyo, where a house may be shared by many generations, when teenagers want to socialize with their peers, they can't do it at home like what other young generations have done in Europe or the US. Instead, they prefer to meet their friends in public places such as shopping malls, sports halls and bars, and social mapping platforms provide a fluid experience of "seeing where my friends are meeting and whether I should join them or not". Meanwhile, especially in areas like Japan where the geographical environment and address system are pretty complex, it is a great all-around experience to be able to see where your friends are and contact them directly when you are out – that's the reason why they refer to Zenly as "Line + Map".
Mapping friendships and acquaintance socializing are relatively new concepts in the field of social media. In the future, with the continuous development of social media and positioning technology, these social applications will become more and more refined, allowing for crowd analysis and recommendations through more dimensions such as positioning and a wide range of interests. There will be more advanced algorithms and machine learning technologies being used to provide users with personalized services and intelligent recommendations, thus improving user stickiness and enriching user experience. Apart from that, such social applications can also be integrated with e-commerce businesses to provide a more convenient social shopping experience.
It is thus clear that social mapping platform has its place and its value in existence. With the trend towards real-name and credit societies, the seemingly unified but opposing topics of security and privacy have been thrust into the public eye, time and time again. Location-sharing application has opened our eyes to another possibility – if our privacy is already exposed in a grey area, perhaps the choice to expose it to people we are close to and trust could be a recipe for privacy and security.
References
Datoo, A. (2018). Data in the post-GDPR world. Computer Fraud & Security, 2018(9), 17-18. https://doi.org/10.1016/S1361-3723(18)30088-5
Goddard, M. (2017). The EU General Data Protection Regulation (GDPR): European regulation that has a global impact. International Journal of Market Research, 59(6), 703-705. https://journals.sagepub.com/doi/pdf/10.2501/IJMR-2017-050?casa_token=X5JTo4niYN0AAAAA:KUe1UqfHSEM3FKPn9AzYB3pJMUTSS6c_RZPEUa8Th8pOzT7AeiymWJqrGTIxKYrrkRJ9a1yaeQEy1A
Zaeem, R. N., & Barber, K. S. (2020). The effect of the GDPR on privacy policies: Recent progress and future promise. ACM Transactions on Management Information Systems (TMIS), 12(1), 1-20. https://doi.org/10.1145/3389685