Jingjie Chen (490004638)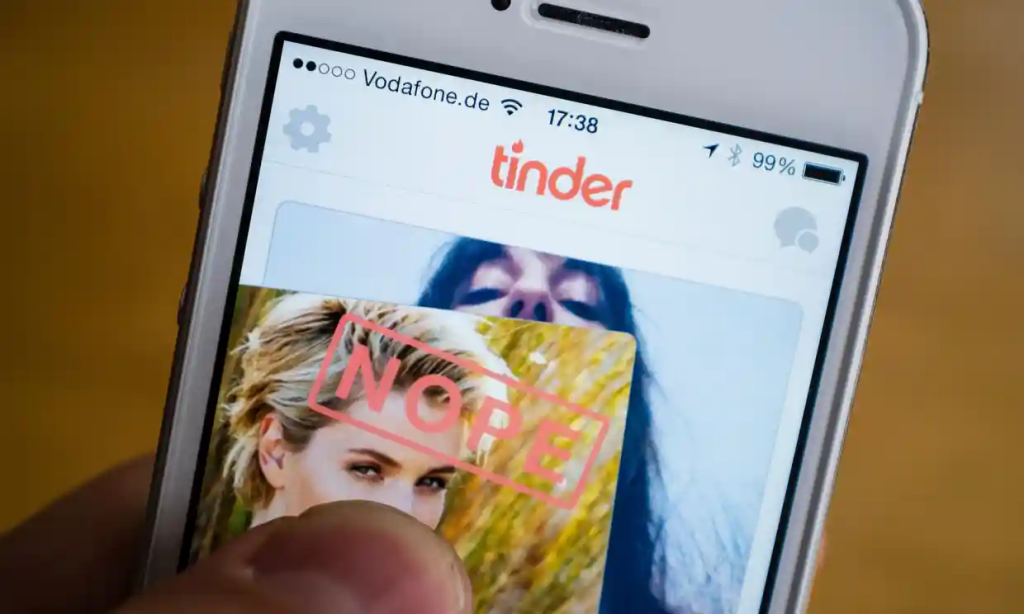 Tinder: 'You should not expect that your personal information, chats, or other communications will always remain secure.' Photograph: Alamy (Source: https://www.theguardian.com/technology/2017/sep/26/tinder-personal-data-dating-app-messages-hacked-sold)
Introduction
Tinder, as a technology platform, has reshaped social interaction and generated new practices of self-presentation and communication (David & Cambre, 2016). There's no doubt that online dating platforms have revolutionised the way people meet and connect, helping many users overcome physical, social, and psychological boundaries when it comes to forming romantic relationships. On the other hand, the rapid development of digital communications technology has led to an increase in online romance scams, accompanied by a higher risk of privacy and digital rights violations. According to ABC News (2022), Australians lost more than $131 million in romance scams in 2020. That's the price of true love. Also, a documentary released by Netflix in 2022 tells a shocking story about a jet-setting, online-dating scammer and shows empathy for female victims. The use of dating apps by scammers to commit fraud illustrates the dark side of the Internet, from the ease of lying to the illusion of intimacy it can create, which highlights the importance of privacy and digital rights on online dating platforms (Nicholson, 2022). For one thing, users have the right to control their personal data and be informed of the use of their data. For another, online dating platforms are responsible for protecting users' privacy and digital rights. Therefore, in this article, we will explore the importance of privacy and digital rights on online dating platforms using Tinder as a case, then evaluate the effectiveness of the measures taken by the platform to protect users' privacy and digital rights after the story of The Tinder Swindler, and finally discuss possible measures to ensure the feasibility of user data protection.
Overview of Tinder and its Privacy Policy
Tinder is an example of location-based real-time dating (LBRTD) application, which has changed the digital data environment to handle more than 1 billion or so swipes per day. On this platform, registered users can present themselves through 6 pictures and 500 words. According to the survey, Tinder users spend an average of 90 minutes a day swiping hundreds of profiles (Bilton, 2014). To match, both users must swipe right. After pairing, a pop-up animation shows photos of the two users, allowing direct messaging. Swiping left means discarding the current user's profile and displaying the next card-like image. David and Cambre (2016) referred to this operation as the 'swiping logic' that allows the immediacy of the emotional temperament, the transience of interactions and the goods of intimacy. Based on quick and superficial visual assessments of other users' profiles, the gamification of the swiping logic enhances emotional intensity and increases the speed of interaction, thus helping to produce a particular pattern of intimacy. This screened intimacy creates a sense of distance as experience and emotion are transmitted through images and messages, which is mediated primarily by the application and the device accessing it.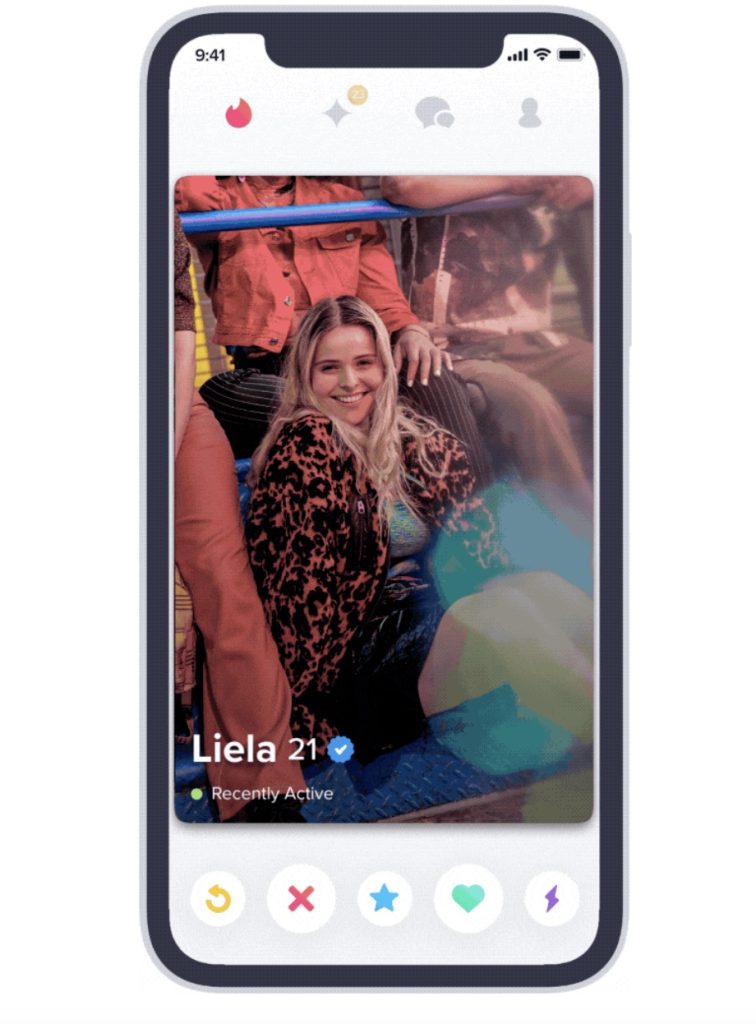 Tinder Swipe Feature Page Example
Tinder's (2023) Privacy policy offers a detailed explanation for the platform's collection, use and sharing of user data with third parties. Personal data includes the name, age, gender, email address and location of the user, as well as the user's activities such as messages sent and received and matches. The platform claims that the collected data is used to improve functionality and help provide a more personalised experience for users, and measures have been taken to protect user data and share only what is needed to provide services. However, Duportail (2017) reported that a security flaw in Tinder allowed hackers to access users' personal data such as dating preferences and photos. The use of an unencrypted HTTP connection resulted in a data breach that exposed the user's personal information. Also, Bartlett (2022) raised concerns about Tinder's privacy protection practices, arguing that the precise location of Tinder users may be shared with third parties and used for advertising purposes, which will damage user rights and leads to a large number of privacy problems such as identity theft and extortion. In the light of these problematic practices, the public have begun to call for Internet giants' improvement of the transparency of their functions (Freelon, 2018). Since tech companies are reluctant to share data with platforms and AI scholars, it is particularly important to investigate and uncover potential mechanisms on dating platforms, their impacts on user preferences and their potential ethical and legal issues.
The Tinder Swindler Case Study
In The Tinder Swindler, the scammer Shimon Hayut uses Tinder to create fake profiles, pretending to be a wealthy and successful businessman and gaining women's trust by exploiting their desire to find love. He disappears as soon as the target amount is reached, citing a need for a business investment or a personal emergency. There's no question that he violates users' privacy and digital rights in multiple ways. Firstly, he violates Tinder's community guidelines and terms of service by creating a fake profile. Suzor (2019) suggested that since there is no "neutral" social media platform, the rules and technical design decisions of the platform shape the type of content that users can post and the public can access. His argument not only undermined the trust and integrity of Tinder but also potentially caused users to reduce their usage and negatively impacted the platform. Secondly, the fraudster uses the personal data provided by the victim to manipulate and deceive the victim. Seaver (2019) defined algorithmic recommendation systems as 'a pervasive feature of contemporary online cultural life'. For example, Tinder uses recommendation algorithms to recommend users to people they might be interested in, increasing the probability of matches. Shimon Hayut takes advantage of recommendation algorithms and builds his characters to win women's trust according to their interests, preferences and desires.
The Tinder Swindler Story YouTube Video Explained (Source: https://www.youtube.com/watch?v=IFFTMfp5iQo)
At the same time, Bartlett (2023) showed that the length of Tinder's privacy policy documents increased sharply from 2012 to 2021, from 980 words to about 4500 words. And subsequent releases in 2015, 2017 and 2018 expanded the scope of personal information collected by the platform. The collection of 'sensitive data' allows users to provide information revealing their ethnic origin, nationality, religion and/or sexual orientation. Tinder also collects information from users' photos and videos. Since the platform doesn't specify what information it is collecting, it's hard to consider how this information is incorporated into Tinder's recommendation algorithm, which makes it easier for fraudsters to violate users' privacy and control over their personal information. Seaver (2019) argued that the Terms of Service document is not intended to be a governing document but to protect the legitimate interests of the company, thus giving Tinder the absolute discretion to formulate and enforce the rules they see appropriate. As a constitutional document, contract service terms have become an indispensable part of the constitution and governance of shared social space. Unlike the Constitution, however, they offer no rights to users. For example, Tinder users' use of the platform shows their acceptance of any rules the platform may set. They only have the rights stipulated in the contract they agree to when they sign up for a new service. However, intensive legal jargon and lack of opportunity to negotiate terms result in many users never seriously examining the risks they may be taking (Bartlett, 2023). Thirdly, the scam involves financial fraud, which is a criminal offence. He exposed the victims to financial and emotional harm by violating their rights to digital security and protection. Given the long-term effects of scammers' deception and manipulation on the mental health and well-being of victims, it is necessary to formulate strong policies and regulations to protect users from scams and ensure that their digital rights are respected.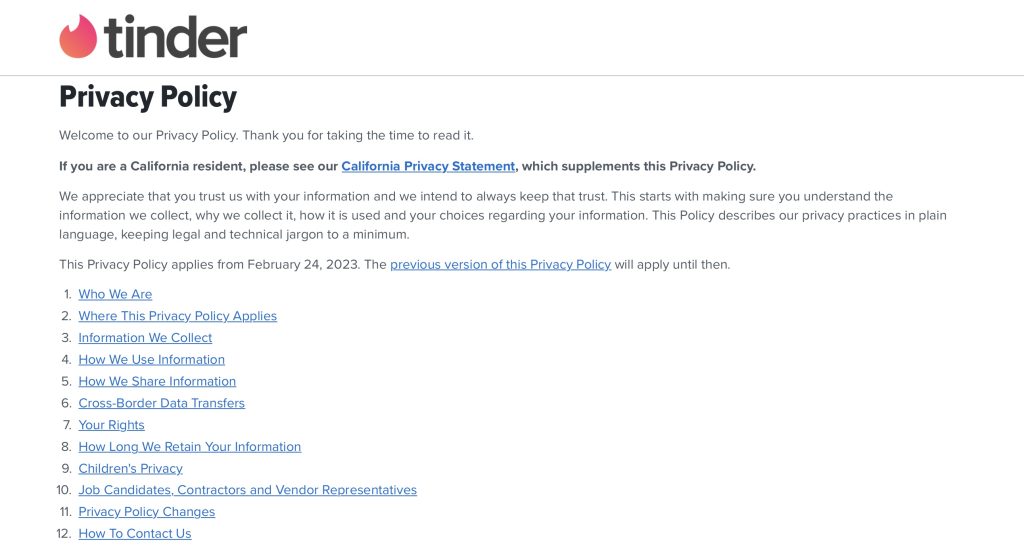 Tinder Privacy Policy Page
Current Measures and Future Solutions
In response to the scam, Tinder has implemented several measures to improve user security and assurance. The first feature is photo verification, which requires users to take selfies in real time and compare them with the photos previously uploaded by themselves to help reduce false information and identity theft.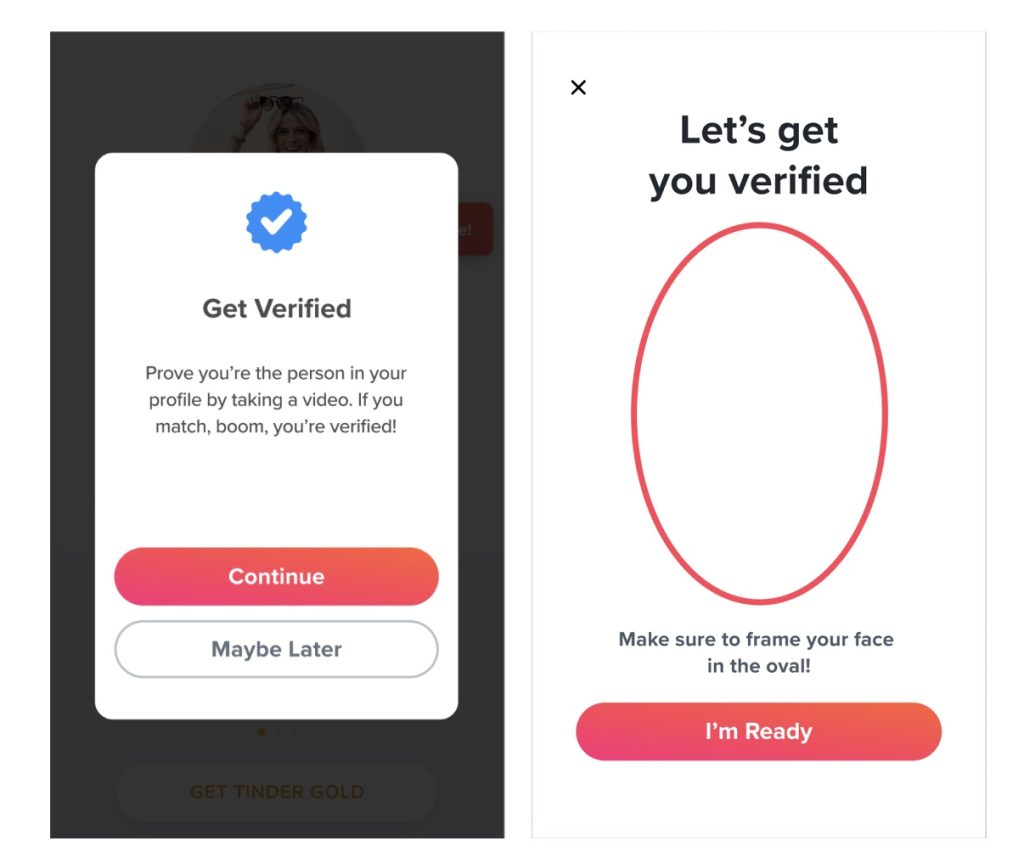 Tinder Photo Verification Feature
Meanwhile, in 2021, the parent company of Tinder Match Group began to conduct background checks on Tinder users to identify and remove those with a history of violent or sexual crimes. It also created a security centre, improved reporting systems to provide users with suggestions on identifying and avoiding scams and protecting personal information and promised swift action against users who violate the terms. Furthermore, Tinder's partnership with Noonlight enables users to add badges to their profiles to indicate that they are using Noonlight. If users feel unsafe during an appointment, they can call emergency services by pressing the emergency button in the app. Despite the platform's efforts to limit the extent to which it interferes with user content, Tinder simply presents itself as a vehicle for content release and an intermediary for conversation, trying to avoid being responsible for the actions of its users (Seaver, 2019). Moreover, it is adept at handling and defusing these controversies, tweaking its policies and apologising, and promising to review and improve. Still, Tinder's enhancements demonstrate its commitment to user safety by striving to create a safe and trusted dating environment for its users.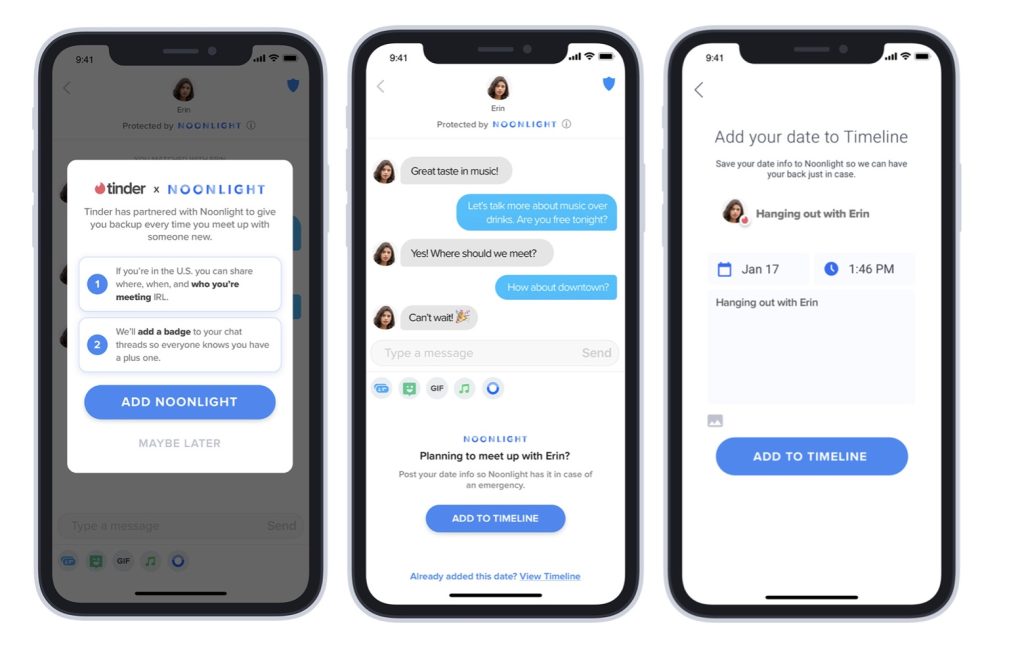 Tinder & Noonlight: Tinder has partnered with Noonlight to give users backup every time when they meet up with someone new.
Hintz (2019) saw the invasion of privacy as part of a larger reality that every digital citizen must acknowledge, explaining that while users are upset by the intrusion, they think 'they have nothing to hide', show indifference to the issue, and gradually accept digital realism. Thus, the public needs to rethink basic assumptions about how the Internet is governed. According to Karppinen (2017), the management and moderation of content is essentially a core commodity and a necessary function provided by the platform in order to ensure a valuable experience for target users. However, Suzor (2019) pointed out that most censorship occurs after a post is published. Due to the high cost of monitoring uploaded content, content is screened in advance, but the platform still relies on the immediacy of the conversation, and human real-time reviews create delays that impede conversation and reduce engagement. In addition, it is important to note that the artificial screening group consists primarily of white, well-educated, affluent males who may deepen existing prejudices against minority groups (Flew, 2021). Tinder hides the vast, mundane process of reviewing content and responding to complaints, indicating that this fiction is implicitly maintained when the platform moderates and creates content. The real rules of social media platforms are hidden due to the high level of uncertainty and confusion surrounding how data is generated and collected in privacy issues (Flew, 2021). Tinder can therefore offer users greater control over their privacy settings, allowing them to choose what information to share with other users and provide for the app, change the settings of their accounts, and avoid visiting suspicious websites (Hintz, 2019). As suggested by Bartlett (2023), Tinder should be more transparent about the collection, storage and use of users' personal data by providing clear and concise privacy policies, allowing users to be free to access and delete personal information, etc. At the same time, 'data minimisation' can be used to reduce the amount of personal data of users, thereby reducing the risk of data breaches.
Conclusion
In conclusion, Tinder's privacy policy has been discussed in this article, including the way it collects, uses, and shares data. Then The Tinder Swindler has been used as an example for a detailed analysis of fraudsters using the app to commit fraud to highlight the importance of privacy and digital rights on online dating platforms. Finally, the measures taken by Tinder to solve the issues of privacy and digital rights and the effectiveness of their responses have been analysed, and potential solutions have been proposed. There is no doubt that online social spaces must be moderated in different ways to maximise their utility. The largest challenge faced by platforms is that users' acceptance of rules is very subjective. Instead of focusing on the inevitable mistakes and controversial choices, therefore, Tinder users should pay attention to structural issues such as the role that platforms play in finding love and the legal and fair exercise of this power.
References:
Bartlett, M., Morreale, F., & Prabhakar, G. (2022). Analysing privacy policies and terms of use to understand algorithmic recommendations: The case studies of Tinder and Spotify. Journal of the Royal Society of New Zealand, 53(1), 119–132. https://doi.org/10.1080/03036758.2022.2064517
Bilton, N. (2014, October 29). Tinder, the fast-growing dating app, taps an age- old truth. The New York Times. http://www. nytimes.com/2014/10/30/fashion/tinder-the-fast-growing-dat-ing-app-taps-an-age-old-truth.html?_r=1
Cross, C. (2022, February 11). First the 'Love-bomb', then the 'financial emergency': Five tactics of tinder swindlers. ABC News. https://www.abc.net.au/news/2022-02-12/tinder-swindler-dating-apps-fraud-avoid-being-the-next-victim/100824308
David, G., & Cambre, C. (2016). Screened intimacies: Tinder and the swipe logic. Social Media and Society, 2(2), 205630511664197. https://doi.org/10.1177/2056305116641976
Duportail, J. (2017, September 26). I asked Tinder for my data. It sent me 800 pages of my deepest, darkest secrets. The Guardian. https://www.theguardian.com/technology/2017/sep/26/tinder-personal-data-dating-app-messages-hacked-sold
Flew, T. (2021). Regulating Platforms. Polity.
Freelon D. (2018). Computational research in the post-API age. Political Communication. 35(4), 665–668.
Hintz, A., Dencik, L. & Wahl-Jorgensen, K. (2019), Digital citizenship in a datafied society. Polity.
Karppinen, K. (2017). Human rights and the digital. In H. Tumber & S. Waisbord (Eds.), Routledge Companion to Media and Human Rights (pp. 95-103). Routledge.
Nicholson, R. (2022, Feburary 2). The Tinder Swindler review – the gobsmacking true story of an internet con artist. The Guardian. https://www.theguardian.com/tv-and-radio/2022/feb/02/the-tinder-swindler-review-the-gobsmacking-true-story-of-an-internet-con-artist
Suzor, N. P. (2019). Who makes the rules? In lawless: The secret rules that govern our lives. Cambridge University Press.