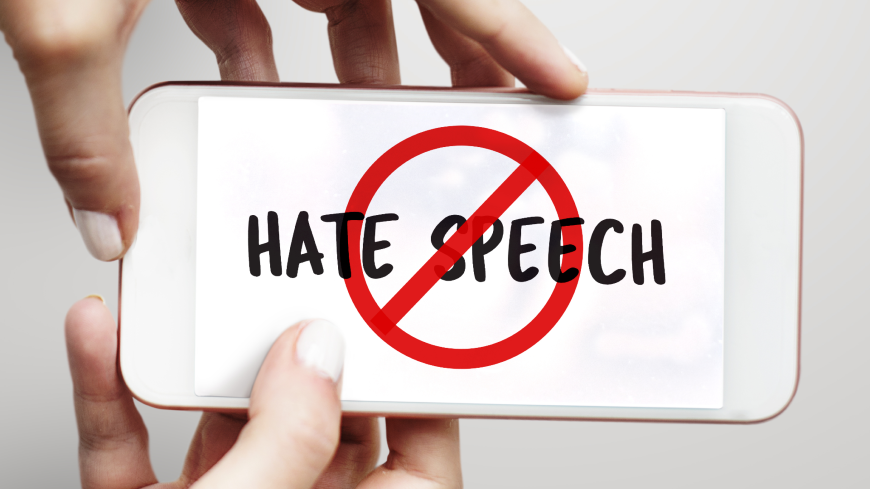 Introduction
With the rapid development of online information technology, new media is rapidly penetrating into our daily lives. Compared to the traditional media era, new media has provided a more favourable environment to expand online harms and violence. The change in the mode of communication on social media platforms has given ordinary people unrestricted space for speaking. In the age of new media, everyone can speak for themselves and others. Moreover, they can use the social media platform to express their thoughts anytime and anywhere. Too much free speech can easily stir up extremely unpleasant emotions and lead to hate speech from internet users. In order to reduce the harm of hate speech for some groups, social media platforms need to improve users' ability to recognise negative speech. At the same time, social media platforms need to strengthen their control over negative content.
Defining Hate Speech and Cyberbullying
According to Brown-Sica and Beall (2008), hate speech is "… usually thought to include communications of animosity or disparagement of an individual or a group on account of a group characteristic such as race, colour, national origin, sex, disability, religion, or sexual orientation". It concerns that hate groups have recently become more prevalent and their numbers are steadily growing. Cyberbullying is one of the many visible manifestations of hate speech. Most people who preach hate online are devoted internet users who use social media platforms as a newly developed practical tool to create new communities of users. By promoting "freedom of expression" and targeting specific groups without discrimination, proponents of hate speech often "legitimise" their behaviour on social media, which makes regulation of the platforms extremely difficult (Ben-David & Fernández, 2016).
Additionally, hate speech can have a negative impact on people and societies. The United Nations announced the UN Strategy and Plan of Action on Hate Speech, which aims to combat hate speech in 2019. It encompasses prejudice, racism, and inequality. We can conclude that the damaging nature of hate speech has been enhanced by modern communication technologies based on studies by the United Nations (n.d.-a). One of the most popular ways to disseminate contentious ideas around the world and endanger international peace is through online hate speech. For our society as a whole, the COVID-19 pandemic's ongoing spike in hate speech poses an unprecedented problem. It's essential to address and stop hate speech. It strongly fought hate speech from all persons and groups throughout society. To lessen the impact of hate speech, online platforms should limit it (United Nations, n.d.-b). Initiators should be held accountable. Those who spread harmful speech should also be held partially accountable. All relevant participants need to be responsible for their words.
Recent Cases of Cyberbullying (Online Violence)
'The Abandoned Boy' Liu Xuezhou:
Liu Xuezhou was born into a tragic situation as his biological father sold the young Liu Xuezhou to his adoptive family for money. In 2021, 15-year-old Liu Xuezhou posted his search for his biological parents via Weibo, one of China's largest social media platforms. At the end of that year, he finally found his biological parents and exchanged contact details with them. Due to his tragic life, the progress of his family search has received a great deal of attention from the internet (Wong, 2022). After identification, he discovered that his parents were each married and had new children with their partners. In other words, both his parents had new families, so Liu Xuezhou could not join them. Shortly after he eagerly asked to join his new family, his birth mother deleted him from friends' list and blacked out all his accounts. Liu Xuezhou felt so sad and upset that he posted a recording of his phone call with his birth mother on the internet. His mother in turn accused him of being an ungrateful son and fabricated claims that Liu Xuezhou had demanded a large amount of property from his biological parents. These false statements gradually spread, with netizens blaming Liu Xuezhou. Some said he had directed his own hype to gain attention, arguing that the search for his biological parents was just a claim made by Liu Xuezhou. His real aim was to become an internet celebrity through the internet buzz. Many others abused him, saying he deserved to be abandoned by his parents because he was only trying to find them in order to fight over his parents' property. On 24 January 2022, Liu Xuezhou committed suicide after posting a 7,000-word suicide note on social media (BBC News, 2022). In the suicide note, Liu Xuezhou detailed the various unpleasant experiences he had suffered over the past 15 years, the process of finding his parents and the stress he felt after the online violence. Liu Xuezhou chose to use death to prove his innocence, because he could not bear the insults and attacks from a large number of netizens and self-media marketing accounts.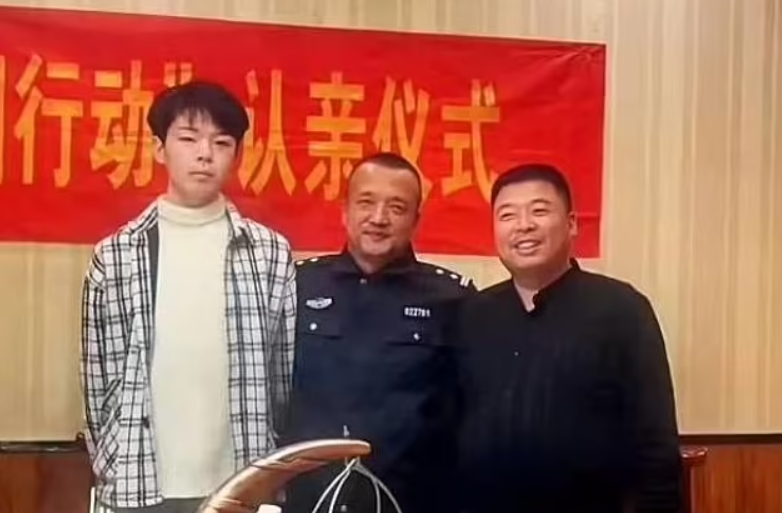 Figure 1 – With the help of the Hebei police, Liu Xuezhou and his parents met at a 'recognition ceremony'.
'Pink-haired Girl' Zheng Linghua:
In July 2022, Zheng Linghua, a university student, was so excited to know that East China Normal University had admitted her as a postgraduate student. So she went to the barbershop to dye her hair pink. She then took the news with her to visit her grandfather, who was ill in the hospital. She took a photo with her grandpa on her mobile phone and posted it on Xiaohongshu (a Chinese social media platform for sharing life). Unexpectedly, this post accidentally became popular (Wenxin, 2023). What's even more outrageous is that many netizens combined elements of pink hair, old men, education and graduate students to slut-shame her. Some accused her of having a messy private life, suggesting that the old man in her hospital bed was her 'sugar daddy'. While others said she was a bar whore who went to teacher training school during the day and went to bars with men at night, and so on. In response, Zheng Linghua publicly said that pink hair represents brilliance and shows her welcome to the good life. However, her explanation did not impress netizens, and many netizens still maliciously spread her photos (Yee, 2023). This caused Zheng Linghua's profile to be filled with abusive remarks in the comment area, and some people even harassed her in private messages asking her how she felt about being "nurtured". Soon after, she dyed her hair back to black and tried to escape the online outrage by uninstalling all her social media apps. But unfortunately, Zheng Linghua's spirit gradually began to break down, and her depression broke out. In January 2023, she ended her life by suicide. In her last letter to a friend, she wrote: "I'm really sorry, I really don't have the courage to live anymore". Her death was heart-breaking. She had a bright future ahead of her, but she ended it, all because of the internet storm her pink hair sparked.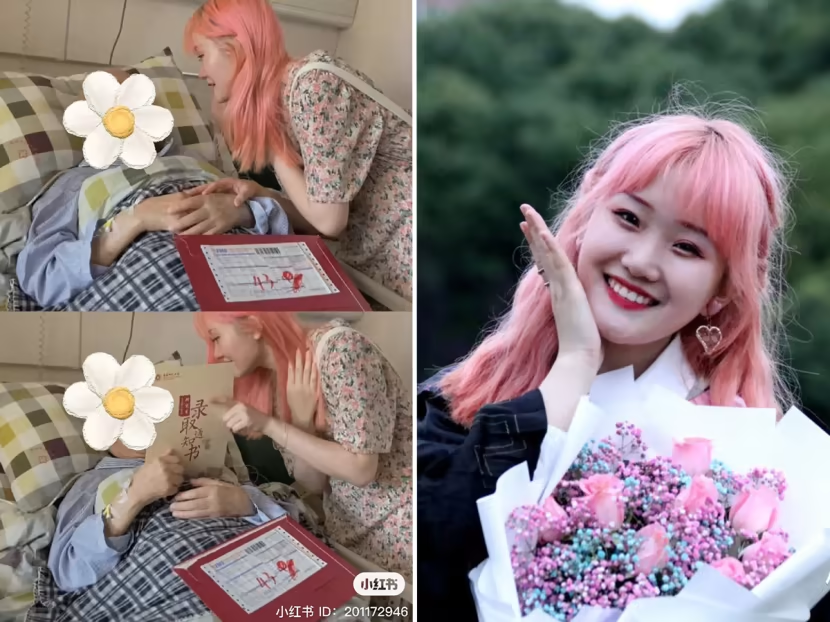 Figure 2 – Zheng Linghua with her grandfather in hospital and her graduation portrait.
The Need for Social Media Platform Regulation
In order to reduce the occurrence of internet violence, social media platforms should take some measures to regulate hate speech and online harms. In addition to Xiaohongshu and Weibo mentioned in the above cases, I will focus on the examples of social media platforms that have implemented effective regulation policies against hate speech. The platform I'm going to focus on is Facebook, so let's take a look at what it has done to help.
According to Facebook's business official website (2020), Facebook has been trying to improve its content moderation policies and accountability measures in recent years. The company recruits experts and uses machine learning to detect and filter harmful speech. In addition, it has expanded its human complaint handling operations to better assist the machines. In terms of identifying and moderating hate speech, Facebook should conduct more management and content training for moderators to broaden their awareness, thereby strengthening their regulatory literacy and thus improving efficiency. The company has also stepped up its stakeholder engagement, involving a growing number of social organisations and individuals to help improve monitoring of hate speech.
Despite these efforts, Facebook still falls short when it comes to addressing hatred against racial, religious and gender minorities. It specifically forbids the spread of hate speech in its user policies. But it has also become a bridge for spreading prejudice and hate (Matamoros-Fernández, 2017). This suggests that users use "like", "comment", and "share" buttons to spread hate speech, rather than posting it directly. Referring to the views of Ben-David & Fernandez (2016), Facebook allows users to submit any content by default. This suggests that most content that violates Facebook community policies can still be posted. Unless another user reports the post, it will not be removed. It also shows how difficult it is to identify and take appropriate action on hate speech material in a social context of different languages and cultures. According to the research by Sinpeng et al. (2021), Facebook's content filtering machine was able to monitor hate speech content in more than 40 languages by the end of 2019. We can believe that soon the machine will be able to learn more languages to fight online harms in the coming days.
Conclusion
In the new media era, due to the limitation of quality and the interference of too much information, netizens will unconsciously produce herd mentality and follow the trend. Many netizens have lost their rational thinking and judgement because they have the mentality that so many people spread rumours. People will believe that 'there is no way to catch me!' When some incidents (such as Liu Xuezhou and Zheng Linghua two cases) gradually spread, public opinion caused strong physical and mental harm to the victims. At this time, the news of official certification and the voice of celebrities can often attract the attention of most netizens. They will eventually guide the direction of the general public's opinion. Social media platforms need to continually improve their privacy policies to better protect users from hate speech and other harmful content.
In addition to the supervision of the platform itself, we should restrain our own speech and try to treat some immoral events on the internet with a fair and objective attitude. The internet provides a choice for us to express our own opinions, and we can express various opinions freely. But freedom of speech does not mean that it is free to slander and insult others. Furthermore, the government should also strengthen the supervision of websites and invite the police to have accounts to ensure that the platform can be connected and deleted as soon as possible when other people's privacy is compromised. Finally, I would like to say that building a safer digital world requires the efforts of all. We are just bystanders and should be careful what we say and do when we don't know the whole story.
References
BBC News. (2022, January 25). Liu Xuezhou: Outrage over death of "twice abandoned" China teen. BBC News. https://www.bbc.com/news/world-asia-china-60080061
Ben-David, A., & Fernández, A.M. (2016). Hate Speech and Covert Discrimination on Social Media: Monitoring the Facebook Pages of Extreme-Right Political Parties in Spain. International Journal of Communication, 10, 27.
Brown-Sica, M., & Beall, J. (2008). Library 2.0 and the Problem of Hate Speech. Southernlibrarianship.icaap.org; Electronic Journal of Academic and Special Librarianship. https://southernlibrarianship.icaap.org/content/v09n02/brown-sica_m01.html#_ednref2
Carlson, B., & Frazer, R. (2018). Social media mob: being Indigenous online. Macquarie University. https://research-management.mq.edu.au/ws/portalfiles/portal/85013179/MQU_SocialMediaMob_report_Carlson_Frazer.pdf
Council of Europe. (n.d.). Cover photo: Stop hate speech. In www.coe.int. https://www.coe.int/en/web/cyberviolence/online-hate-speech-and-hate-crime
Facebook. (2020). Sharing Our Actions on Stopping Hate. Facebook for Business. https://www.facebook.com/business/news/sharing-actions-on-stopping-hate
Jewers, C. (2022). With the help of the Hebei police, Liu Xuezhou and his parents met at a "recognition ceremony." In www.dailymail.co.uk. https://www.dailymail.co.uk/news/article-10438697/Chinese-teenager-commits-suicide-rejected-biological-parents-second-time.html
Matamoros-Fernández, A. (2017). Platformed racism: the mediation and circulation of an Australian race-based controversy on Twitter, Facebook and YouTube. Information, Communication & Society, 20(6), 930–946. https://doi.org/10.1080/1369118x.2017.1293130
Sinpeng, A., Martin, F. R., Gelber, K., & Shields, K. (2021). Facebook: Regulating Hate Speech in the Asia Pacific. Department of Media and Communications, The University of Sydney.
United Nations. (n.d.-a). Say #NoToHate – The impacts of hate speech and actions you can take. United Nations. https://www.un.org/en/hate-speech
United Nations. (n.d.-b). Why tackle hate speech? United Nations. https://www.un.org/en/hate-speech/impact-and-prevention/why-tackle-hate-speech
Wenxin, L. (2023a). Zheng Linghua with her grandfather in hospital and her graduation portrait. In www.todayonline.com. https://www.todayonline.com/world/pink-hair-china-cyberbullying-2121401
Wenxin, L. (2023b, March). #trending: Suicide of woman in China over online criticism of her pink hair sparks campaign to combat cyberbullying. TODAY. https://www.todayonline.com/world/pink-hair-china-cyberbullying-2121401
Wong, C. (2022, January 28). Chinese teenager commits suicide after parents who sold him as a baby rejected him again after reuniting 17 years later. Wau Post. https://waupost.com/chinese-teenager-commits-suicide-after-parents-who-sold-him-as-a-baby-rejected-him-again-after-reuniting-17-years-later/
Yee, J. (2023, March). Chinese woman, 24, commits suicide after being shamed for having pink hair. Mothership.sg. https://mothership.sg/2023/03/pink-hair-china-girl-suicide/
United Nations. (n.d.-b). Why tackle hate speech? United Nations. https://www.un.org/en/hate-speech/impact-and-prevention/why-tackle-hate-speech
Wenxin, L. (2023, March). #trending: Suicide of woman in China over online criticism of her pink hair sparks campaign to combat cyberbullying. TODAY. https://www.todayonline.com/world/pink-hair-china-cyberbullying-2121401
Wong, C. (2022, January 28). Chinese teenager commits suicide after parents who sold him as a baby rejected him again after reuniting 17 years later. Wau Post. https://waupost.com/chinese-teenager-commits-suicide-after-parents-who-sold-him-as-a-baby-rejected-him-again-after-reuniting-17-years-later/
Yee, J. (2023, March). Chinese woman, 24, commits suicide after being shamed for having pink hair. Mothership.sg. https://mothership.sg/2023/03/pink-hair-china-girl-suicide/