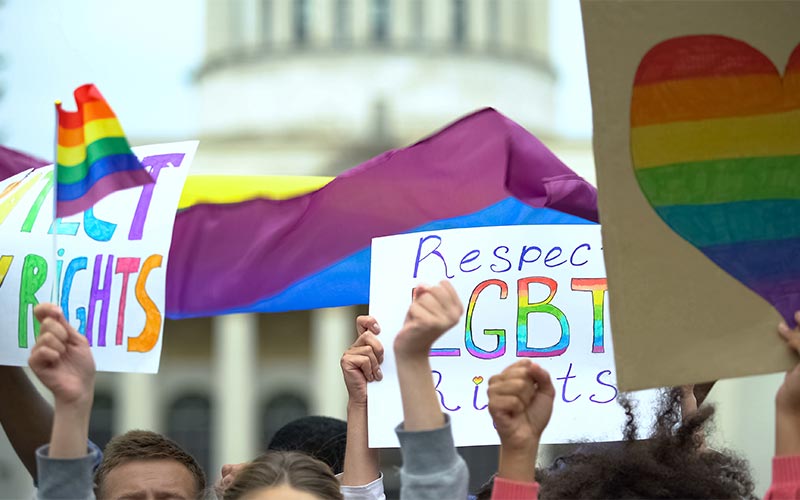 What is hate speech?
Hate speech is described as a language that conveys, promotes, incites, or stirs up animosity toward a group of people who are recognized by certain features such as gender, race, religion, nationality, ethnicity, or sexual orientation (Parekh, 2012). The terminology used to communicate this style of communication is often disrespectful, hostile, furious, or abusive.
Hate speech on digital platforms
In recent years, digital platforms have become an integral part of everyday life. People use them for communication, entertainment, and information gathering. However, the rise of digital platforms has also created some problems, according to Tilt (2023), the Internet easily connects people through the creation of groups that take advantage of the human need for affiliation. While this solidarity is very helpful to those wishing to connect with others who share their interests, some of these online platforms are actively employed by others with bad intentions who want to control online communication. This online manipulation is increasingly being used to extend the reach and influence of hate speech. The anonymity of digital media can make it easier for people to express hateful views without fear of retribution, making it easier for them to express prejudiced attitudes that they might not share in face-to-face interactions, leading to the normalization of hate speech and online harassment (eSafety, 2023).
The LGBT community and hate speech
LGBT is a term used to refer to communities or individuals who identify as lesbian, gay, bisexual, and transgender (The Annie E. Casey Foundation, 2021).
The LGBT community is often the target of hate speech on online platforms. Although the rights of the LGBT community have become more recognized and protected in the last few years, they still face discrimination and oppression in certain countries and regions. Tilt (2023) reports that compared to all other identity categories, the percentage of LGBTQ social media users who have suffered harassment and hate speech because of their sexual orientation is 20%, along with 4% of users who have suffered online victimization because of their transgender identity.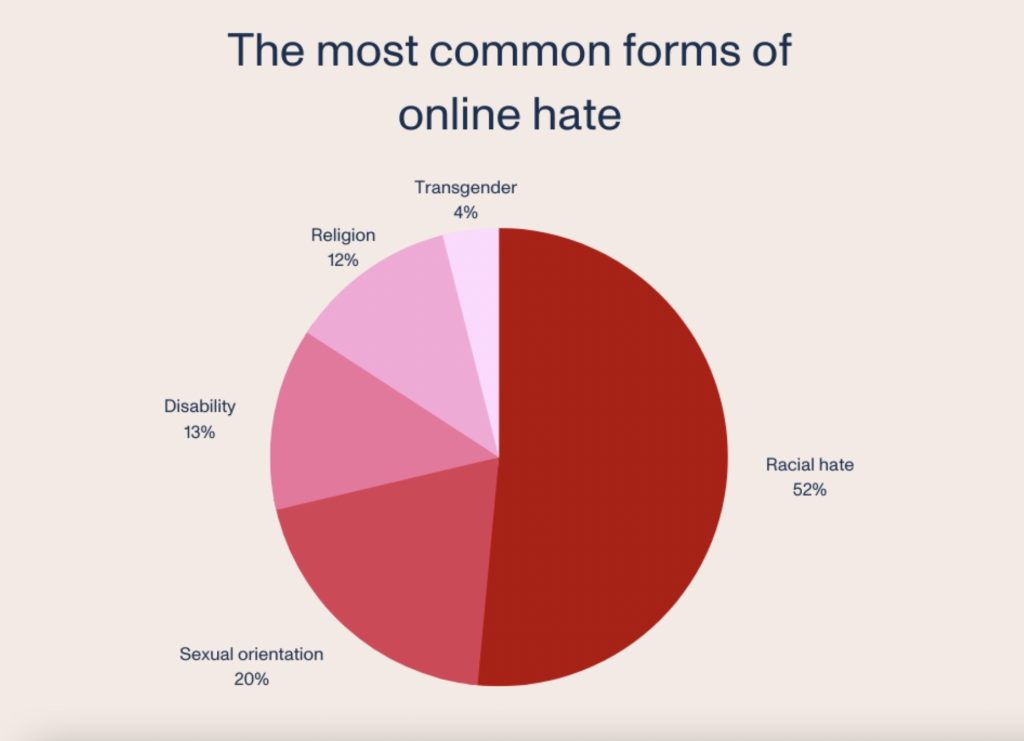 Social media platforms such as Facebook, Twitter, and TikTok are globally popular social media platforms that encompass the most active users worldwide, with at least 2 billion active users on each platform (Statista, 2023). In using these platforms, nearly half of LGBT users report that they do not feel welcome or safe online. GLAAD (2022) assessed indicators related to security, expression, and privacy for LGBT groups and all these popular online platforms were found to be substandard.
Abbily's Story of Becoming a Girl
Abbily (original name: Wang Jiahui), is an influencer with a substantial online following. In an interview, Abbily disclosed her gender identity struggles as a transgender woman, expressing her desire to identify as a female from a young age. Abbily initially gained popularity on the internet in 2018 by sharing makeup tutorials and dance videos, featuring her gender expression through cross-dressing. Despite receiving positive feedback from fans, she also received derogatory comments and hate speech on social media platforms, including pejorative terms such as "ladyboys", "heart twists", and "transvestites". These adverse online reactions led to immense psychological pressure on Abbily, ultimately resulting in her gradual withdrawal from social media. As a consequence, Abbily posted fewer videos between 2019 and 2020, so fans claim to rarely see her again.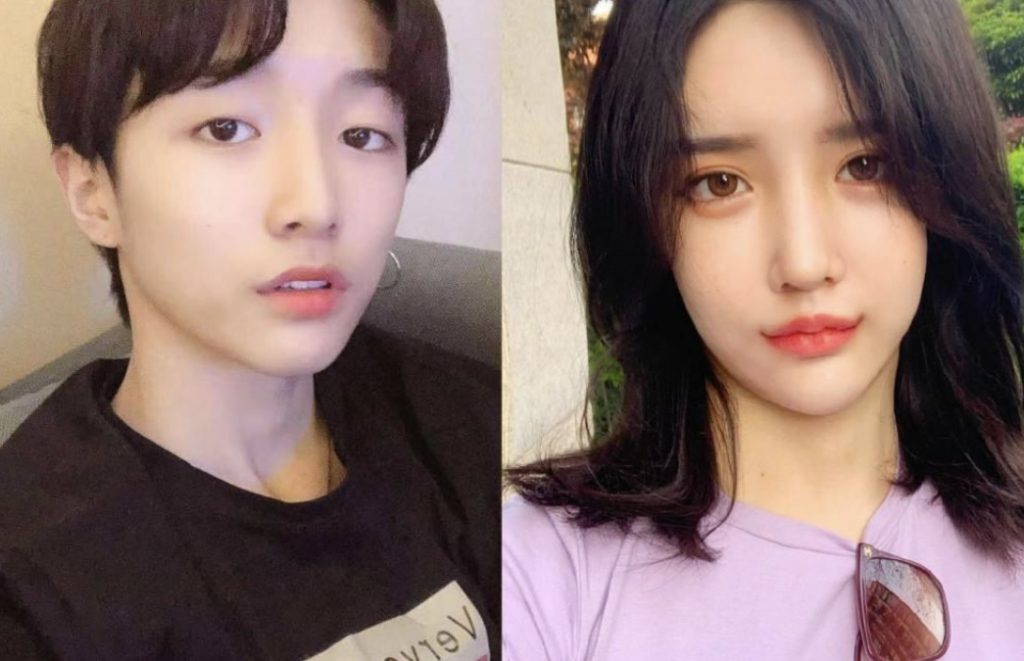 Her return to the internet began in 2021, and after announcing to the public that she had undergone surgery to successfully switch genders, Abby told fans on Twitter that she was "a real girl now." After announcing her gender transition, she received a lot of hate speech and threats on the Internet. Some people called her "abnormal", "perverted", "deformed", etc., and even threatened her directly. Some netizens even threatened to hurt her family. Such attacks not only caused personal psychological and emotional harm to Abbily but also contributed to social discrimination and exclusion of LGBT groups.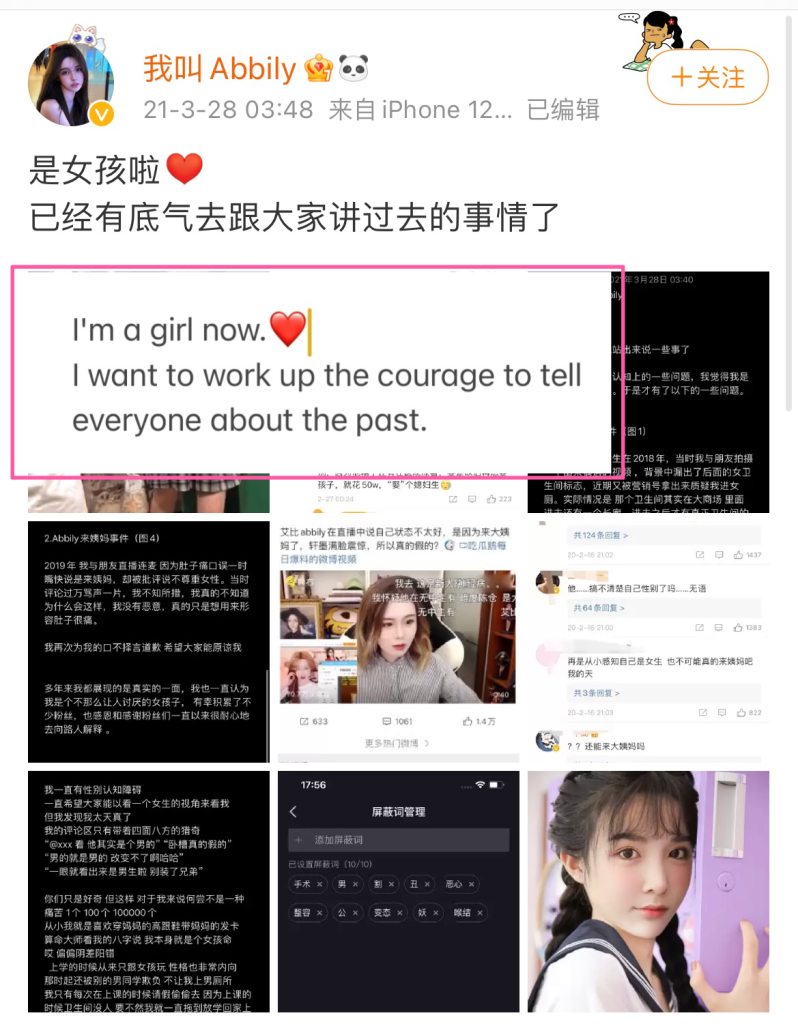 Abbily continues to suffer daily from the aftermath of her gender reassignment. Despite this, she maintains a positive attitude and is firm in her decision to transition. At the same time, Abbily posted relevant photos showing her with blood on her tissues. Online reactions to the pictures were mixed, with some users expressing support and admiration for her courage, while others criticized the images as too gory to look at. In addition, some netizens mocked his pain with a transgender meme from the TV series.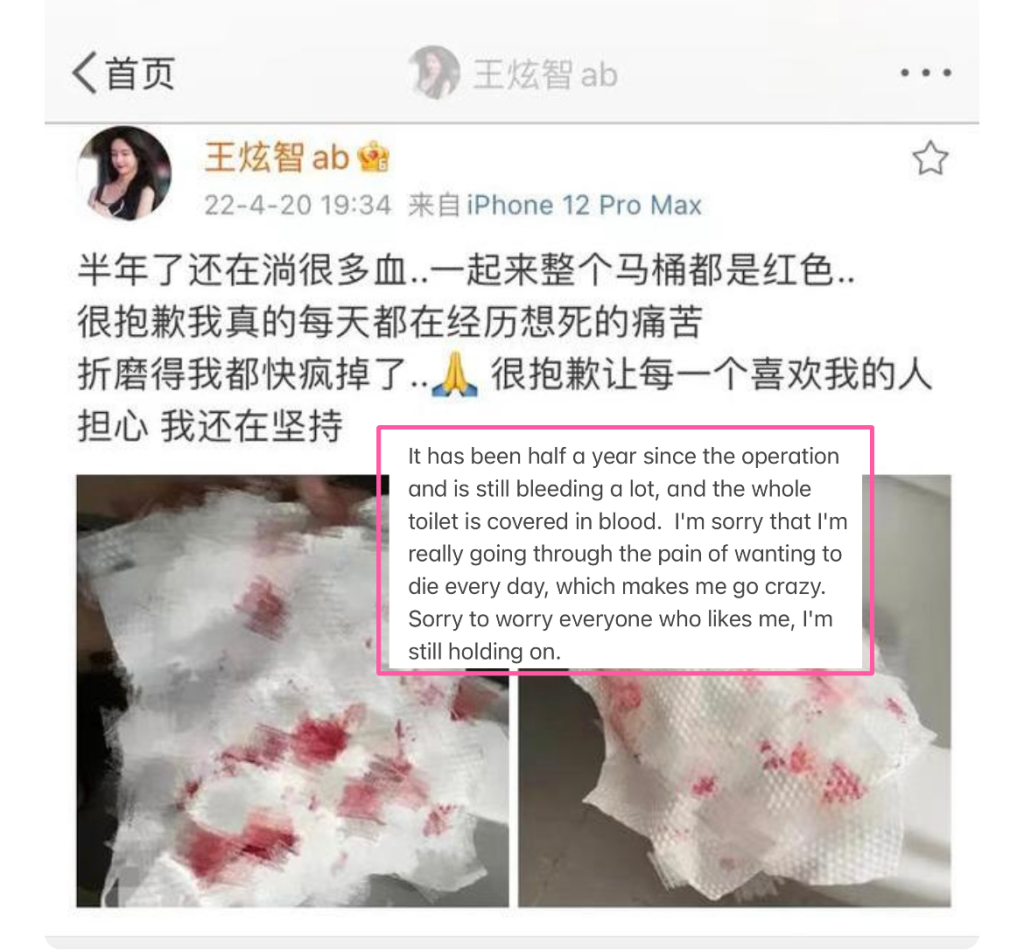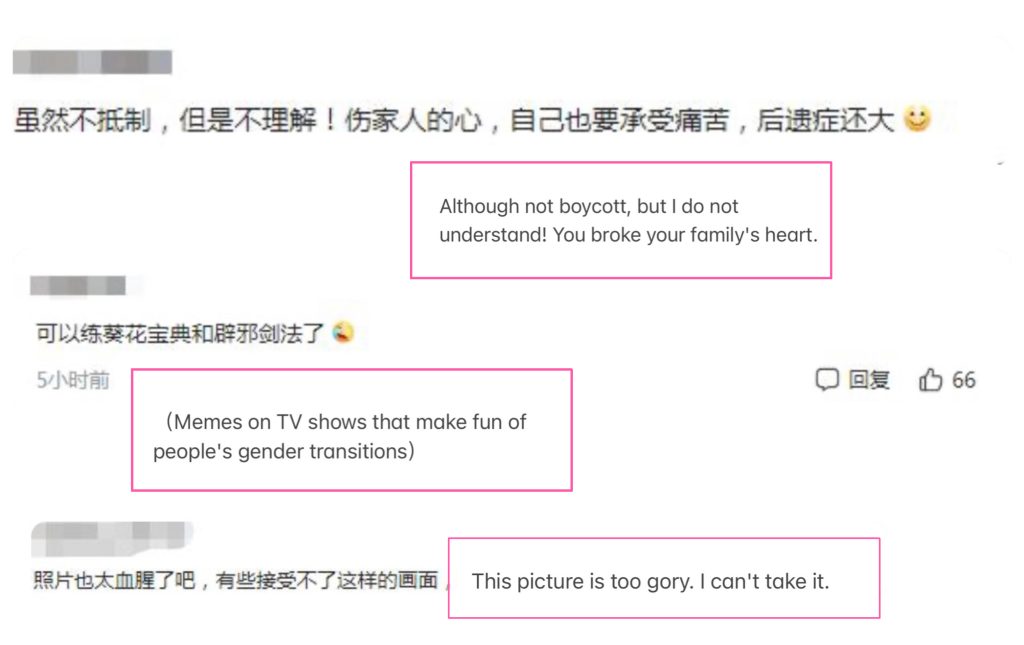 Despite Abbily's efforts to report abusive comments and accounts, numerous abusive individuals continue to operate freely on the social media platform. In response, she turned to social media to share her experiences and advocate for improved safeguards for the LGBTQ+ community online. Despite Abbily's repeated complaints, TikTok only acted to remove some of the abusive content after significant public pressure and outcry were raised.
Tyler Clementi's Suicide
Tyler Clementi was an 18-year-old student at Rutgers University whose life came to a tragic end in September 2010, the incident began when his roommate secretly filmed him in an intimate act with a date and uploaded the video to the internet (Rutgers, n.d.). His roommate and the online viewers proceeded to ridicule, mock, and harass Clementi on social media due to his sexual orientation, thus causing irreparable harm to his dignity, trust, and emotional well-being (Rutgers, n.d.). Taylor learned of this betrayal through social media. This incident severely invaded Clementi's privacy undermined his trust and caused great damage to his psyche. He was so overwhelmed by depression and emotional turmoil that he took his own life by jumping off the George Washington Bridge soon after. The incident was a serious violation of Clementi's privacy and dignity, and he had not come out of the closet to his family and friends.
At last, Clementi's roommate, Dharun Ravi, was charged with invasion of privacy and hate crimes, among other things, and was ultimately sentenced to 30 days in prison and ordered to pay $10,000 in compensation to the victim (Schweber & Foderaro, 2016). Online comments were filled with anger and called for harsher punishments, such as life sentences, for Ravi and Wei (Parker, 2012). The secretive recording and posting of videos are an egregious breach of an individual's privacy, and other similar malicious actions and remarks have the potential to destroy a person's life.
The suicide of Tyler Clementi has ignited a nationwide discussion on the impact of cyberbullying and hate speech toward vulnerable individuals. Clement's tragic experience serves as a poignant reminder of the severe consequences that can arise from online victimization and hate speech. Adely (2020) notes that shortly after Clementi's passing, the governor of New Jersey, Chris Christie, signed one of the most rigorous anti-bullying laws in the country, mandating school districts to train their staff to identify bullying, and requiring school safety teams to investigate complaints.  Clementi's mother, Jane Clementi, established the Tyler Clementi Foundation in honor of her son, to lead national anti-bullying efforts and raise awareness about youth bullying. She believes that it is worth it to try to help even a single person.
The Perils of Hate Speech Against LGBT People
The detrimental impact of hate speech directed towards LGBT individuals on online platforms is significant and widespread. In 2021, Galop conducted a survey of about 1,000 LGBT+ individuals, revealing that over 60% had encountered anti-LGBT+ violence or abuse, with almost one in five experiencing daily violence or abuse. The most common form of abuse was verbal, accounting for over 90% of incidents, followed by online abuse, which comprised 60% of the total ('Driscoll, 2023). The LGBT community is frequently marginalized in society and often subjected to discrimination and exclusion due to their sexual orientation and lifestyle. The following points provide insight into the challenges posed by hate speech on online platforms that affect the lives of LGBT individuals.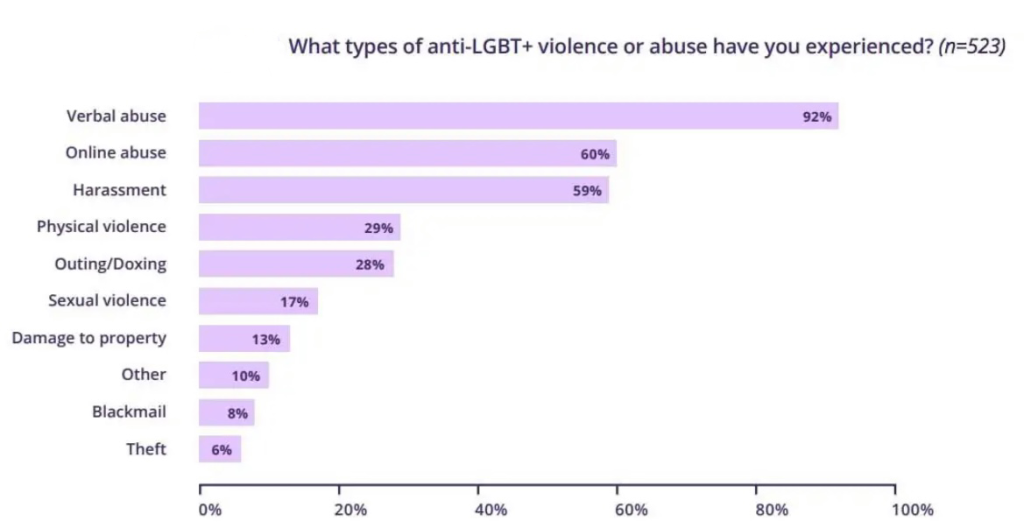 The mental health of LGBT individuals is negatively impacted by hate speech on the internet. This type of speech can lead to feelings of shame and self-loathing, worsening mental health conditions such as depression and anxiety. Social isolation and exclusion are also common experiences, which can result in the avoidance of social activities, self-segregation, and other serious mental health concerns. Brison (1998) has emphasized the long-term damage of "verbal aggression," which can cause psychological trauma. Tyrrell's (2017) concept of "toxic speech" highlights the severe nature of this phenomenon as a threat to the well-being and even the lives of its targets, with its cumulative effects over time compared to a slow-acting poison.
 Social isolation and exclusion
LGBT individuals may face social isolation and exclusion due to hate crimes and hate speech, which pose a significant barrier to their full participation in society (FRA, 2009). Hate speech on the internet can have detrimental effects on the social lives of LGBT people. Exposure to such speech online can elicit feelings of isolation and exclusion, further exacerbating their sense of social unacceptance or unwelcomeness, and in turn, prompting self-segregation.
Research shows that LGBT individuals are at a greater risk of violence and hate crimes than their heterosexual peers (Kraving, 2022). Hate speech on the internet further exacerbates this issue, posing a significant threat to the safety of LGBT individuals. Such speech has the potential to incite violence and bullying against this community, as noted by the United Nations (2023), with many LGBT individuals facing targeted physical attacks, sexual assault, and even murder. This leads to a climate of fear and dread, highlighting the critical need to address hate speech and its impact on the safety and well-being of LGBT individuals.
Restrictions on housing and employment
Hate speech on the internet may also have adverse effects on the behavior and employment opportunities of LGBT individuals. Research suggests that a considerable proportion of LGBTQ employees experience discriminatory treatment at their workplaces, including being denied promotions or pay raises. Some have even reported being fired due to their orientation or identity within the past 12 months (Avery, 2021). Furthermore, LGBTQ+ individuals may face challenges in securing suitable housing due to discrimination by homophobic landlords, often with limited legal recourse or support (Permenter, 2012). Disturbingly, studies reveal that a significant number of LGBTQ+ people struggle with poverty and homelessness, with around 20% living below the poverty line and 15% experiencing homelessness (Wilson, 2020).
Limitations in education and self-development
In various countries and regions, LGBT individuals are subject to discrimination and exclusion in the education system. In the United States, more than half of LGBT students feel unsafe at school, which contrasts with a mere 4% of the general student population. Additionally, in a European study, more than half of LGBT respondents reported having suffered verbal harassment at school (Kohler, 2015).
What we can do to help them?
Despite progress in some regions, many countries lack laws that explicitly forbid hate speech. In 2018, Utah's hate crime statute was deemed ineffectual by the district attorney ('Driscoll, 2023). Legislation should also incorporate clauses to hold digital platforms responsible for neglecting to eliminate hate speech from their platforms.
o combat hate speech on digital platforms, it is necessary to implement several measures. Firstly, popular social media platforms such as Facebook must improve their existing algorithms to effectively identify and remove instances of hate speech, potentially utilizing keyword banning and filter application. Second, social media platforms should provide users with privacy settings that allow them to automatically hide comments and direct messages from individuals who are not following them (eSafety, 2023). Finally, these platforms should provide users with access to resources and support, including reporting tools and crisis helplines, to assist those who have suffered harm due to hate speech.
It is crucial to acknowledge that the mere prohibition of hate speech and harassment on digital platforms is not sufficient. Addressing the root societal attitudes and biases that drive such behaviors is necessary.  Platforms can increase their efforts to spread knowledge about protecting the LGBT community and share their experiences to promote greater understanding and respect for the community. In addition, resources like mental health services and legal counsel should be readily available to those who have endured online harm.
References
Adely, H. (2020, September 23). 10 years after son's suicide, Tyler Clementi's mom says no LGBTQ person should feel 'unworthy'. USA Today. Retrieved April 16, 2023, from https://www.usatoday.com/story/news/nation/2020/09/23/tyler-clementi-death-10-years-ago-fight-against-cyberbullying-continues/3501630001/
Anonymity and identity shielding. eSafety Commissioner. (n.d.). Retrieved April 13, 2023, from https://www.esafety.gov.au/industry/tech-trends-and-challenges/anonymity#:~:text=While%20this%20protects%20their%20privacy,to%20control%20and%20abuse%20people.
Diaz, J. (2021, May 10). Social media hate speech, harassment 'significant problem' for LGBTQ users: Report. NPR. Retrieved April 13, 2023, from https://www.npr.org/2021/05/10/995328226/social-media-hate-speech-harassment-significant-problem-for-lgbtq-users-report
Esafety. (n.d.). Why LGBTI people face barriers to education and employment. World Economic Forum. https://www.weforum.org/agenda/2015/08/why-lgbti-people-face-barriers-to-education-and-employment/
FRA. (2009). Hate speech and hate crimes against LGBT persons. Hate Speech and Hate Crimes against LGBT Persons. Retrieved April 13, 2023, from https://fra.europa.eu/sites/default/files/fra_uploads/1226-Factsheet-homophobia-hate-speech-crime_EN.pdf
LGBTI people. OHCHR. (2023, March 29). Retrieved April 16, 2023, from https://www.ohchr.org/en/topic/lgbti-people?gclid=EAIaIQobChMIr4aEwaam_gIVR1IPAh390g2REAAYASAAEgLE4fD_BwE
Migdon, B. (2022, August 10). 'A cascade of online hate': Anti-LGBTQ+ discrimination, disinformation flourishes on social media. The Hill. Retrieved April 16, 2023, from https://thehill.com/changing-america/respect/equality/3595856-a-cascade-of-online-hate-anti-lgbtq-discrimination-disinformation-flourishes-on-social-media/
NBCUniversal News Group. (2021, September 8). Half of LGBTQ workers have faced job discrimination, report finds. NBCNews.com. Retrieved April 16, 2023, from https://www.nbcnews.com/nbc-out/out-news/half-lgbtq-workers-faced-job-discrimination-report-finds-rcna1935
O'Driscoll, A. (2023, March 22). 20+ online hate crime statistics and facts for 2022. Comparitech. Retrieved April 16, 2023, from https://www.comparitech.com/blog/information-security/online-hate-crime-statistics/
Online hate and discrimination | eSafety Commissioner. (2022). ESafety Commissioner. https://www.esafety.gov.au/lgbtiq/learning-lounge/dealing-with-online-abuse/online-hate-discrimination#tips-to-deal-with-online-hate
Parker, I. (2012, January 30). The story of a suicide. The New Yorker. Retrieved April 16, 2023, from https://www.newyorker.com/magazine/2012/02/06/the-story-of-a-suicide
Statista. (2023, February 14). Biggest social media platforms 2023. Statista. Retrieved April 16, 2023, from https://www.statista.com/statistics/272014/global-social-networks-ranked-by-number-of-users/
Schweber, N., & Foderaro, L. W. (2016, October 27). Roommate in Tyler Clementi case pleads guilty to attempted invasion of privacy. The New York Times. Retrieved April 16, 2023, from https://www.nytimes.com/2016/10/28/nyregion/dharun-ravi-tyler-clementi-case-guilty -plea.html#:~:text=NEW%20BRUNSWICK%2C%20N.J.%20https://www.usatoday.com/story/news/nation/2020/09/23/tyler-clementi
Tilt. (2023, February 28). Online hate speech causes offline hate crimes. Online Hate Speech with Offline Impact: how the Internet is Exacerbating the Problem of Hate. Retrieved April 13, 2023, from https://www.tiltstudio.co/online-hate-speech-with-offline-impact/
Tyler Clementi's Story • Tyler Clementi Foundation. Tyler Clementi Foundation. (n.d.). Retrieved April 16, 2023, from https://tylerclementi.org/tylers-story-3/
Tyler's story. Tyler's Story | Division of Diversity, Inclusion, and Community Engagement at Rutgers University–New Brunswick. (n.d.). Retrieved April 16, 2023, from https://nbdiversity.rutgers.edu/clementi-center/tylers-story
The Annie E. Casey Foundation. (2021, June 3). LGBTQ definitions, terms & concepts. The Annie E. Casey Foundation. Retrieved April 13, 2023, from https://www.aecf.org/blog/lgbtq-definitions